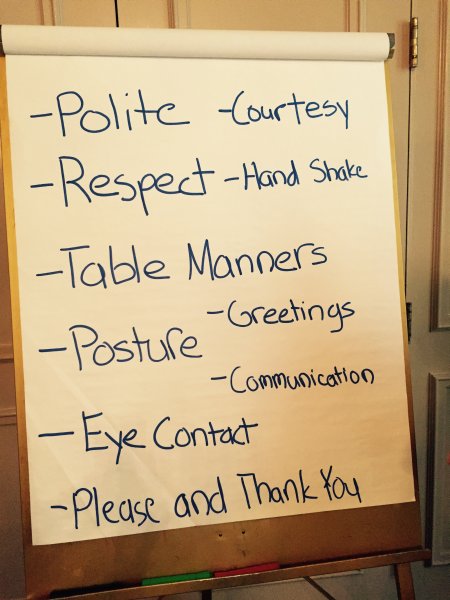 Is your child ready to go back to school?  Some are ready and others, not so much. Either way, now is a great time to teach a few basic social skills.  Here are a few tips to teach manners that your child can practice before the first, and many days after the start of school.  Make it fun and remember your children are watching you!
1.
Eye contact: Teach your child how to make eye contact.  Literally get on their level and make eye contact with them. Explain that this shows the other person they are listening and interested in what is being said.  Eye contact makes us feel confident on the inside and out.
2.
Handshakes: Show your child how to offer a proper and professional handshake. Always stand for a handshake.  Shake two times and make web to web contact.  They can now shake hands with their new teacher.  Demonstrate this as you are out and about in your daily activities.  Discuss with then why we do this in our culture.
3.
Conversation skills:  A most requested topic by both parents and corporate training departments, this is a most have skill.  As devices rule and demand our attention, conversation skills still need to taught and practiced.  Ask open-ended questions to your children.  Have conversations while you are in the car or at the family meal.  Be fully present with them.  Put away your cell phone, stand away from your laptop. This is a beautiful gift.
4.
Posture:  Body language is a very important part of a first impression.  Our body language also sends many messages.  Teach your child to sit and stand with their shoulders back and down. Show them what it looks like to lean or slouch when they are sitting.  What kind of message are they sending to their teacher? When we slouch or lean on our elbows a message is sent that we are bored, lazy or off in another land.
Etiquette Certification
If you are interested in becoming certified to teach manners to children, click here. There are now two training options to choose from.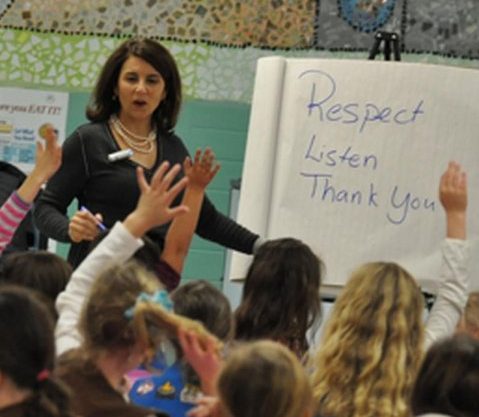 A Private Instruction for Your Children
Are you a busy parent that wants and needs a manners class for your children?
A private instruction is customized especially for your children. You choose the date, location (most often your home) and the number of children that attend.
We have licensees that are certified to teach the Manners To Go program. Contact us for details.
About Lisa Richey
Most likely we already share something in common. We believe that teaching children manners, character and social emotional skills are very important.
Manners To Go™ is a full-service company for those choosing to teach manners to children. You can make a difference. All children and teenagers deserve to feel what it is like to be confident, and use good manners out in the world.
Manners To Go™ is taught in public, private and charter schools around the world. The New York Times, Parents Magazine and Fox News have all featured Manners To Go and the many benefits of teaching social skills to children.
Whether you are an educator who wants to teach it in the classroom or someone who is looking to become trained and certified, we provide all the solutions.
My name is Lisa Richey, and I am the founder of Manners To Go™ . This brand has given me the honor of teaching manners to thousands of people around the world. The journey has taken me from Portland, Oregon to the Middle East. I believe that manners are not about judgment or rules. Manners are about self-interest. It really is about how using good manners makes you feel on the inside.