Your Elevator Pitch as an Etiquette Expert
This One Tip Will Get You Noticed When You Introduce Yourself as an Etiquette Expert
Imagine this:  you walk into a networking lunch.  You meet someone and you strike up a conversation.  One thing leads to another and you ask them about their business….after all this is a business function.  You are there for a reason…to meet other business owners.  
This person tells you they are an accountant.  You smile make small talk and then you find yourself in a completely different circle of people.  Another conversation and you are speaking again to an accountant.  This one however, is very different.  Instead of telling you they are an accountant, they set a scene for you.  Here is how THEY answer the question, "what do you do or what is your business":
"Have you ever procrastinated in preparing your taxes? I am the person that guides you through each month of the year with an easy system that only requires you to hit the "print" in January". My name is Joan and I am an accountant that makes tax prep easy.
You are curious. You listen. You want to learn more about Joan.  In fact, you want to hire her on the spot.
Which accountant would you hire?
Here is Your Elevator Pitch as Etiquette Expert
My goal is to guide you through every step of starting a business teaching manners to children.  
Often, I have mentioned the importance of networking whether you go to an organized business event or meeting your child's teacher at school.  
Now that you are a business owner, you must introduce yourself with intention.  You need an elevator pitch.  An elevator pitch is telling someone about what you do or who you are in less than 30 seconds. 
You must be prepared in advance to do this well. 
Here is an example of What NOT to Say as an etiquette expert:
"Hello, my name is Lisa and I teach manners".
Try this instead:  
"You may have heard parents or teachers comment on how our youth today are a bit too attached to their phones or at times, rude. That is where I come in and help. I make a meaningful mark by teaching children how it feels to have good manners and to treat others with kindness and respect.  My name is Joan Smith and I am the founder of My Manners Business."
I am happy to share all that I know about teaching manners to children.
Start with the best.  Check out our website and see how other licensees have gotten a fast start using our system.  We have videos of other licensee's being interviewed about their new business.  At the end of this article, you will find the videos in the "Links and Resources" section below.
No other certification training even comes close.

Most likely, you will want to get to know us.  Feel free to call or email us.  Click on the links below.  We are happy to discuss the details with you.



Decide what is the best training option for you. We offer two trainings for to become certified to teach manners to children:
Option #1:  "Live" Video Training:  If you are looking to start immediately and save money on travel and time, then this is your best option.  You choose the dates of our trainings. Most choose to have their sessions once a week, others twice.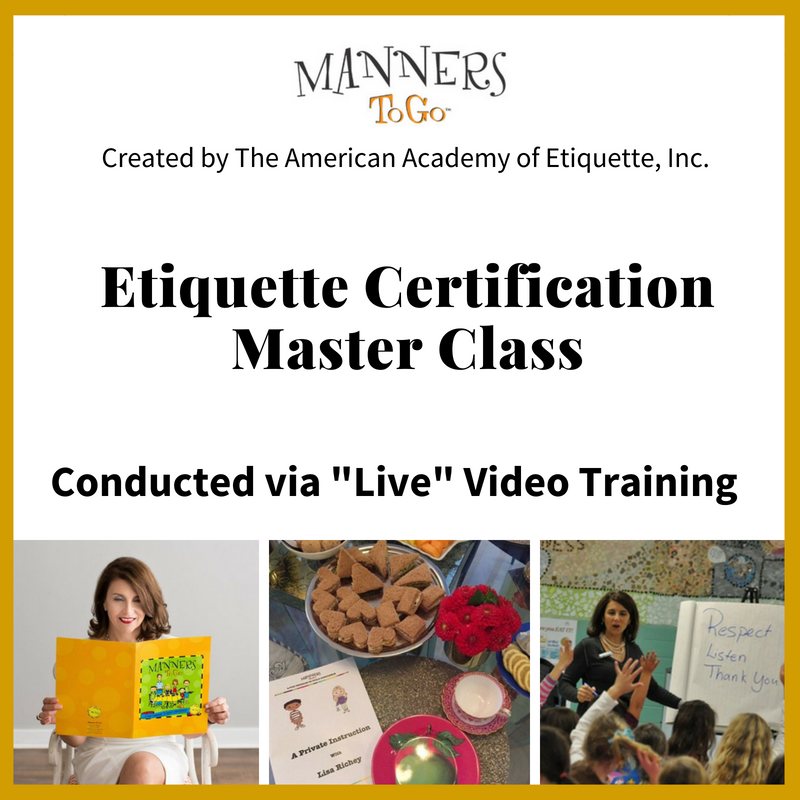 Option #2:  2-Day In-Person PRIVATE Training.  That's right, we meet in person, the two of us and our focus is completely on your business.  You also have to opportunity to observe me teaching a class.  Head over to our website or click the image below to learn more and to see a list of cities available for your training.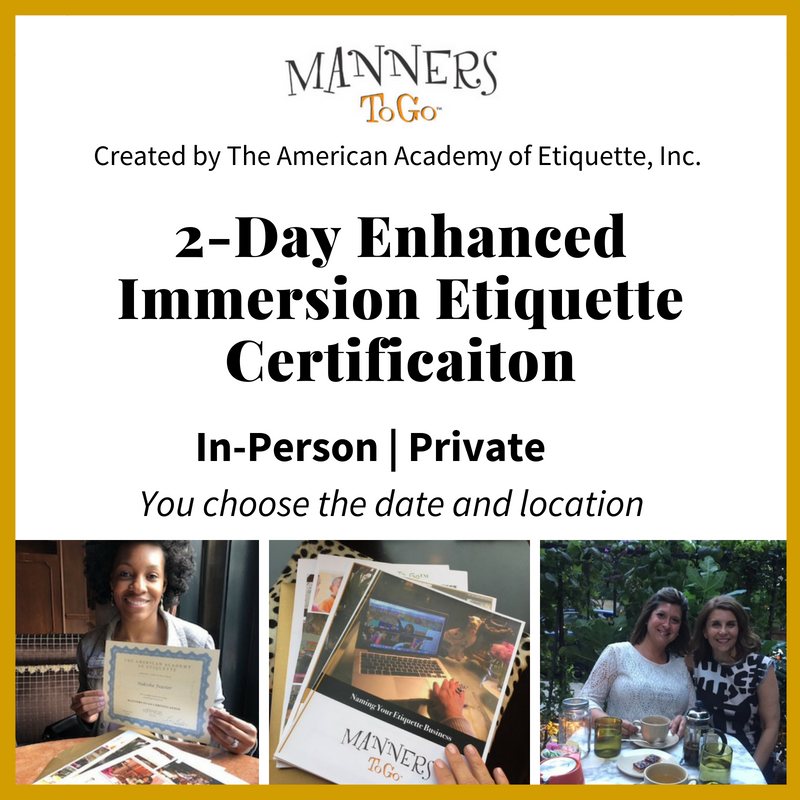 Of course, either option has on-going support and is included in your training and licensee fee.
No other etiquette certification training even comes close.
We are here to help you achieve big results so that you can make a difference with youth AND build a business that you absolutely love.
I created this guide with in my mind.  It is a checklist of ways to help you get a FAST START.  Like I said earlier, I procrastinated.  I do not want you to do the same.
Here is a FREE guide to help you get started. It is a guide on "Six Things I Wish I Had Known Before Starting My Etiquette Business".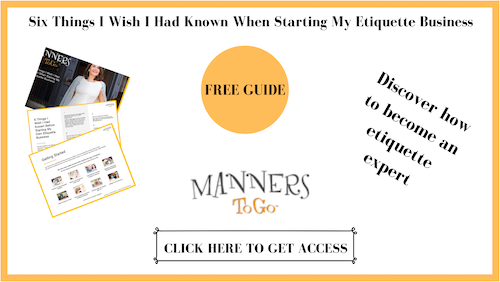 Manners To Go Links and Resource Guide