As an etiquette coach, you're able to impact so many lives while growing a business that serves you. One of the most important pieces in doing that is knowing how to actually grow your etiquette coaching business. 
Etiquette coaches work with children and teenagers (and sometimes adults) to develop manners and social skills. They work in lots of different environments, from schools to private lessons.
If you're ready to grow your etiquette coaching business and take things to the next level, the right strategies will help!
How to Grow Your Etiquette Coaching Business
When you make the leap and start an etiquette coaching business, you're ready to achieve success and start helping your clients. But you also need to focus on growing your business!
Here are six key strategies to help you grow your etiquette coaching business starting now.
Shift Your Mindset and Recognize Your Value
When you want to grow your etiquette coaching business, you need to have a plan with practical steps. But even more importantly, you need to have the right mindset to foster growth!
Right now, take some time to reflect:
Where are you at now in your business?
Where do you want to be in one year?
Be imaginative and think big here—after all, this is YOUR business, and the sky is truly the limit on what you can achieve.
Teaching etiquette is more important now than ever before.
Children need to learn how to grow into happy, healthy adults. They need direction and social interaction, and most of all, they need to know how they fit into society as a whole.
That's why the key to growing your business is recognizing your own value! Etiquette coaching allows parents, teachers, and children to understand basic life skills and then layer those building blocks into incredible social graces.
If you can shift your mindset and know your own worth, you'll be primed and ready to grow your business.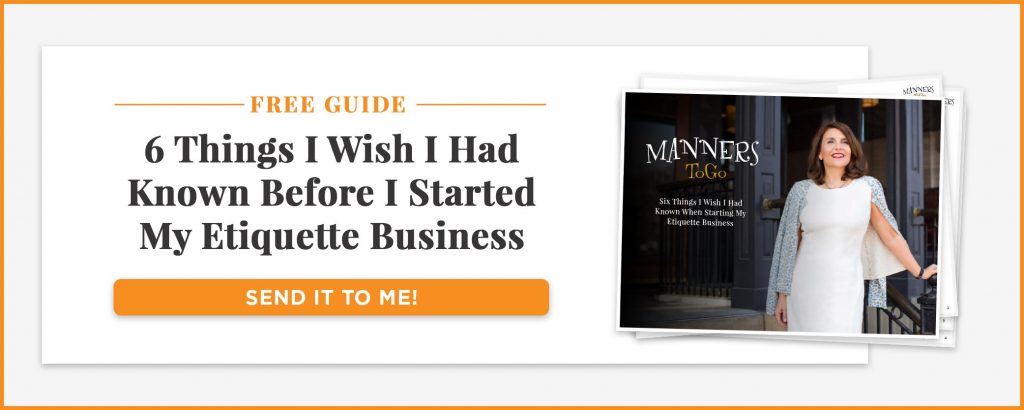 Prioritize Networking
A huge piece of successful etiquette coaching is networking. In fact, networking and telling others about what you're doing is THE most important step to growing as an etiquette coach.
You have a passion for teaching others manners and etiquette. That means it's time to share that passion! Tell other people about your work and how it's helpful—it might seem uncomfortable, but it's essential for growing your business.
And deep down, you know the value and impact of the work that you do. Teachers, parents, and children all need to know about etiquette coaching in order to take advantage of its benefits!
Consider looking up your local Chamber of Commerce or Small Business Administration. How can you get connected with members of your community?
There are also national and global opportunities to connect, both with potential clients and with other entrepreneurs. Try searching for groups on Facebook filled with other women in business.
Find a Community and a Mentor
We just mentioned finding a group on social media, and one huge benefit of that is finding a mentor! Having a community to share experiences with, collaborate with, and ask questions to is so helpful.
A mentor is incredibly helpful for growth as an entrepreneur. You can ask your mentor about how they got started, how they grew, and how they overcame obstacles along the way.
Even better, if your mentor is local, they can help you make connections with parents and educators in your community!
Related: How to Become an Etiquette Consultant and Set Up Your Business
Use Social Media to Promote Your Etiquette Coaching Services
Social media is a powerful tool for growing your etiquette coaching business. The best part of social media is that it's free! Make sure that you have profiles set up for your business on the platforms where your ideal audience spends time.
Then, create educational content around etiquette coaching topics. Share links to local events, showcase other businesses and share outside content related to your niche. All of these things help you build a network and create a unique, engaged audience full of potential clients.
If you're looking for a great content source to pull ideas from for your social media, try Edutopia!
Make Personal Phone Calls to Educate People about Etiquette Coaching
Making an actual phone call might seem a little old-school, but it really does work! Trust me on this: you have value to add to this world, and the recipient of your call is going to agree.
A phone call doesn't have to be overly sales right off the bat, either. Educate people about etiquette coaching and ask about how you can get involved with that person or organization. Focus on educating people about what your skills will add to their lives!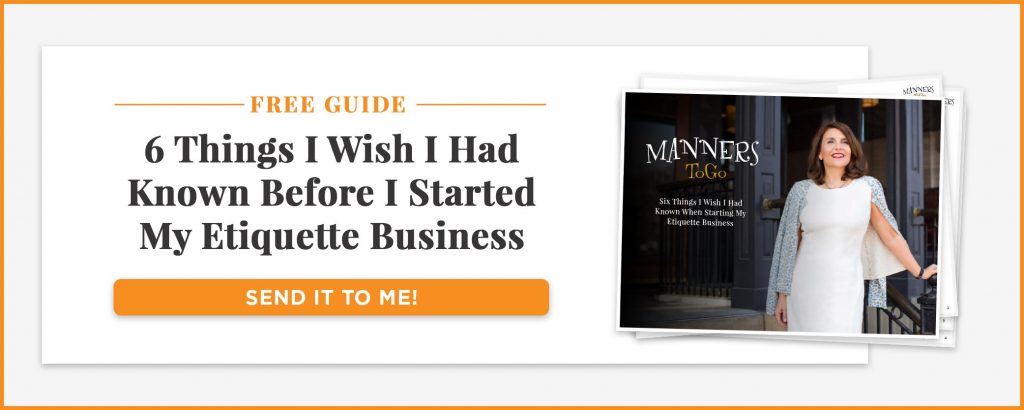 Invest In an Etiquette Coaching Curriculum and Get Certified
The most important step you can take to grow your etiquette coaching business is to invest in a curriculum and get certified.
Personal development, like self-development books, is a great place to start.
An etiquette coaching curriculum gives you a step-by-step process to keep your business growing and thriving. At Manners To Go, we offer a comprehensive curriculum and etiquette coaching marketing strategy to keep things on the right track.
When you get certified, you demonstrate your authority and expertise to potential clients. Plus, you can feel confident in your own knowledge and skills.
---
Etiquette coaching is an amazing profession to get involved in. If you're ready to grow your etiquette coaching business, these six steps are the key!
Here is a FREE Guide to Help YOU Start a Business Teaching Manners to Children
CLICK THE IMAGE TO GET THE DOWNLOAD RIGHT NOW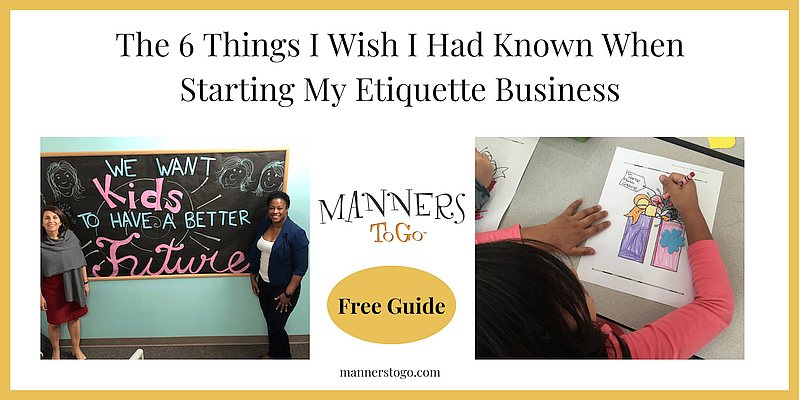 Get to Know Manners To Go™
Most likely, you will want to get to know us. Feel free to call or email us. Click on the links below. We are happy to discuss the details with you.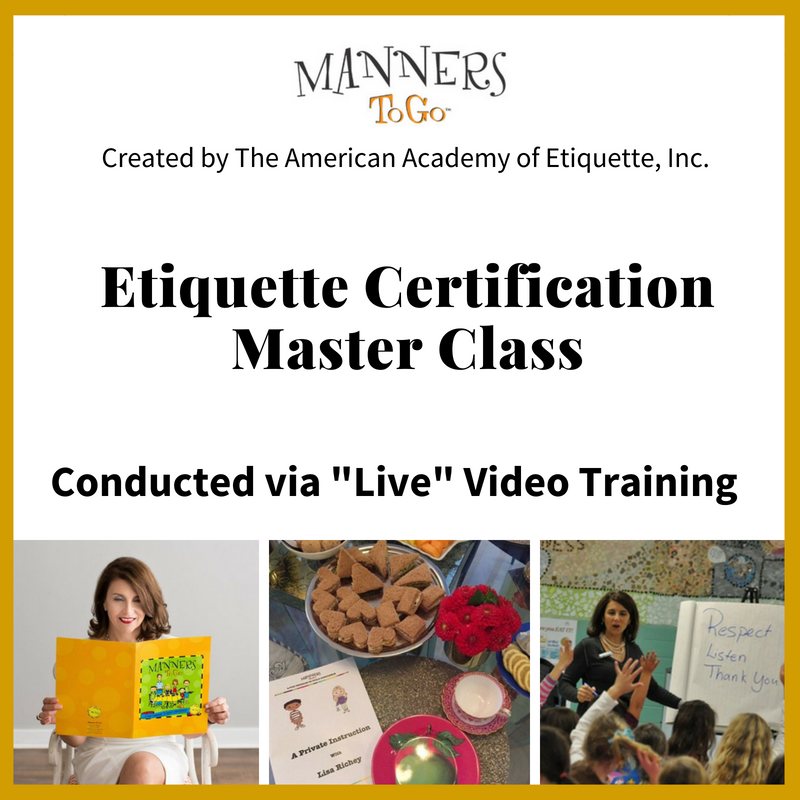 Option #1:
"Live" Video Training
If you are looking to start immediately and save money on travel and time, then this is your best option.You choose the dates of our trainings. Most choose to have their sessions once a week, others twice. This is a "live" and private training. It is NOT self-guided.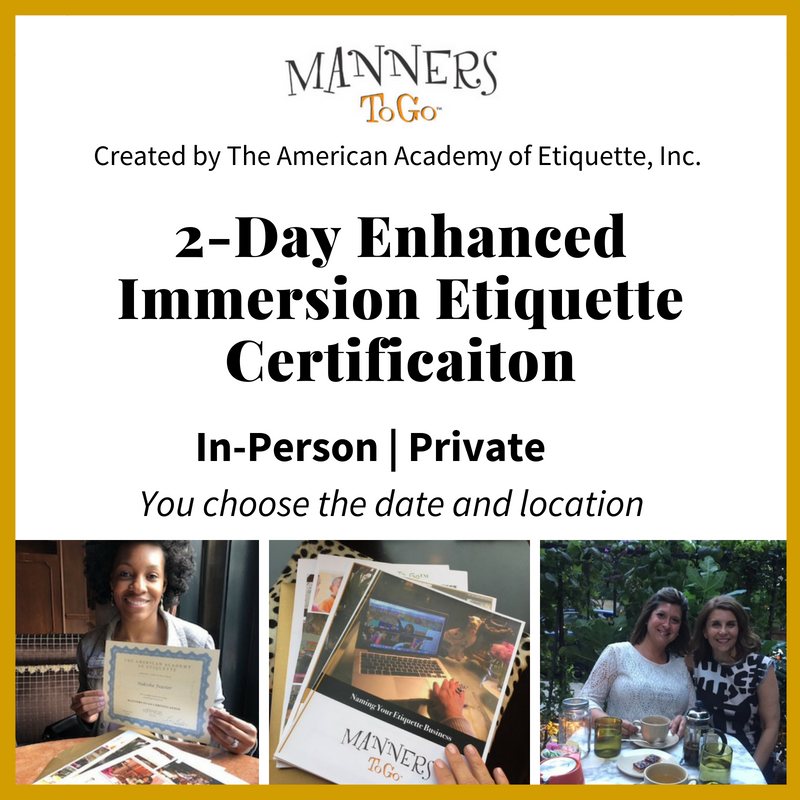 Option #2:
Two-Day In-Person
PRIVATE Training. That's right, we meet in person, the two of us and our focus is completely on your business. Click the image above or follow the button below to learn more and to see a list of cities available for your training.

Receive the curriculum and book your training dates
Upon payment, you receive the curriculum. Next, we will send an email asking you to schedule your first training date.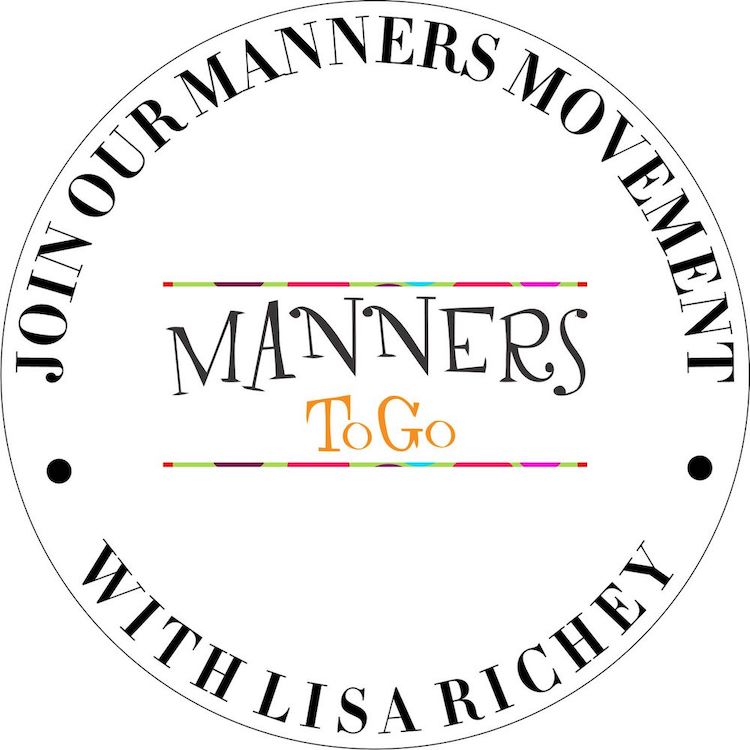 Join the
Manners To Go™ movement with Lisa Richey.