Have you ever considered becoming an etiquette coach? If you like working with children and want to make a difference, this career could be right for you. But knowing how to become an etiquette coach can be a little daunting!
Don't worry! It's totally possible to build a successful career as an etiquette coach doing what you love. With a few key steps, you'll be able to start your business and grow a client base with ease.
What Is An Etiquette Coach?
If you're thinking about how to become an etiquette coach, it's important to fully understand what it actually is!
As an etiquette coach, you will teach children and teenagers how to navigate society and the world around them. You'll teach children to form healthy relationships and participate in society in a meaningful, productive way!
Beyond that, etiquette coaches teach children to express their needs in a polite way and to effectively communicate with others. These are lasting, lifelong social skills that you'll be helping to foster!
Etiquette coaching is incredibly rewarding, and at work, you will be challenged and fulfilled every single day.
Why You Should Consider Becoming An Etiquette Coach
As an etiquette coach, you're a business owner! You become an entrepreneur working for yourself. You'll have total freedom, control, and flexibility as you grow your business.
You can completely customize your services and offerings. You'll be able to work in different environments (and even work remotely from anywhere in the world!)
Etiquette coaches also need to consistently focus on education. The world is always changing, and to help children navigate it, you have to stay up-to-date!
That's why investing in an etiquette coaching certification is an excellent idea.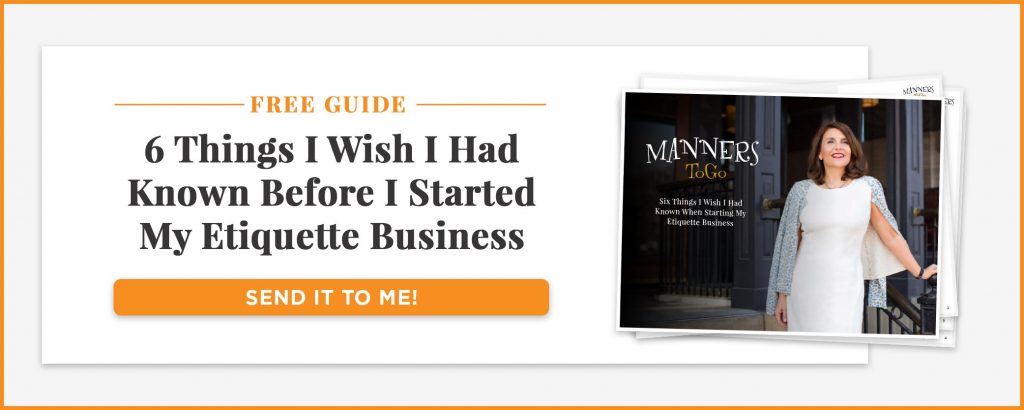 How To Become An Etiquette Coach
Knowing how to become an etiquette coach doesn't have to be so overwhelming. Here are my best tips for starting your business!
Make The Leap
Honestly, before I started my business, I watched other etiquette coaches doing something I knew I would love. Being on the sidelines doesn't serve you in a meaningful way, though!
When you know you want to do something, make the leap! 
Making a bold change like starting a business is scary. But the scariest decisions really do pay off the most. Take advantage of the tips and insights below. Learn how to become an etiquette coach, and then take the leap! 
Invest In Education
One of the most important components of becoming a coach is choosing to invest in education. Learning, shifting, and adapting are so important in any business…
….and, as an etiquette coach, it's even more important!
Choosing to become a certified coach helps you establish credibility in your business. With a strong certification program, you'll be able to build a successful business right from the start. Manners To Go provides two certification programs with strategies, all the information you'll need, and lasting support.
Make Some Important Decisions & Set Up Your Business
You'll need to make some important decisions in order to start your business.
When thinking about how to become an etiquette coach, you'll need to choose the right niche. What ages of children do you want to work with? Which demographics do you want to support?
You could hone in on:
Large-group settings (school assemblies)
Classrooms (preschool to college)
One-on-one sessions with personal clients
Youth groups or youth organizations
With our certification program, you'll receive all the tools, training, and resources you need for all of those environments!
Behind the scenes, you'll need to take all the necessary steps to set up your business. Research how to file for proper business licenses in your state. Make sure that you follow all of the legal requirements so your business is legitimate!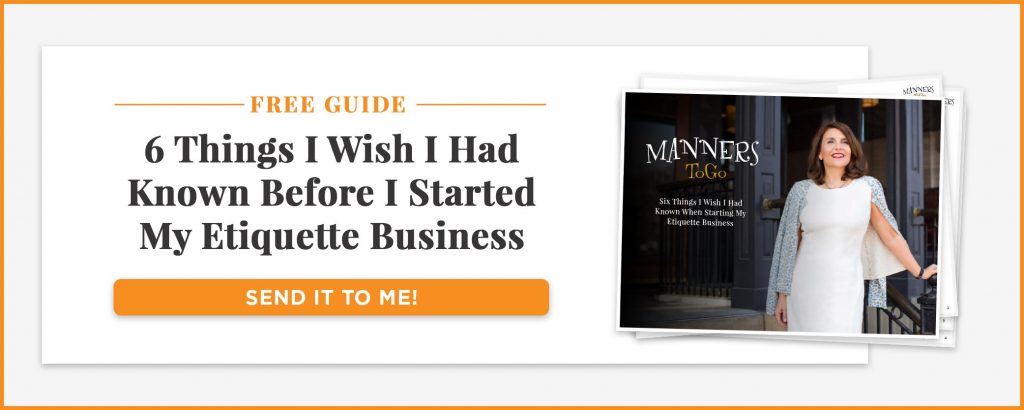 Decide What You'll Teach In Your Business
If you're wondering how to become an etiquette coach, you'll need to decide what services you offer!
You can teach basic manners, like these:
Eye contact
First impressions
Respect
Introductions
Posture
Conversation Skills
One area to consider focusing on is dining etiquette. Table manners are one of the most popular areas for etiquette coaches to focus on. You can teach both American and European etiquette for the dining table.
If you're going to teach etiquette at schools, you can try public, private, or charter schools. There are also opportunities at after-school programs and nonprofits!
Parents are always looking for ways to supplement their children's social education. You could implement private manners lessons, birthday parties, or group social etiquette classes. There are always one-on-one sessions, too!
You should also think about creative marketing opportunities for your etiquette coaching business.
Offer things like afternoon tea sessions, "charm school," or sessions to prepare teens for college interviews. You could even host a cotillion!
---
Becoming an etiquette coach is an incredible, exciting decision. Learning how to become an etiquette coach using the above tips will help you find success! 

If you're ready to take the leap, learn more about our etiquette certification programs now.
Here is a FREE Guide to Help YOU Start a Business Teaching Manners to Children
CLICK THE IMAGE TO GET THE DOWNLOAD RIGHT NOW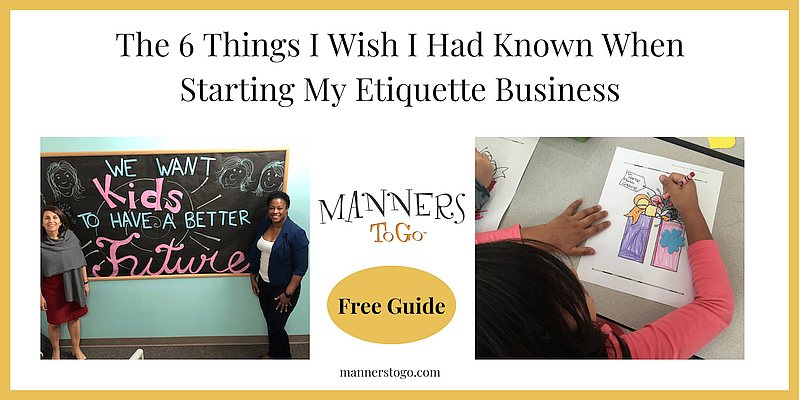 Get to Know Manners To Go™
Most likely, you will want to get to know us. Feel free to call or email us. Click on the links below. We are happy to discuss the details with you.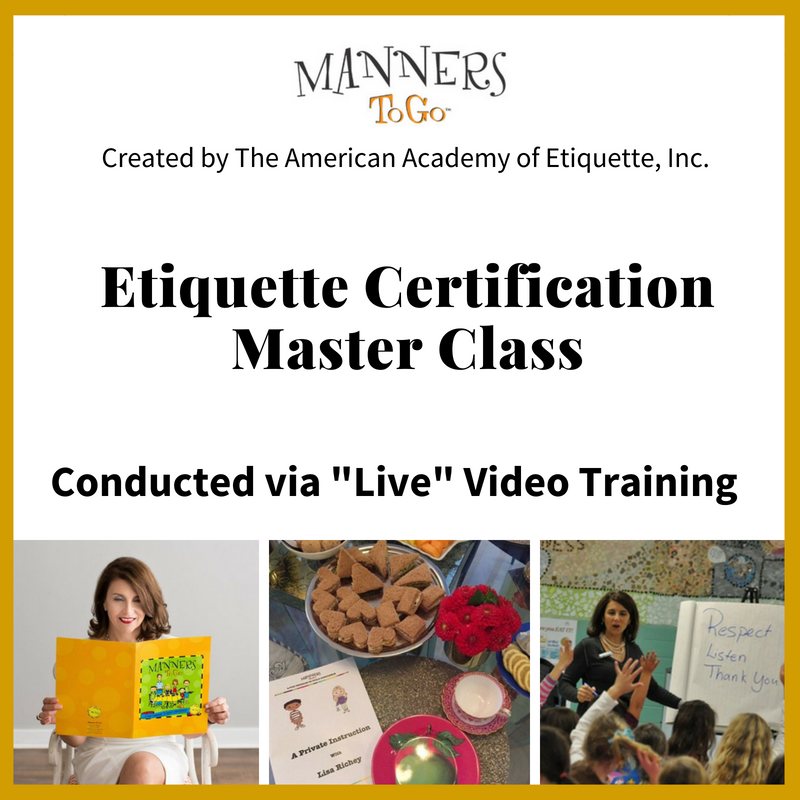 Option #1:
"Live" Video Training
If you are looking to start immediately and save money on travel and time, then this is your best option.You choose the dates of our trainings. Most choose to have their sessions once a week, others twice. This is a "live" and private training. It is NOT self-guided.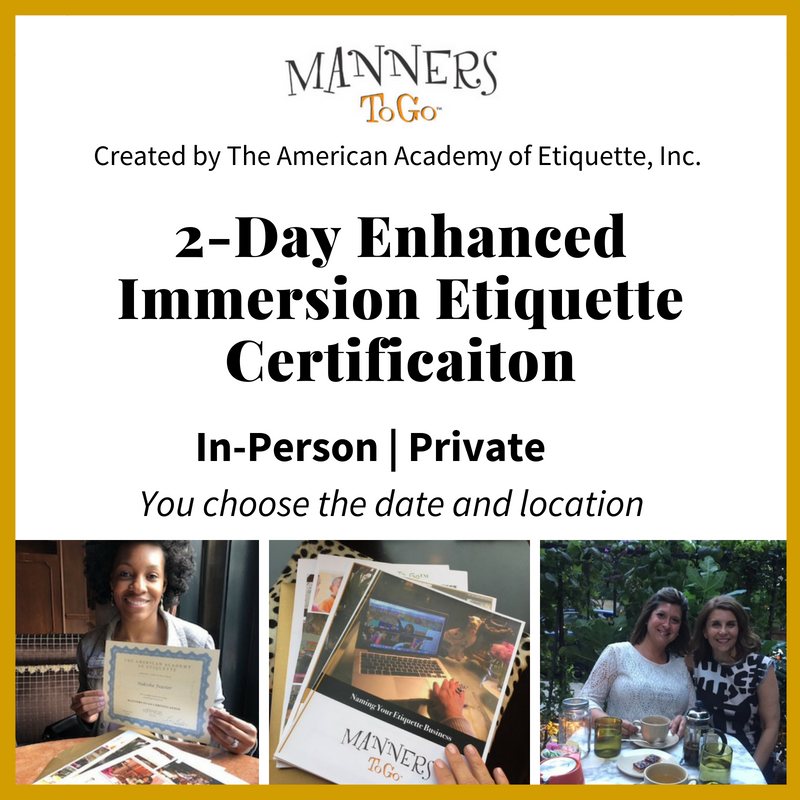 Option #2:
Two-Day In-Person
PRIVATE Training. That's right, we meet in person, the two of us and our focus is completely on your business. Click the image above or follow the button below to learn more and to see a list of cities available for your training.

Receive the curriculum and book your training dates
Upon payment, you receive the curriculum. Next, we will send an email asking you to schedule your first training date.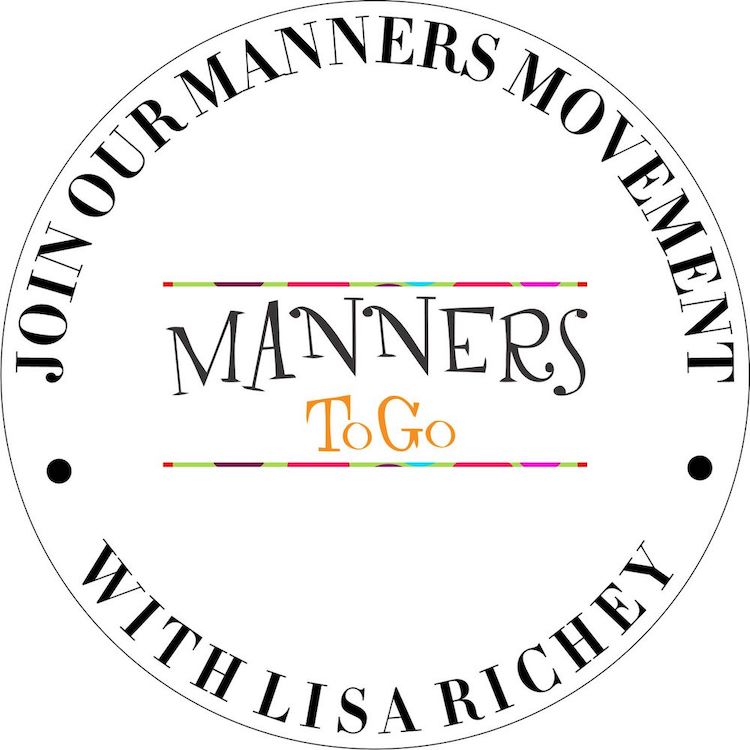 Join the
Manners To Go™ movement with Lisa Richey.