Being an etiquette consultant is one of the most rewarding career options out there. You're able to directly shape people's lives, improve society as a whole, and work on social skills in unique, creative ways.
If you're ready to make a career change into a field that's exciting and impactful, becoming an etiquette consultant could be right for you.
Navigating the process of becoming an etiquette consultant is a little overwhelming. Here's everything you need to know about starting an etiquette business successfully.
How To Set Up Your Business As An Etiquette Consultant
When you're getting started as an etiquette consultant, there are lots of things to think about. If you know you want to work with children or adults on etiquette, how do you get everything set up the right way?
Step 1: Choose A Curriculum
Choosing an etiquette curriculum is a critical step in your setup process.
Today's youth are sophisticated, and you must go into a classroom setting and know exactly what you're doing. This is not an area where you can download a few handouts that you have gathered from the internet.
Instead, you need a lesson plan and an organized etiquette curriculum from which to teach! You are a professional and your materials, content, and delivery must reflect it.
Manners To Go has created a thorough, comprehensive, and engaging manners curriculum that reflects current social practices. We also have so many resources to help you build your etiquette consulting business with less stress!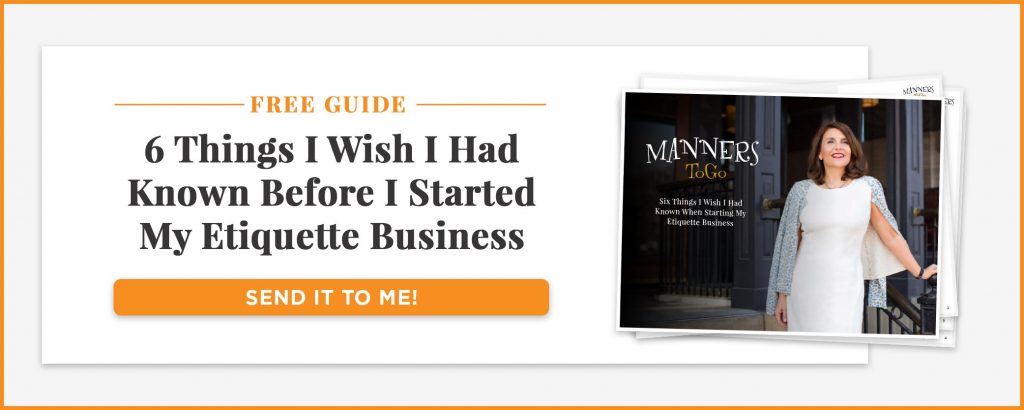 Step 2: Select Your Etiquette Consultant Business Name
Your business name reflects who you are, who you serve, and what you're all about. That's why choosing a good one is so important!
At Manners To Go, we often help our students select the perfect business name. A little bit of support helps you avoid making common business name mistakes, like tying yourself to one specific niche or location. As your business grows, you might want to make changes, so choosing a name that's flexible is really helpful.
Step 3: Set Up Your Business Bank Account
A business bank account not only keeps your personal and business finances separate, but helps you stay organized with your business finances.
Try visiting your local bank to see if they can help you set this up. Certain documents, like your business license, may be required to set up your new bank account, but every state's requirements are different
Having a separate business bank account is also a great feeling! It helps you feel validated as a business owner.
Step 4: Network and Be Resourceful In Building Your Business
Get creative in networking for your new etiquette consultant business. Who do you know in your "circle of influence?"
For example, if you are a parent, connect with your friends, your childrens' school, and even organizations like churches, sports teams, and Scouts.
Step 5: Invest In Education To Become An Etiquette Consultant
Choosing to educate yourself when becoming an etiquette consultant lays the foundation for your success.
Manners To Go is the perfect place to learn everything you need to know about your new etiquette business. We have every detail covered, including:
Ready-to-use handouts and lesson plans
Curriculum and age-appropriate activities
Comprehensive training programs and manuals
Business and marketing templates and downloads
Video of classes in action
Tips to customize curriculum to different audiences
Coloring pages for students ages 4-6
Updates to the curriculum
Spanish translations for every lesson plan and the entire curriculum
Remember, the world needs what you have to offer, so taking the time to invest helps you find success faster and connect with people to serve them.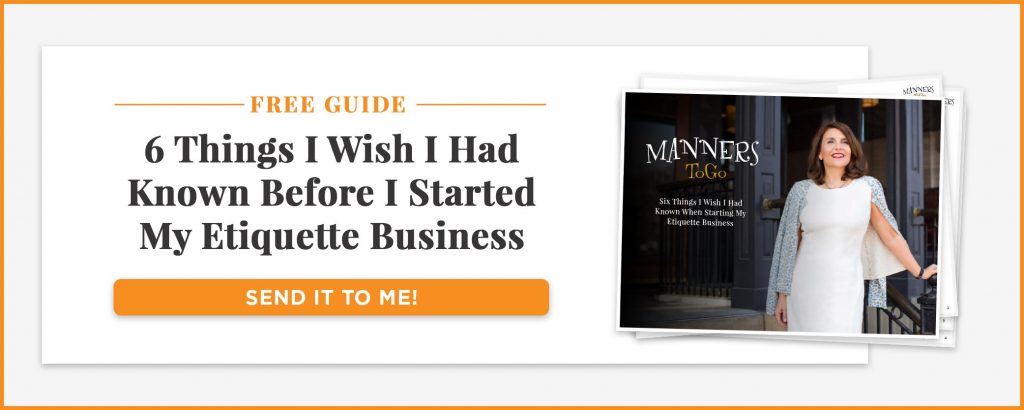 Step 6: Get Started Sooner Rather Than Later
When you're getting started as an etiquette consultant, it's important to stay focused on your goals. All too often, we can get stuck in the nitty-gritty to-dos of starting a business, but getting started at all is the key!
You need to start interacting with people and teaching manners. Know that this business is valuable, and you bring a unique perspective and set of skills to the table that people will appreciate.
Getting out into the community and letting people know about your etiquette consultant services is essential in starting to build your business.
---
As an etiquette consultant, you will have the opportunity to directly impact people's lives. Manners and social skills shape the way our lives go, so no matter where you are or who you work with, you are going to change lives.
Becoming an etiquette consultant doesn't have to be overwhelming, and you don't have to figure everything out on your own. If you're ready to take the leap and become an etiquette consultant, Manners To Go has so many resources and so much support to offer. Starting your own business is exciting, and with the right support, you will quickly find success as an etiquette consultant. 
Here is a FREE Guide to Help YOU Start a Business Teaching Manners to Children
CLICK THE IMAGE TO GET THE DOWNLOAD RIGHT NOW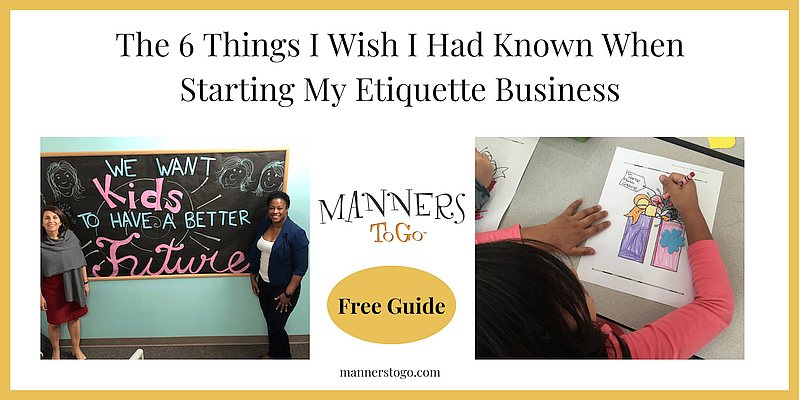 Get to Know Manners To Go™
Most likely, you will want to get to know us. Feel free to call or email us. Click on the links below. We are happy to discuss the details with you.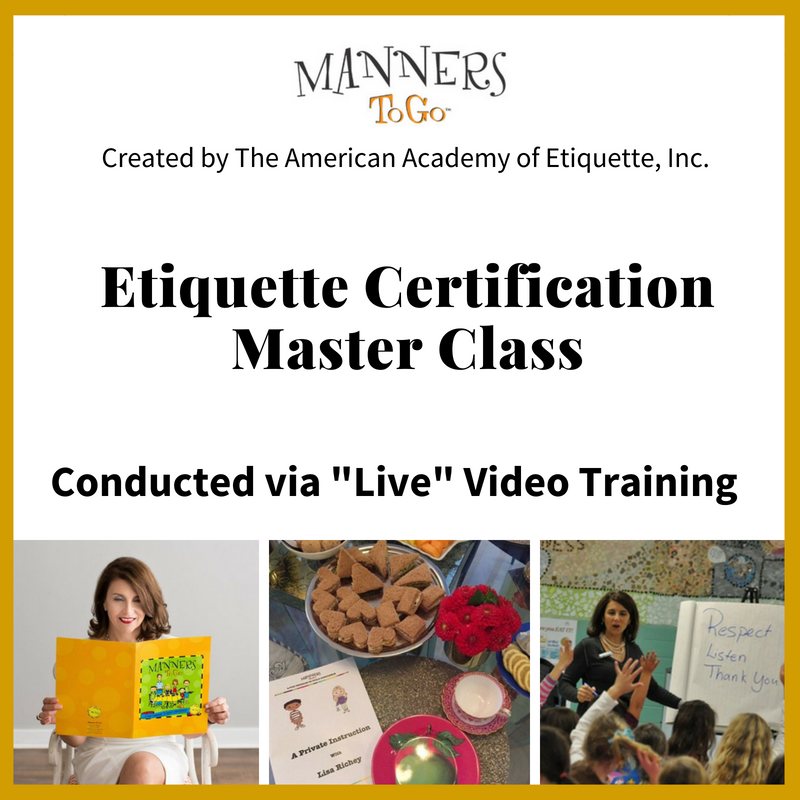 Option #1:
"Live" Video Training
If you are looking to start immediately and save money on travel and time, then this is your best option.You choose the dates of our trainings. Most choose to have their sessions once a week, others twice. This is a "live" and private training. It is NOT self-guided.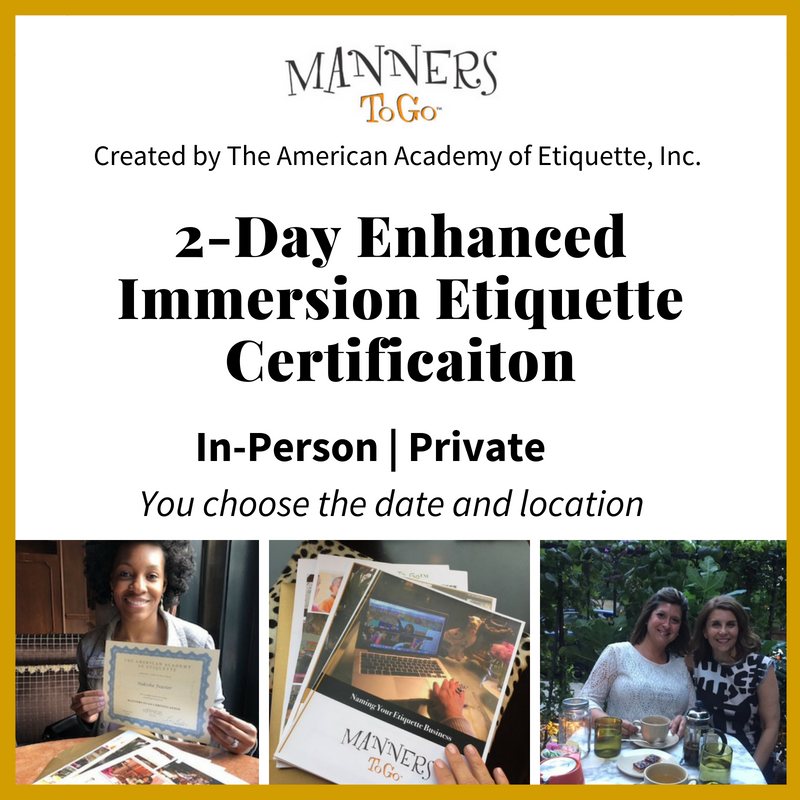 Option #2:
Two-Day In-Person
PRIVATE Training. That's right, we meet in person, the two of us and our focus is completely on your business. Click the image above or follow the button below to learn more and to see a list of cities available for your training.

Receive the curriculum and book your training dates
Upon payment, you receive the curriculum. Next, we will send an email asking you to schedule your first training date.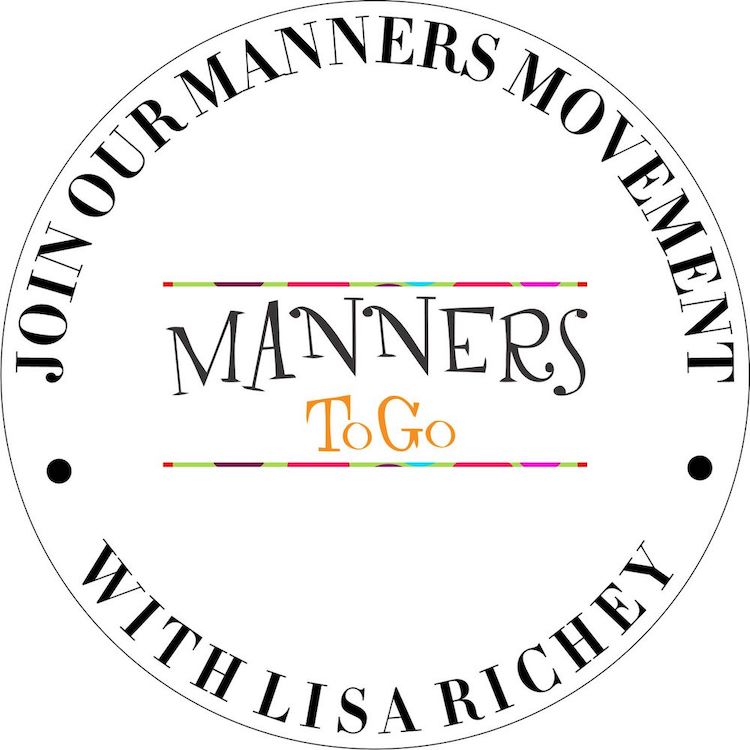 Join the
Manners To Go™ movement with Lisa Richey.