Etiquette experts who harness the power (and the freedom) of entrepreneurship experience greater happiness and success in their niche. Those who are more timid or shy simply won't land as many business opportunities, which means they have fewer opportunities to make a difference! As an etiquette expert, you must develop self confidence in entrepreneurship in order to reach your full potential.
What Is Self Confidence In Entrepreneurship?
Etiquette experts must consistently refine their confidence in order to impact their clients. Your self-improvement work is never done! After all, if you don't appreciate your own power to change the world, who will?
For etiquette experts and educators, self-confidence in entrepreneurship comes from taking a risk and sharing your passion and knowledge. It means knowing the value you offer in teaching manners and social skills to children.
Being confident as an etiquette speaker (showcasing your self-worth in front of many people) means not being afraid of your audience—no matter how big or small.
You've got this! I promise you can do it. Take all of the confidence-testing, professional risks that come your way.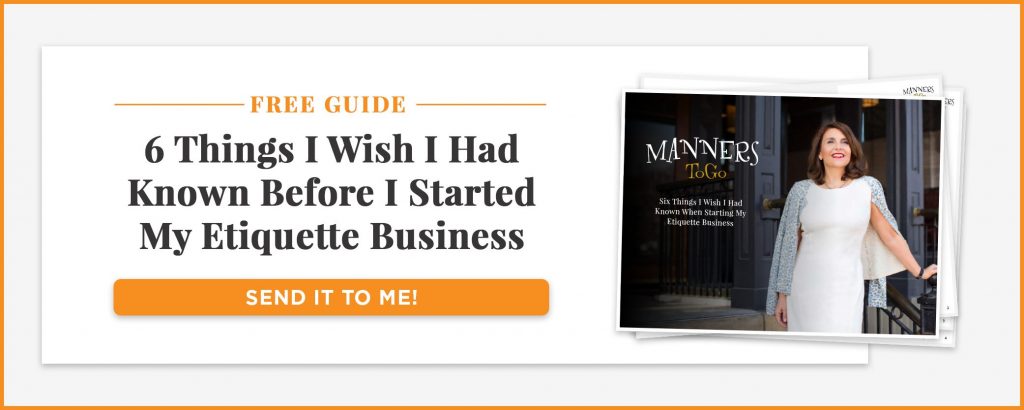 Why Is Self Confidence In Entrepreneurship Important?
When you're teaching children, confidence is especially important. They can sense when you're noncommittal or unsure of yourself.
Children respond better to role models than step-by-step instructions or lectures. So you can think of your demonstrated self-confidence in entrepreneurship as part of your etiquette lessons! They'll shadow your behavior—things like your proud voice or tall stature.
Remember, confidence comes from how you feel about yourself. No matter how you're feeling today, you can uplevel anytime!
How To Build Self-Confidence In Entrepreneurship As An Etiquette Pro
It helps to realize that nothing is beyond your control. Your students benefit from a more confident instructor and from being in the presence of a self-assured, calm, and collected entrepreneur.
Increasing your confidence is easier said than done, but here are some tips to guide you!
Practice Confident Body Language
Fake it 'til you make it! By adopting stronger body language, you'll stand (get it?) to build greater self-confidence in entrepreneurship.
Try these physical confidence techniques:
Square your shoulders
Stand and sit taller
Practice eye contact when speaking
Smile and nod during conversations
Avoid fidgeting
Your appearance often speaks louder than words. Plus, it communicates that you're important and worthy of attention as an etiquette educator.
Stay Positive
If you enter the classroom or other educational setting thinking, "This is going to be a bad day. These students don't care about what I have to say," you'll probably be right! Negative energy impacts the effectiveness of your lessons—and therefore, your business.
Self-confidence in entrepreneurship relies heavily on a positive mindset.
Believe that what you have to offer is essential. Smile at mistakes and unexpected or unplanned reactions. It's all part of the gig!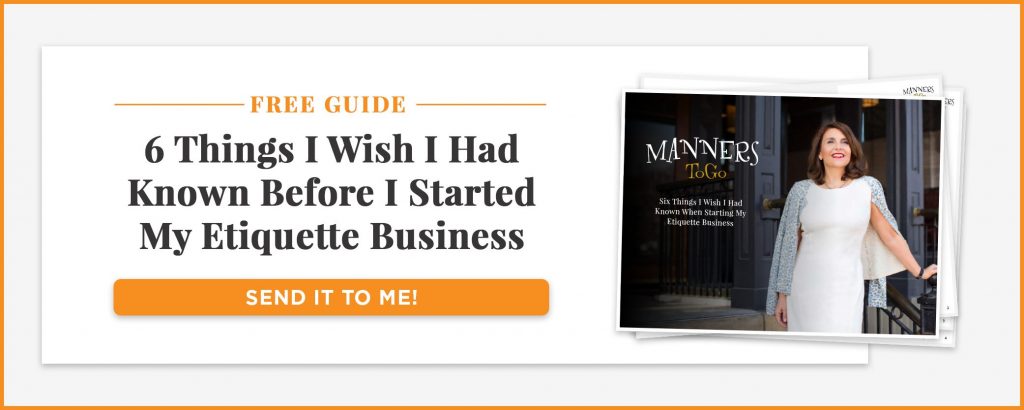 Speak Calmly and Avoid Nervous Language
Have you ever listened to a public speaker or teacher fill conversations or lessons with lots of thinking noises or the word "like?" Nervous break-fillers are a reflection of confidence (or lack thereof). Honestly, most of us don't even know we're doing it!
To demonstrate self-confidence in entrepreneurship, call awareness to how you deliver a monologue. Practice in front of a mirror or record yourself with your phone or computer to watch yourself back and improve! The silence between sentences or thoughts is far more powerful than a rogue "um."
Related: You Can Help Parents Raise Kind, Confident, and Mannerly Children
Dress Like You're Already Confident
A professional, clean look goes far to convey confidence. Even if you're not feeling particularly brave or self-assured, your clothes help you play the part. You can track your audience and yourself into believing you're worth a million bucks! (Continue to dress well, and you could be one day!)
Remember, as an etiquette teacher, your outside performance directly relates to your internal feelings. You're sure to give a better lesson to your students if you're dressed confidently.
Get Certified For Extra Self-Confidence In Entrepreneurship
We've all imagined finding that magical golden ticket to unlock the life we've been dreaming of. But honestly, an etiquette certification is better than Willy Wonka's golden ticket because you have to earn it! And it opens the doors to countless educational opportunities, where you can positively change the lives of children and their families.
Start earning your Etiquette Certification with Manners To Go. We provide all the learning tools and curricula that you could possibly need for a host of teaching scenarios. Plus, your certification helps win you more chances to teach within your niche.
Getting certified is a smart, confident entrepreneurial choice in itself!
---
Your passion for good manners and proper etiquette may not be enough! You need self-confidence in entrepreneurship to reach your full potential.
Get in touch with Manners To Go, and learn more about a career in etiquette education as soon as possible.
Here is a FREE Guide to Help YOU Start a Business Teaching Manners to Children
CLICK THE IMAGE TO GET THE DOWNLOAD RIGHT NOW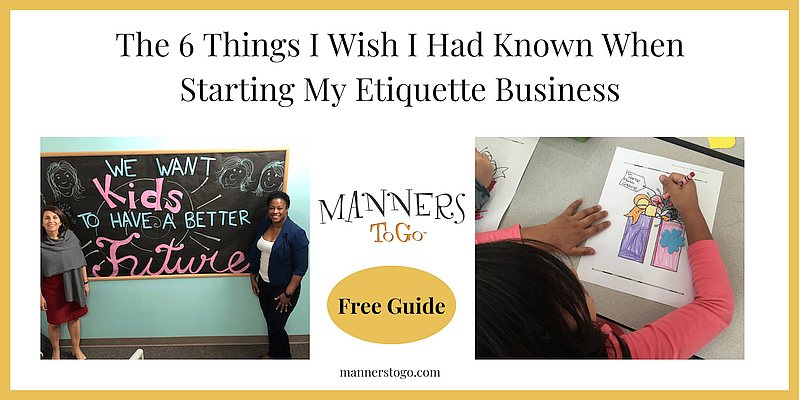 Get to Know Manners To Go™
Most likely, you will want to get to know us. Feel free to call or email us. Click on the links below. We are happy to discuss the details with you.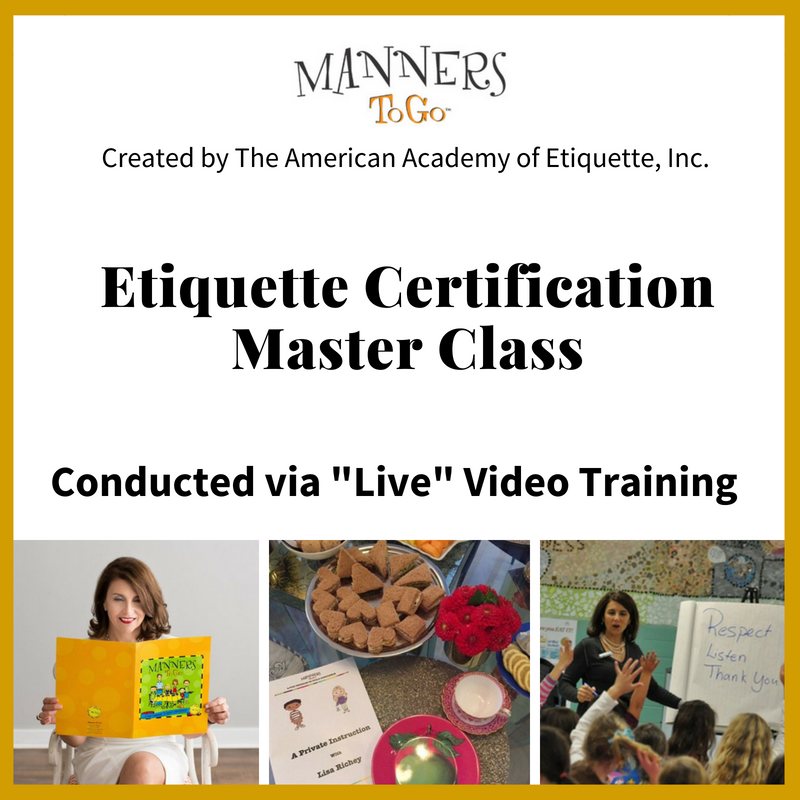 Option #1:
"Live" Video Training
If you are looking to start immediately and save money on travel and time, then this is your best option.You choose the dates of our trainings. Most choose to have their sessions once a week, others twice. This is a "live" and private training. It is NOT self-guided.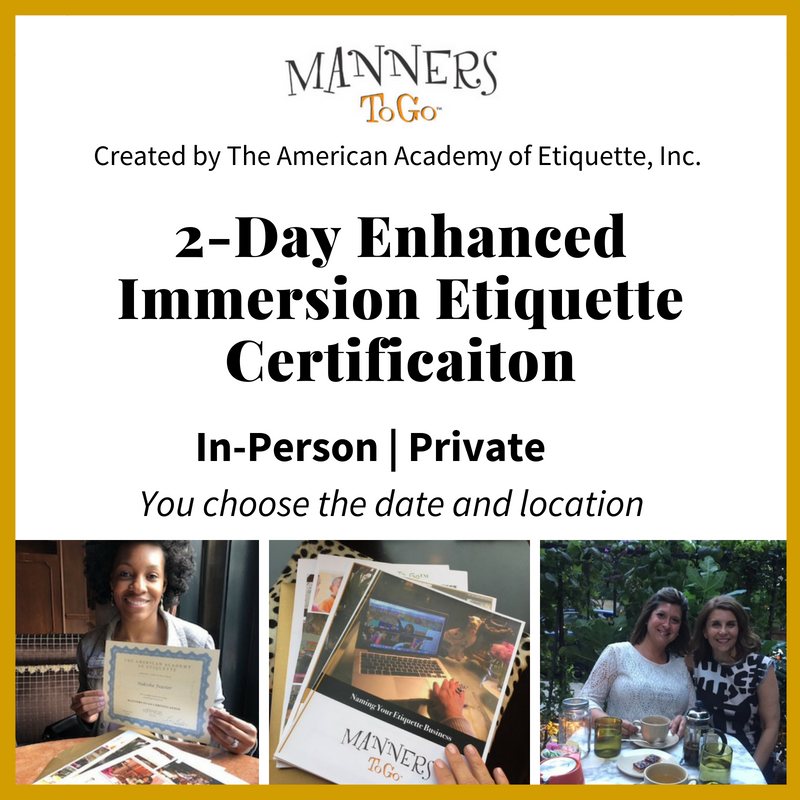 Option #2:
Two-Day In-Person
PRIVATE Training. That's right, we meet in person, the two of us and our focus is completely on your business. Click the image above or follow the button below to learn more and to see a list of cities available for your training.

Receive the curriculum and book your training dates
Upon payment, you receive the curriculum. Next, we will send an email asking you to schedule your first training date.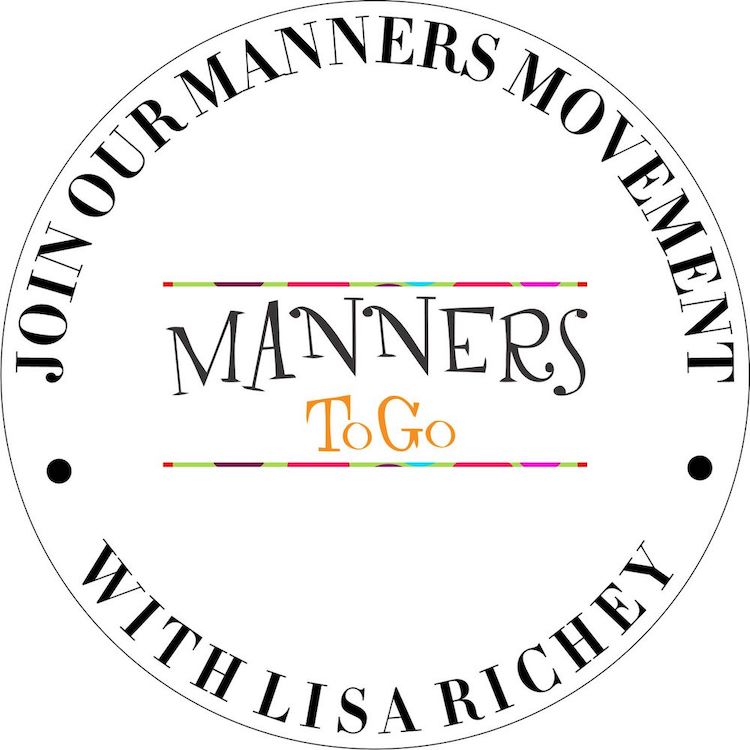 Join the
Manners To Go™ movement with Lisa Richey.