How a Student Behaves in Elementary School Can Impact Their Entire Academic Career
As an elementary school teacher, you know how important it is for students to understand how to behave appropriately in different social situations. Students who demonstrate basic etiquette and social skills – and show respect and consideration for others – create a more positive impression in the eyes of their peers and the adults in their lives. As a result, they are more likely to be presented with opportunities that allow them to grow and thrive. The Manners To Go™ Elementary curriculum makes it fun and easy for you to teach these skills to your students and prepare them for success throughout elementary school, middle school, and beyond.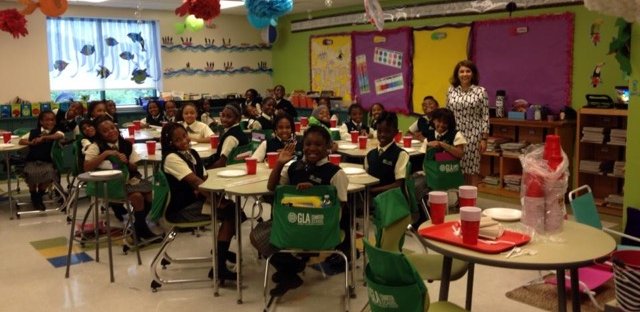 Fun, Age-Appropriate Activities Help Your Elementary Students Learn:
Why manners matter
Eye contact
Smiles
Posture
Conversation skills
Magical words
Handshakes
Introductions
How to use grown-up titles
Tech manners
Communication skills
Thank you notes
Table manners
Manners in public places
Why teach Manners To Go™ in elementary school?
Students who learn the Manners to Go™ curriculum become more polite, well-rounded children. Here are some of the qualities you can expect them to exhibit:
Greater confidence and self-esteem
More empathy for others
Improved etiquette and social skills in the classroom
Pride in showing their parents what they have learned at school
Better manners in everyday life outside the classroom
Better manners in everyday life outside the classroom
Greater willingness to take on new challenges, such as public speaking or acting as a class leader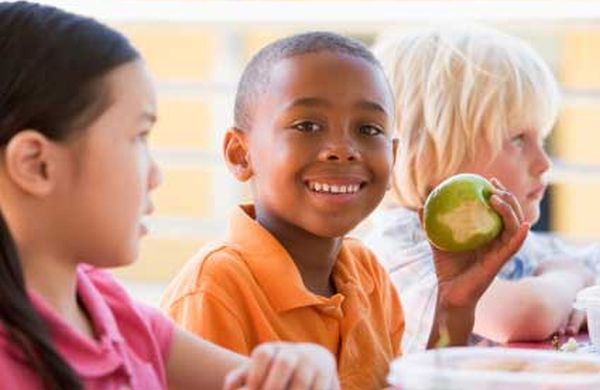 As a result, students will receive more positive feedback from their adults and peers, which will continue to boost their self-confidence and develop new skills and abilities that make it easier for them to excel in life.
As the After School Programs Director, I am always looking for fun and educational programs to bring into my school for grades K-5th. The manners program that Lisa Richey customized and planned for us worked out well. It covered the basic skills a young person needs to know to be a polite and well-mannered individual. Our program ran for four sessions. I would recommend this program to any school or group.
It's never been easier to teach your elementary school students good manners
The Manners to Go™ curriculum is beautifully illustrated with age-appropriate images that elementary school students can relate to and learn from.
Role-playing activities are included for each module.
The activities are fun and based on situations occur in an elementary school student's everyday life./li>
The program easily fits into your day and may be taught in 10, 20 or 30 minute sessions.
The lesson plans are designed to be customized to meet your timeframe and include suggested dialogue.
The program may be taught as an after school program which can generate additional income for your school.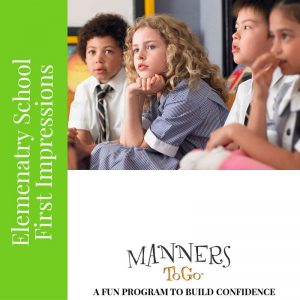 Purchase Curriculum in English Only or English & Spanish
Order the Elementary Package Today
Give your students the tools they need to thrive in any social situation and make a lasting positive impression on others.
All Courses Include:
16 modules (resulting in over 200 pages of lesson plans and handouts)
Ready to use handouts to print or to use with Smart-board
Curriculum provided as an electronic file for easy download
I had the pleasure of meeting Mrs. Richey when we booked her outstanding Manners To Go program for our school assembly at Jefferson Elementary in Westfield, NJ. The program was fine tuned to each grade level and the students were engaged and ready to participate. Mrs. Richey was even kind enough to incorporate a working lunch into the already busy day to confer with our teachers on how to put the program into their everyday activities in class. The students learned how to make eye contact, to have a proper handshake, respect for others and even writing a proper thank you note with our older grades. I would highly recommend Mrs. Richey and her Manners To Go program for everyone, adults and children alike.
I had the privilege of working with Manners To Go this year. From the moment Mrs. Richey walked into my classroom, she had such a positive rapport with the children. Her energy and enthusiasm was infectious with my class of all girls. Mrs. Richey provided a wonderful opportunity for my students to practice what they learned in a real life situation. She taught them how to properly cut their food, eat scones, eat finger sandwiches, drink tea, and use a napkin. My students absolutely loved participating in this tea, and it was an experience they will never forget. Mrs. Richey's manners lessons were interactive, fun, and extremely beneficial. I see the girls continuing to use the skills taught by Mrs. Richey in our lunch program, even teaching others! Manners To Go is an amazing learning experience that I highly recommend. You won't be disappointed by Mrs. Richey's knowledge and professionalism. I am so glad my class had the opportunity to be a part of this incredible program! I could go on for pages about our wonderful experience.