Teaching manners to children helps them succeed in school, with friends, and beyond… but lessons become truly exciting (even magical) when framed around royal etiquette. Is there anything more enticing or romantic than envisioning yourself as a king or queen, prince or princess?
Of course, the odds of becoming a real member of the British royal family (or their royal court) are slim to none for most young etiquette scholars. Nonetheless, mirroring the finest manners and social norms of royalty can help steer them towards a life of achievement and positive recognition for their efforts.
Why Should We Focus On Royal Etiquette?
Queen Elizabeth II and her family certainly receive a great deal of attention—for many reasons! But especially for their decorum.
We look to the House of Windsor as role models for even the most intimidating social interactions, like royal weddings or the Changing of the Guard.
For the rest of society, royal etiquette elevates confidence levels and sharpens attention to fine details. This is especially true for children! As an etiquette educator, you can give young minds the knowledge that acting like royalty does in fact invite a life of great opportunity and prosperity.
Royals are a key resource for manners. They set the stage for what's acceptable (and what's not) in a variety of different settings:
At the dining table
Lighthearted social gatherings
Somber events
In a theater or observing a show
When conducting business
In every situation, the particulars—like where to put your hands and what to wear—matter a great deal. Perhaps royal attention to consistency and finery is why British culture has been able to preserve several valuable traditions from the past.
On the other hand, social structures in the United States are more relaxed. But we can still stand to learn a thing or two about royal etiquette from our neighbors across the pond!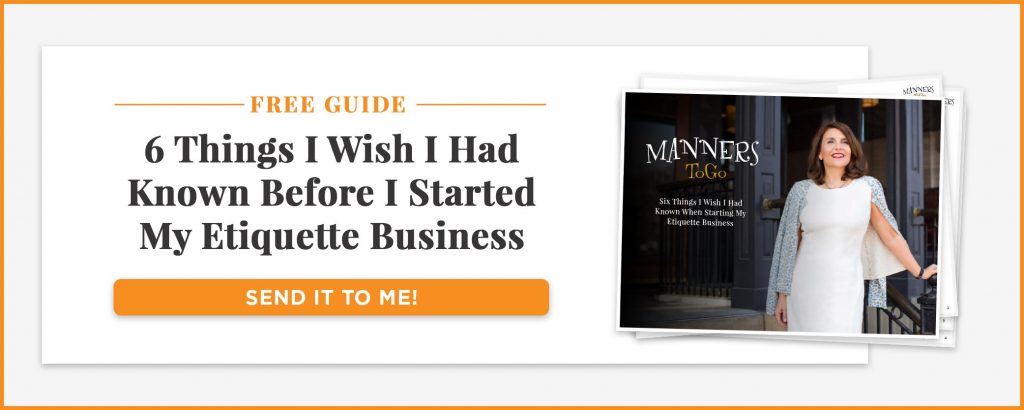 How To Adopt Royal Etiquette Practices The Right Way
Don't think of royal etiquette as a set of rules to be followed. Think of them as tools to help you act and feel your best. Good manners are always a choice… but a good one, to say the least.
Manners create confidence. With a royal edge, you may be unstoppable!
But there is a right (and obviously, wrong) way to go about teaching royal etiquette. For example, you should teach children about modesty and caring without conveying superiority or uptightness.
The idea isn't to educate and graduate entire classes of dukes and duchesses (some who'd be too stuffy to smell the roses). Rather, a royal etiquette education should make your students feel empowered and capable of imparting kindness, respect, and high moral values unto the world around them.
Highlight action—not the illusion of status.
3 Royal Etiquette Tips to Teach In Your Etiquette Business
It's important to understand all sorts of etiquette in your role as an educator, but royal etiquette is the top tier of essential skills. Use these valuable tips to give your students the monarchic treatment they deserve.
1. Posture
Teach your students that good posture conveys approachability and confidence! It's just as important as practicing kind words and gestures, especially when considering first impressions (and that second impressions are never guaranteed).
The best way to walk into a room is with your shoulders back and down. Your students ought to practice pulling up at their waists and making eye contact with others for the best results.
Have them lift their chins, ever so slightly, to exude all the confidence and friendliness they have within. They can pretend they have crowns on their heads to make it fun!
Another time-honored royal etiquette trick for posture is book balancing. Ask your students to float around the room with books on their heads without dropping them. A lighthearted competition is sure to invite a few smiles and laughs into the room.
Pro tip: The Duchess of Cambridge has admirable posture! Use her as a role model on how to sit and stand when you need one.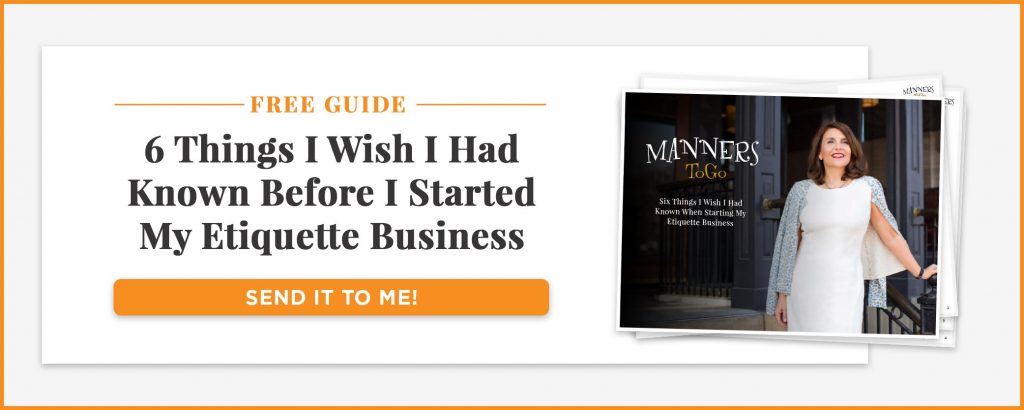 2. Handshake
Greetings in the United States differ slightly from those in the United Kingdom and within the royal family. For example, we don't kiss each other on the cheek! But we do see eye-to-eye on a firm handshake: a powerful and professional handshake is a game-changer in royal etiquette.
Teach your students that their handshakes need to be firm and touch the palm of the other person's hand. (You can model this so everyone understands what you're talking about.)
Remind students to only shake twice! That's the unspoken (until now) standard for strong, assured handshaking. And be sure to remind them to make eye contact and stand tall whenever they're shaking someone's hand. Sitting sends the wrong message and would be an instant turn off to any new acquaintance, let alone a royal one!
Explain to your class that there's no need to grab a person's hand (with both of yours) when shaking it. This two-handed embrace is referred to as the "glove" handshake, and is more casual than an assured one-handed hold.
Invite your students to practice handshaking with you each time you see them. You can make a game of it every so often, where all of your students have a turn shaking the hand of another and providing peer feedback.
3. European Style Dining
Both American- and European-style dining can be found in the United States, but you can never go wrong with royal etiquette at the table. The royal family keeps knives on the right-hand side and forks on the left-hand side of their plates.
They use the hands nearest each utensil to eat their food (right for knife and left for fork). But they are careful to keep the tines of their forks facing down, sliding food morsels onto the back of it. This differs from American dining and takes some practice!
Make it fun by bringing tasty foods into class and allowing students to rehearse sliding bite-sized pieces onto the backs of their forks. They can also work on eye-contact and polite conversation as they eat.
When food isn't plentiful (or you're simply pressed for time) you can have students practice with pieces of paper or use their imaginations.
Also, have students be mindful of the types of foods they order in a formal (near-royal) situation. Have them choose entrees that are easy to eat neatly with a knife and fork and their new royal etiquette skills. (It's best to skip the hand-held cheeseburgers or messy buffalo wings!)
---
Teaching manners is easier and more fun when you introduce royal etiquette. Nobody knows how to put their best foot forward quite like The House of Windsor. Your students are sure to feel more confident and capable with achieved role models from the royal family for reference.
Why not join our manners movement?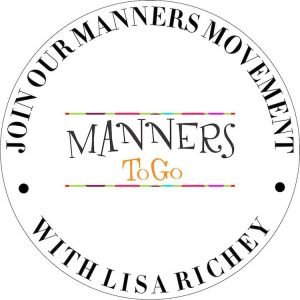 Here is a FREE Guide to Help YOU Start a Business Teaching Manners to Children
CLICK THE IMAGE TO GET THE DOWNLOAD RIGHT NOW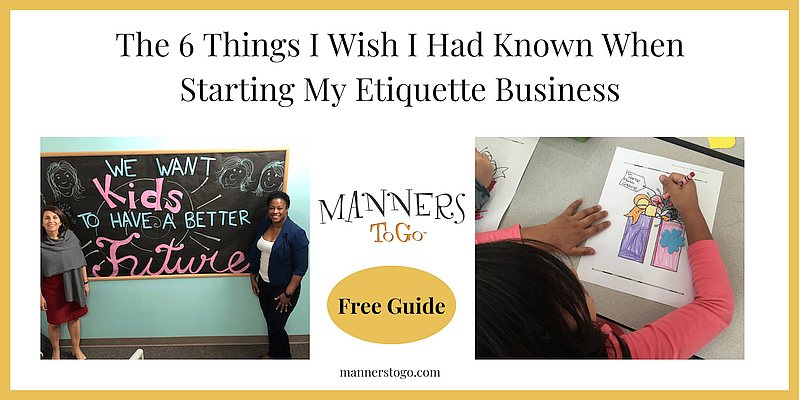 Get to Know Manners To Go™
Most likely, you will want to get to know us. Feel free to call or email us. Click on the links below. We are happy to discuss the details with you.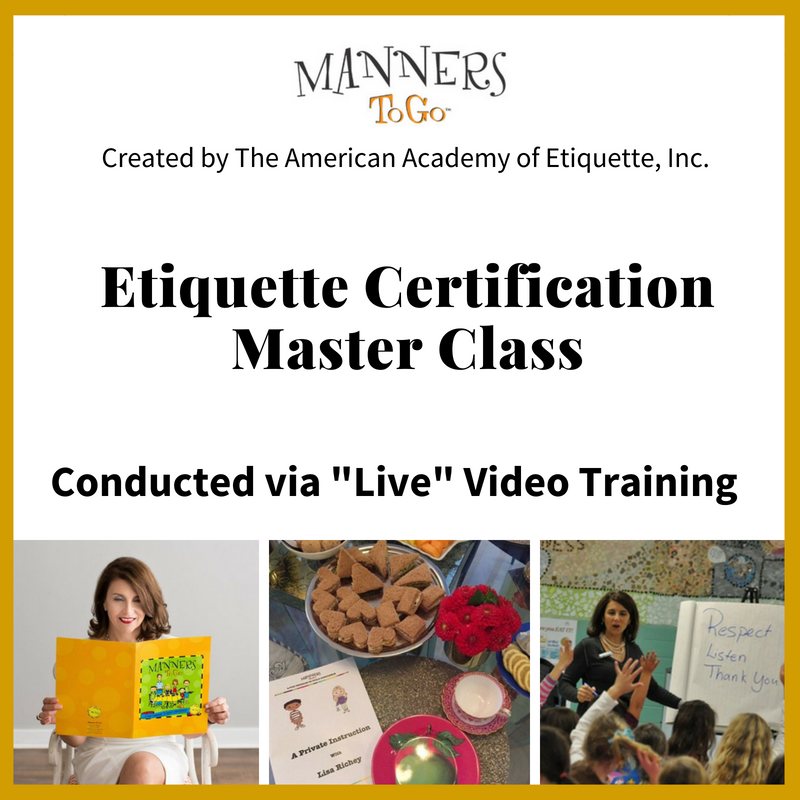 Option #1:
"Live" Video Training
If you are looking to start immediately and save money on travel and time, then this is your best option.You choose the dates of our trainings. Most choose to have their sessions once a week, others twice. This is a "live" and private training. It is NOT self-guided.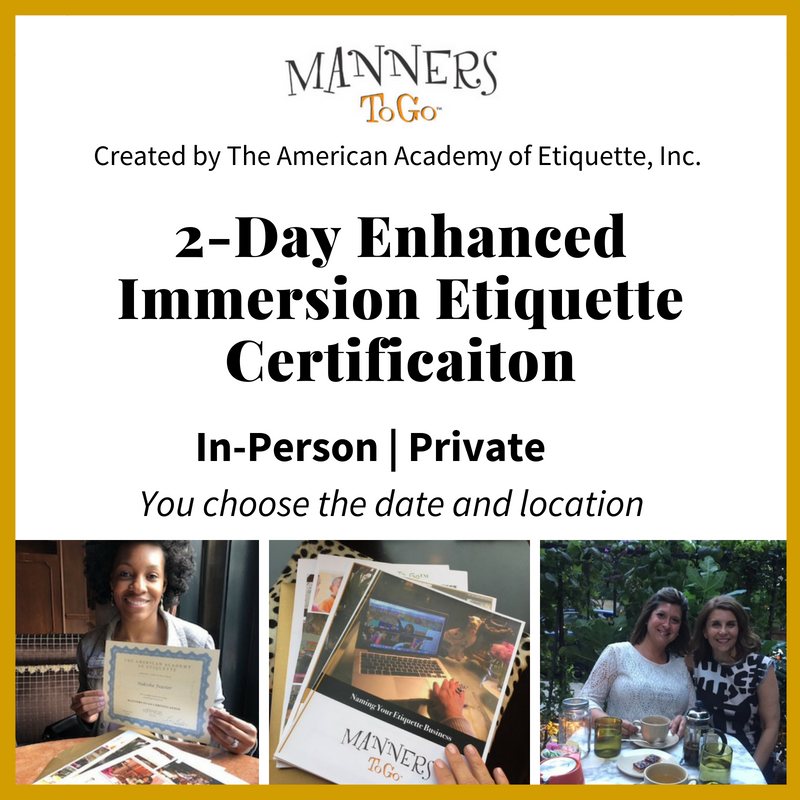 Option #2:
Two-Day In-Person
PRIVATE Training. That's right, we meet in person, the two of us and our focus is completely on your business. Click the image above or follow the button below to learn more and to see a list of cities available for your training.

Receive the curriculum and book your training dates
Upon payment, you receive the curriculum. Next, we will send an email asking you to schedule your first training date.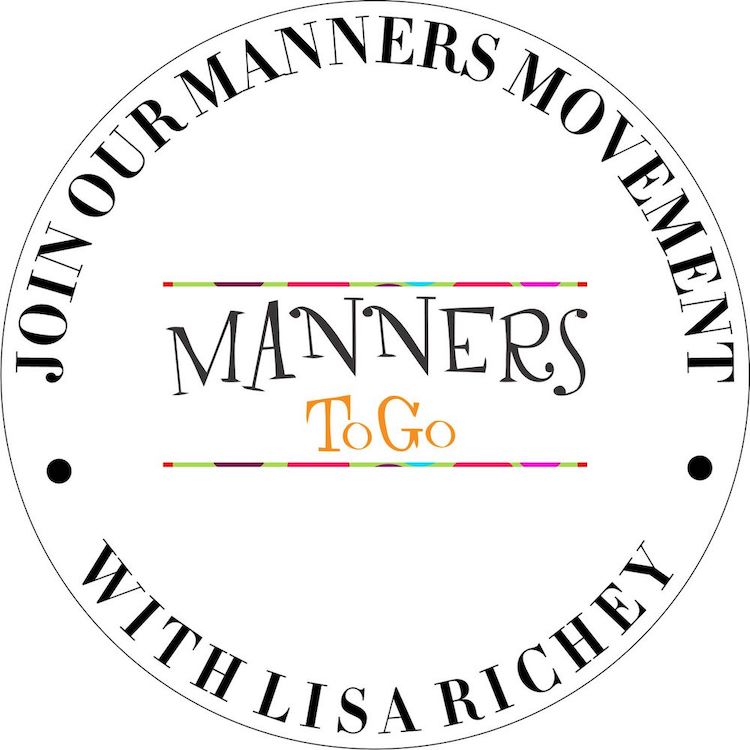 Join the
Manners To Go™ movement with Lisa Richey.