No matter your age, learning etiquette should be a part of your life. There are so many wonderful etiquette examples that can help people understand what etiquette really means.
And just as I do, you likely have a list that runs long and deep of the women who inspire you most. Today, I will address three women who've provided etiquette inspiration over the years—and of course, it was so tough to narrow my list down to only three.
But these women provide us with so many essential etiquette examples. As some of the most prominent women in society, they've demonstrated some of the best etiquette standards that we can all adopt in our everyday lives.
As a society, we follow by example. Being able to compile a list of known societal figures who are inspiring and hardworking is important. This is a great way for you to see what kind of role good etiquette can play in your life!
Why Is Etiquette Important?
Etiquette is all about your behaviors and your presentation. While it's about how you act, etiquette also affects how you interact with other people. And it doesn't rely on social class—anyone and everyone can learn manners.
Remember that common phrase, "Treat people the way you want to be treated?" That's what etiquette is really all about. Learning etiquette provides you with the knowledge you need to be kind and respectful to those you interact with on a daily basis.
Alongside kindness, etiquette involves proper manners. Good manners help you communicate with others consistently. Knowing how to communicate with people shows them that you value and respect them.
Etiquette allows you to flourish in the presence of others while practicing politeness and respect. And with the right etiquette examples (particularly those from inspirational women) you'll be able to see how powerful etiquette can really be, no matter who you are or your background.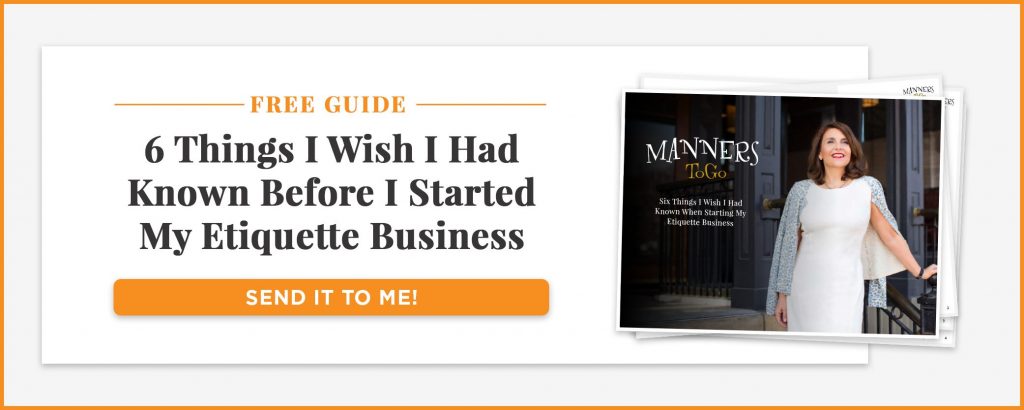 3 Influential Women Who Displayed Incredible Etiquette
There are so many inspirational people in society today. My list contains a long line of influential women. But in this blog post, I'd like to focus on three specific etiquette examples of inspirational women in history.
Jackie Kennedy's Etiquette Examples
Jacqueline (Jackie) Kennedy has been (and perhaps always will be) a well-known style icon in American society.
Her influence spans cultures and even generations—even teenagers express their love for Jackie and her incredible aura. One mother-daughter duo that we licensed and certified to teach manners is the perfect example. Renee (the daughter in the duo) is 16 years old, and in the video linked here, mentions how much she loves Jackie Kennedy.
Clearly, displaying etiquette and social grace can have resounding effects for years to come. As someone who exuded confidence and grace (even under immense pressure), Jackie became a role model whose influence has lasted well beyond her years.
Confidence Is Key
After serving as the First Lady of the United States, Jackie became known as both a style icon and a strong, family-driven woman.
Confidence was one of Jackie's biggest strengths. Being the First Lady means that you're in the spotlight for the whole country to see. There is a lot of pressure that rides on being the wife of a politician, but Jackie didn't crack under the pressure of her responsibilities.
The Manners To Go curriculum emphasizes the importance of confidence. Teaching children manners gives them the opportunity to build confidence in their skills and their behaviors around other people. The more confident they feel in their ability to act and communicate in social settings, the more successful they'll be.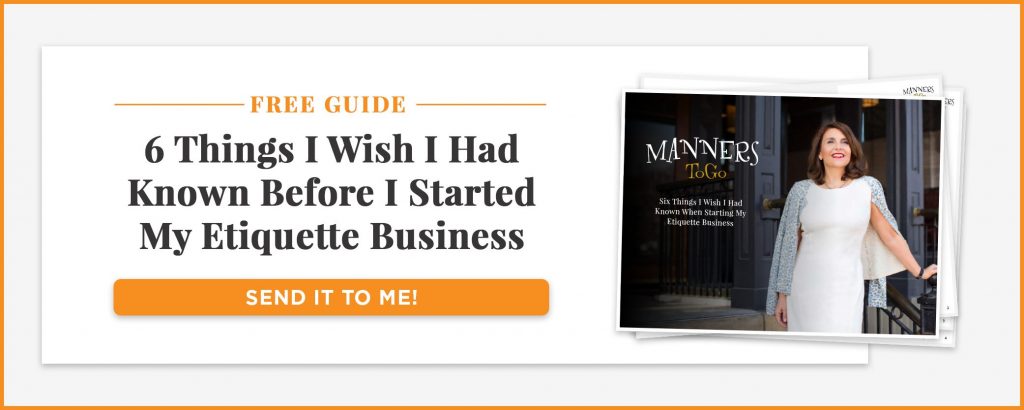 Keep Your Family Life Sacred
There is a lot of pressure that rides on being the wife of a politician but Jackie stood strong in the public eye. Even though there were many scandals surrounding her husband, Jackie always emanated respect for those around her. She also kept her opinions and thoughts close to her, keeping her privacy strong.
You should be respecting yourself and the others around you. This includes private matters. Knowing when to discuss personal problems is key to learning proper etiquette. Without the knowledge, you could create a very public and uncomfortable situation for yourself and for the others around you.
Jackie Kennedy is a great etiquette example because of the way she handled her strong public presence. By showing her confidence and her respect, she was able to make many meaningful connections with those around her.
Grace Kelly's Etiquette Examples
Grace Kelly is another standout woman who provided incredible etiquette examples. She's one of the most famous American actresses. But more importantly, she had many admirable traits that make her a shining example of what proper etiquette looks like.
Resilience Above All Else
Much like Jackie, Grace was featured in the spotlight on a consistent basis. While she carried all of the traits of an etiquette-educated woman, resilience is one of her strongest etiquette examples.
Resilience is a trait we all know very well and would like to possess. Throughout our lifetimes, we all experience hard times and struggles. Especially within the past year with the COVID-19 pandemic, life can really knock you down. Resilience is what helps us get back up again.
Coming from a large and famous family, Grace had big shoes to fill—especially after her father told her that she was the most likely to NOT succeed out of all her siblings. Those words must have been heartbreaking to hear as a child. But Grace didn't let them stop her.
Resilience is one of the greatest etiquette examples to examine.
We're never going to be perfect. It takes time to learn, understand, and practice. We make mistakes and we can learn from them. The only thing that matters is that you keep going!
Related: Table Manners and Reese Witherspoon
Be Empathetic and Kind
Not only was Grace Kelly resilient, but she was also kind. She involved herself in charities like arts and health programs that helped children.
As I mentioned, etiquette is about how you present yourself to other people. It's also about how you can be there for other people. Having strong etiquette skills allows you to support and care for the others around you. You can build strong relationships and really make a difference through your kindness.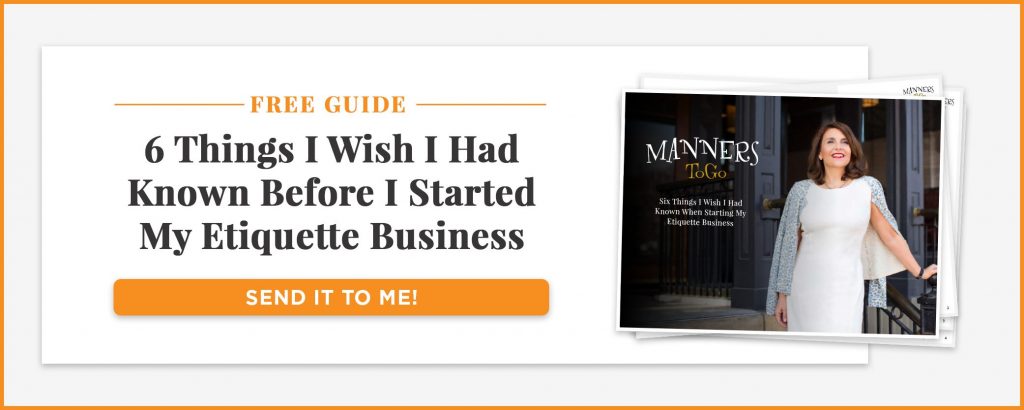 Kate Middleton's Etiquette Examples
Lastly, the Duchess of Cambridge, Kate Middleton has many all-around etiquette examples to look at. From her kindness to her body language, she knows how to respectfully handle herself and make connections with those around her.
Like the other two women that I've mentioned, Kate is in the public eye as a member of the Royal family. If William becomes King one day, Kate will play an even bigger role than she does right now. She holds herself with kindness and respect when in public even under pressure.
Related: 8 Best Self Development Books Etiquette Professionals Should Read
Body Language Reflects Your Emotions and Who You Are
Her emotional traits are not the only etiquette-related traits to look at. Her body language is just as important. If you look at pictures of Kate, she carries herself nicely and tall. Her posture is normally straight and her shoulders are loose. You can see her comfortability in her confidence.
Body language is an essential part of etiquette that not many think about. Whether I'm teaching a business etiquette course for adults or focusing on children, I ask my students to acknowledge their posture.
Our emotions and body language are closely connected. If you're slouching in your seat, you most likely feel tired, bored, or even insecure. On the other hand, if you stand tall with your shoulders back and head up, you're oozing with confidence. Even if you aren't feeling very confident, fake it until you make it with your posture!
---
There is so much more to etiquette than people really know. That's why looking at etiquette examples is so important.
Being able to see real-life accounts of etiquette can help students understand more about the rules of etiquette. This can lead to more of an inspiration to learn good etiquette and set more goals to achieve it.
Here is a FREE Guide to Help YOU Start a Business Teaching Manners to Children
CLICK THE IMAGE TO GET THE DOWNLOAD RIGHT NOW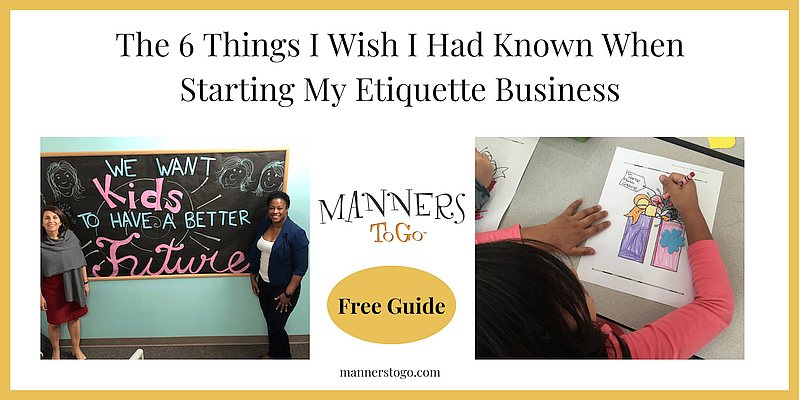 Get to Know Manners To Go™
Most likely, you will want to get to know us. Feel free to call or email us. Click on the links below. We are happy to discuss the details with you.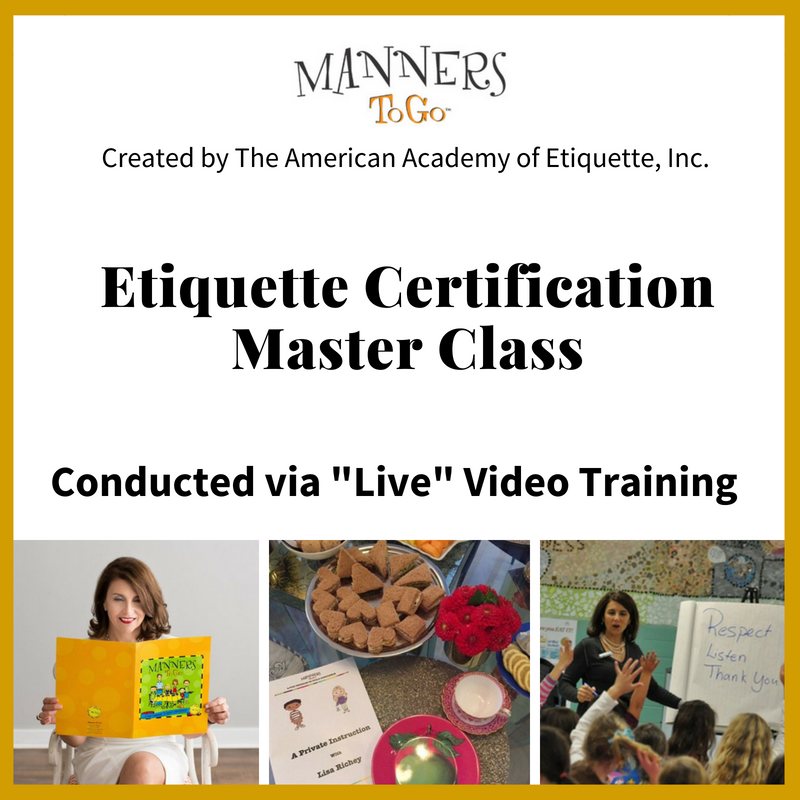 Option #1:
"Live" Video Training
If you are looking to start immediately and save money on travel and time, then this is your best option.You choose the dates of our trainings. Most choose to have their sessions once a week, others twice. This is a "live" and private training. It is NOT self-guided.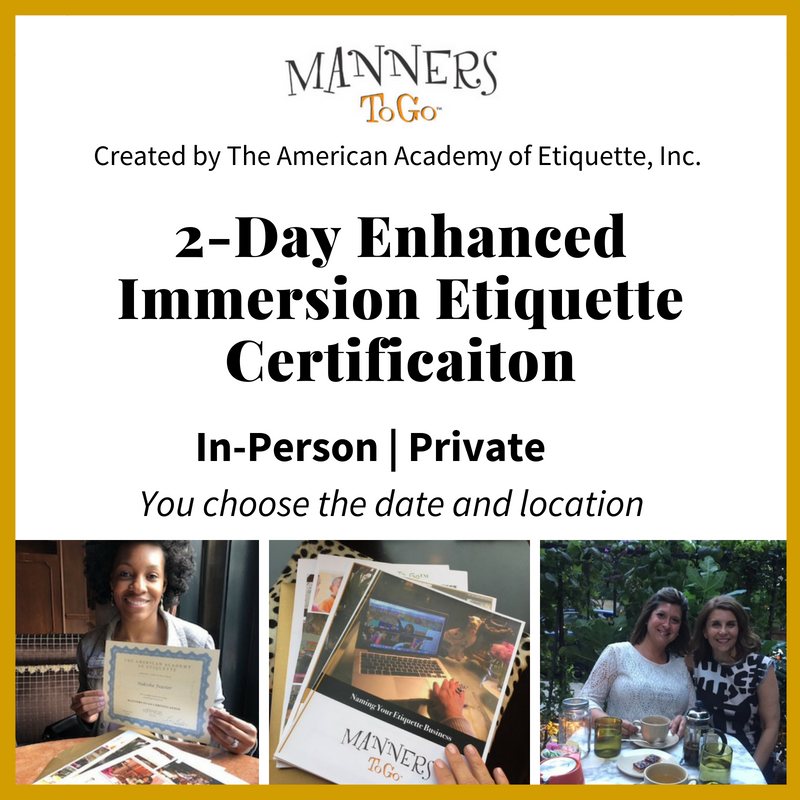 Option #2:
Two-Day In-Person
PRIVATE Training. That's right, we meet in person, the two of us and our focus is completely on your business. Click the image above or follow the button below to learn more and to see a list of cities available for your training.

Receive the curriculum and book your training dates
Upon payment, you receive the curriculum. Next, we will send an email asking you to schedule your first training date.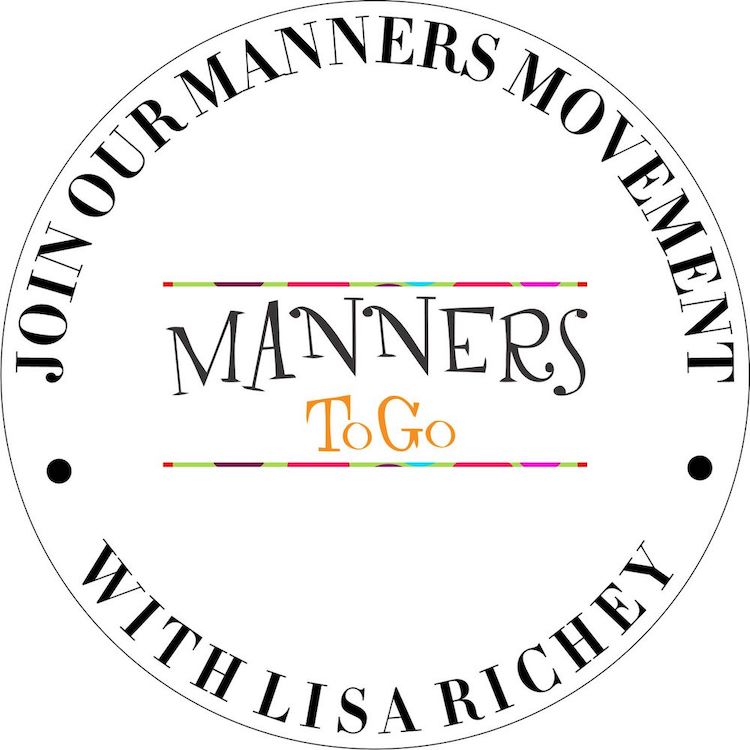 Join the
Manners To Go™ movement with Lisa Richey.