If you become an etiquette coach, you'll enjoy a challenging and rewarding career. You'll get to be creative and work in your passion every single day!
Curious? If running your own business and making a lasting impact on children appeals to you, read on.
Here are the biggest benefits of becoming an etiquette coach!
What Is An Etiquette Coach?
In a second, we'll dive into specific reasons you should consider becoming an etiquette coach. But first, let's cover the basics of what an etiquette coach actually does!
To start, throw out the Hollywood image of an etiquette coach teaching ladies to balance books on their heads.
There is so much more to the world of etiquette coaching than teaching people which fork to use. While that's certainly part of it, manners aren't the only thing you'll cover in your sessions!
An etiquette coach is responsible for teaching children and teenagers how to better navigate the world around them. Under your tutelage, children learn how to form lasting relationships, and how to be upstanding members of society.
It doesn't stop there, though.
You'll teach children to communicate their needs and respond gracefully to others. That means you're preparing them to be successful in both their private and professional lives.
Being an etiquette coach is rewarding work that will challenge and fulfill you every day.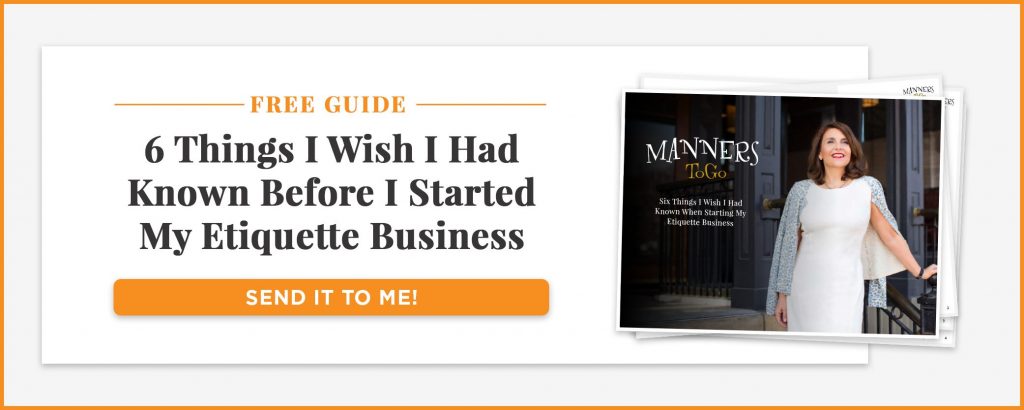 3 Reasons to Consider Becoming an Etiquette Coach
Being an etiquette coach comes with so many benefits!
It would be impossible to list them all here, so I've narrowed it down to the three best reasons to look into a career as an etiquette coach.
You Get To Work For Yourself
Being an etiquette coach isn't just about teaching people manners. It's also about becoming an entrepreneur who experiences all of the benefits of working for yourself.
Becoming an entrepreneur can be one of the most fulfilling aspects of this job. It's certainly been valuable for me!
Life as an entrepreneur has its challenges, but it's also amazing—and changes you for the better.
You get to earn your own money doing something that you're proud of. More importantly, you'll spend every day working towards what YOU truly want.
As an entrepreneur, you have complete control over your business. This is so unlike a corporate job, where you're beholden to someone else's goals.
You get to build your own business, making every decision along the way. You're the one who decides everything, from how you present yourself to the colors featured on your website!
It's all you.
Building your own business as an etiquette coach gives you the freedom to shine, connect, and educate!
You'll Experience Flexibility and Unique Opportunities
As an etiquette coach and entrepreneur, your daily life becomes rich with opportunities. You'll be able to diversify your experience, broaden your horizons, and even literally travel the world.
When you're building your own business as an etiquette coach, you are the boss! You create your own schedule. You decide when your working hours are and when you can devote time to your friends and family.
When you are working, you'll never be bored.
There's always a project to create or skills to teach. As you're growing your business, you will find so many things to learn it will keep you on your toes. There are so many relevant skills you can spend your time mastering.
This is especially true when you own a business teaching manners to children. You'll constantly learn and need to keep up with what's new, relevant, and exciting. As society changes, you'll need to pivot in your business, too.
Don't worry—this keeps your life exciting! You have so much freedom to be creative in your work and bring the world of etiquette to life for your students.
Another benefit of this career path is that you aren't tied to a single location. This is a job you can do from anywhere in the world! You have the flexibility to work on the seaside in Thailand or from a resort in Switzerland.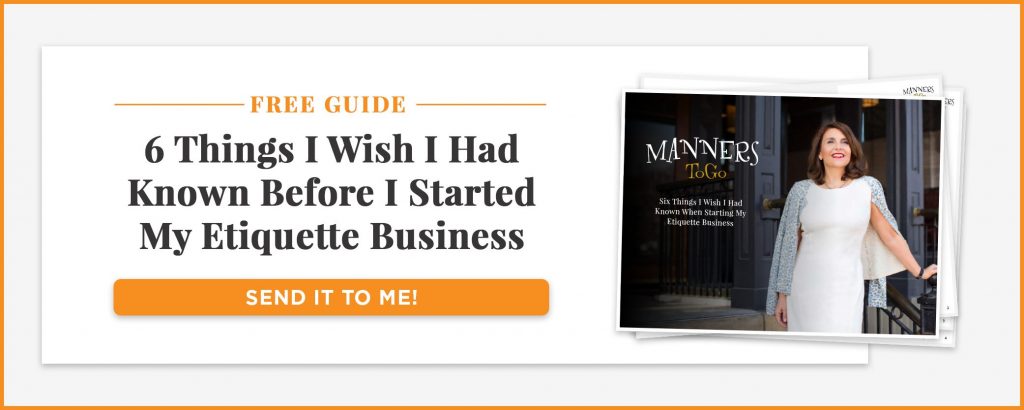 You'll Support Children and Families & Directly Impact Their Lives
Etiquette coaches directly interact with their clients and impact their lives. At Manners to Go, we believe every child deserves to learn manners.
Honestly, there's nothing quite like seeing a child light up when they fully grasp a manners principle!
Children have been spending so much time interacting with the world through their screens. Etiquette coaches are needed now more than ever to help children understand how to make real human connections. Children need to learn how to build relationships and friendships offline.
And there is nothing like seeing children learn. You will regularly interact with kids whose lives you are changing. Seeing a child light up when he learns to make eye contact, make an introduction, or set the table is heartwarming. Truly, this is the best part of being an etiquette coach and teaching manners!
As an etiquette coach, you have a unique opportunity to give back to society and to your community. You'll be able to make a direct impact while doing something that lights YOU up!
---
As an etiquette coach, every day brings me a new challenge to overcome and a new way to explore my creative side.
I have the freedom and flexibility to work when and where I want, making a real difference in people's lives.
Do you want to work for yourself and leave a lasting impact on the people around you? Then a career as an etiquette coach just might be perfect for you!
Here is a FREE Guide to Help YOU Start a Business Teaching Manners to Children
CLICK THE IMAGE TO GET THE DOWNLOAD RIGHT NOW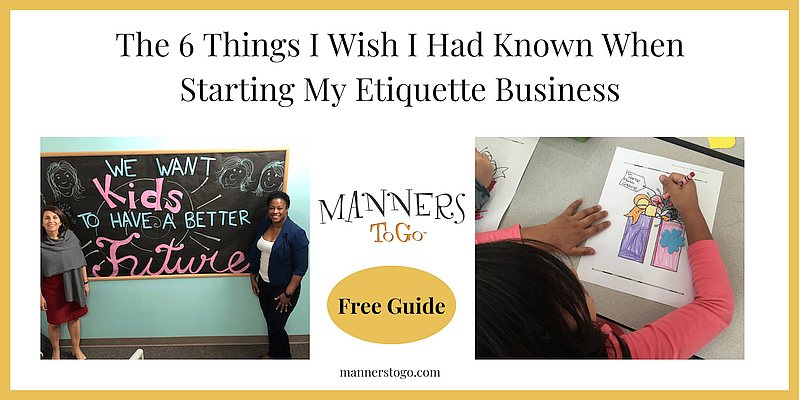 Get to Know Manners To Go™
Most likely, you will want to get to know us. Feel free to call or email us. Click on the links below. We are happy to discuss the details with you.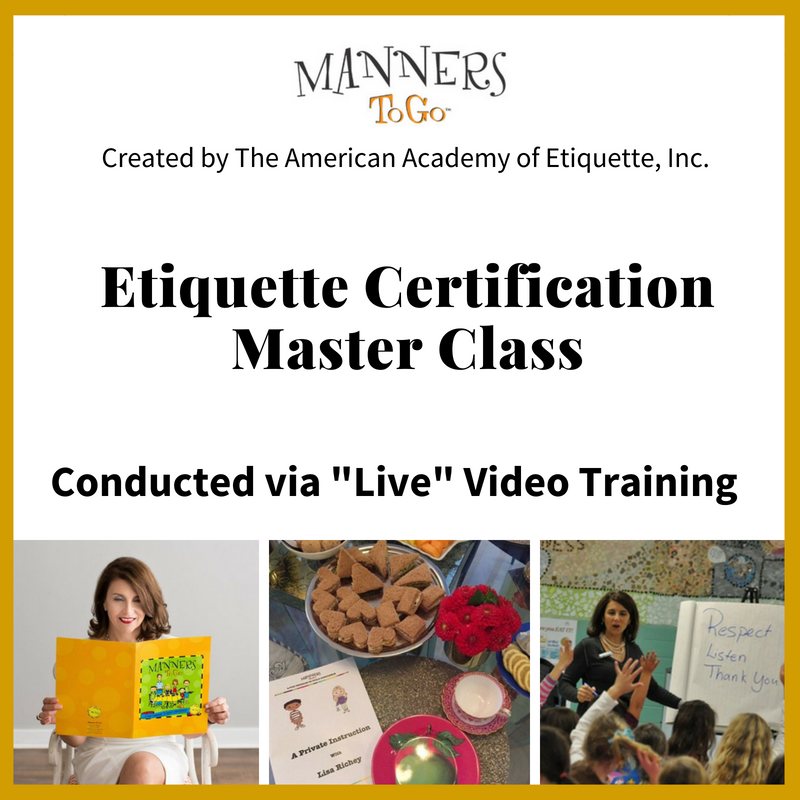 Option #1:
"Live" Video Training
If you are looking to start immediately and save money on travel and time, then this is your best option.You choose the dates of our trainings. Most choose to have their sessions once a week, others twice. This is a "live" and private training. It is NOT self-guided.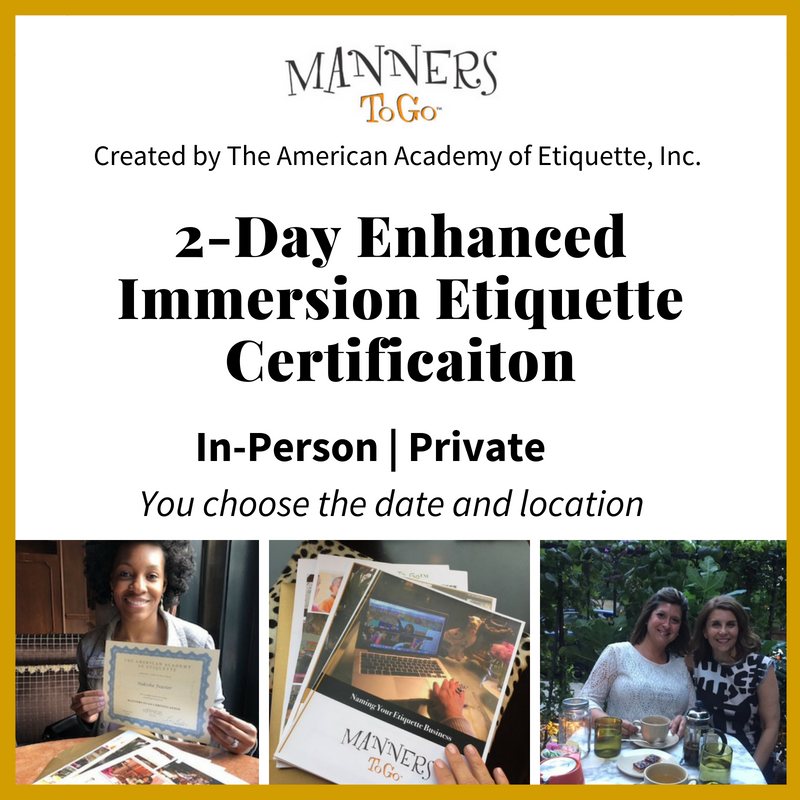 Option #2:
Two-Day In-Person
PRIVATE Training. That's right, we meet in person, the two of us and our focus is completely on your business. Click the image above or follow the button below to learn more and to see a list of cities available for your training.

Receive the curriculum and book your training dates
Upon payment, you receive the curriculum. Next, we will send an email asking you to schedule your first training date.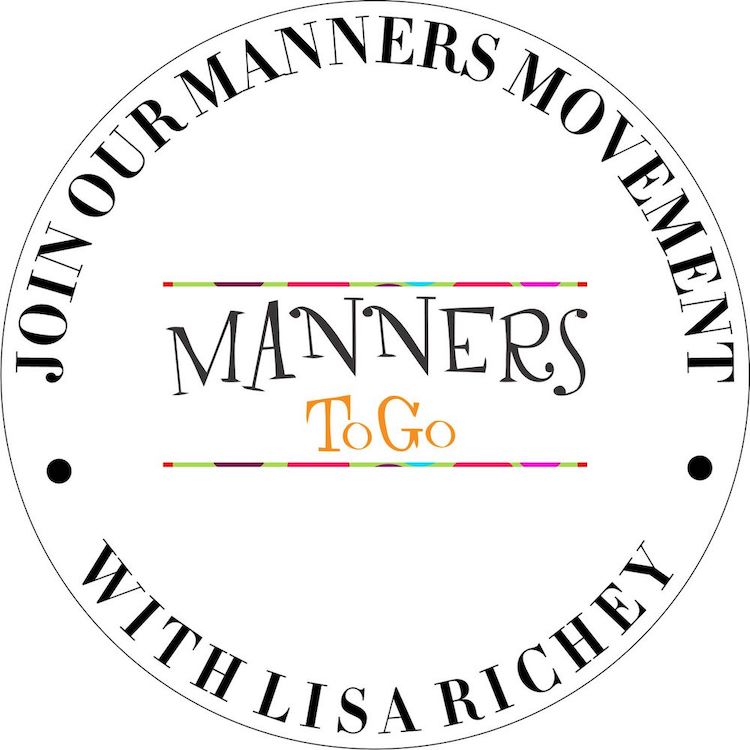 Join the
Manners To Go™ movement with Lisa Richey.