Whether you are currently licensed and certified to teach Manners To Go or are thinking about starting your business soon, you may be interested in the links below. So much is written about manners, etiquette, and social skills! I thought it would be helpful to keep you posted and tell you how to use this information to stay in touch and build relationships with existing or potential clients.
Most every week, I take a look at the Wall Street Journal weekend edition. I love it and look forward to seeing it every Sunday morning. Many times it is alongside a special treat like a croissant or a super healthy quinoa waffle and a cup of tea. Especially nice is the Wall Street Journal magazine which is inserted inside monthly.
There is a feature every month that is my favorite title, "The Columnists". Top influencers (WSJ refers to them as luminaries) are asked what a certain word means to them. This month, they asked the influencers their thoughts about the word manners! You have to love all the attention to our favorite topic. From Lynn Wyatt to Fran Lebowitz, to Laura Dern – all weighed in on their thoughts and opinions.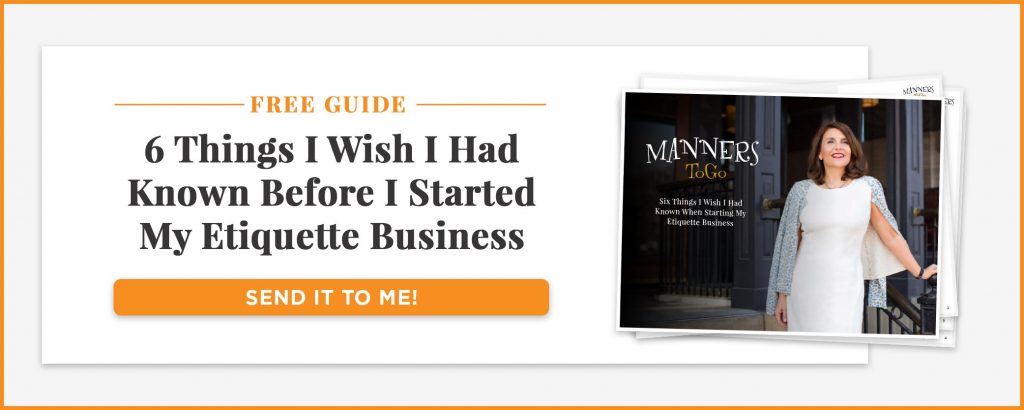 Lynn Wyatt commented, "My husband and I have two grown grandchildren. Good manners are as important to their education as their schooling."
Laura Dern commented, "It's always thrilling when I meet people, particularly men, whose manners are beautiful."
Chris Blackwell, CEO of Island Records, commented, "I've conducted lots of negotiations in the music business at different periods – at times when I had one foot in the grave and one on a banana skin – where it was important how the negotiations came through. In all those cases, I always believed in exhibiting good manners."
Here is the link to the WSJ article.
Incredible Women Share the Golden Rules They Live By
An important step in starting and growing your business by teaching manners to children is to connect with potential clients and existing ones. You can do this through email easily or at times drop a handwritten note in the mail.
To get a fast and easy start with this, feel free to use any of the links in this article and pass them along in a format that is best suited for you.
Would you like to learn more about launching your business teaching manners to children? It is a rewarding opportunity to share your passion and at the same time earn an income.
The journey of creating Manners To Go has become more than building a brand to me. The journey has become offering an opportunity for like-minded women and men to take control of their destiny and launch a business for the good of our society.
I can personally show you how to start and grow an etiquette business that allows you to do what you love and earn a profit while doing it.
Why not join our manners movement?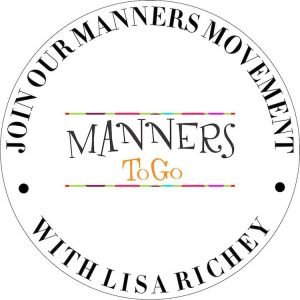 Would you like to schedule a call with me?
We can discuss via video or by phone with a cup of tea in hand, of course.

To follow Manners To Go on Facebook, click here.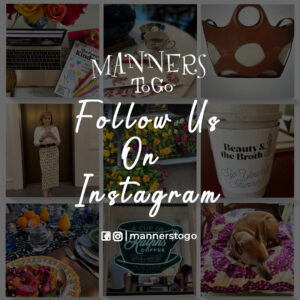 Here is a FREE Guide to Help YOU Start a Business Teaching Manners to Children
CLICK THE IMAGE TO GET THE DOWNLOAD RIGHT NOW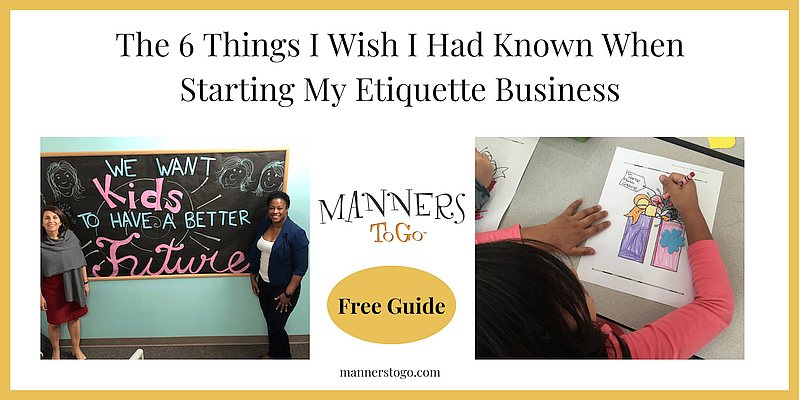 Get to Know Manners To Go™
Most likely, you will want to get to know us. Feel free to call or email us. Click on the links below. We are happy to discuss the details with you.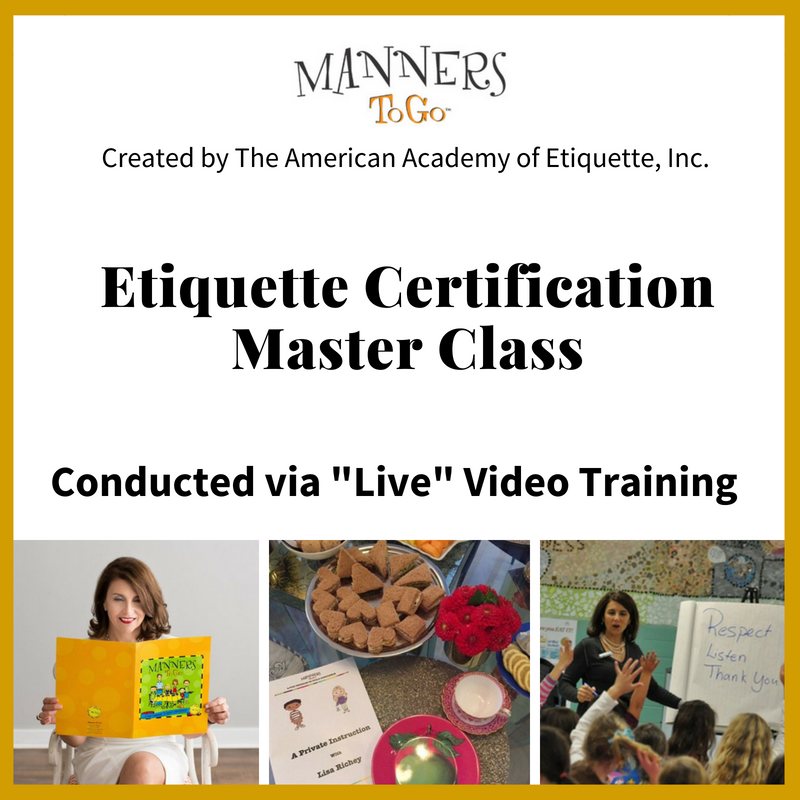 Option #1:
"Live" Video Training
If you are looking to start immediately and save money on travel and time, then this is your best option.You choose the dates of our trainings. Most choose to have their sessions once a week, others twice. This is a "live" and private training. It is NOT self-guided.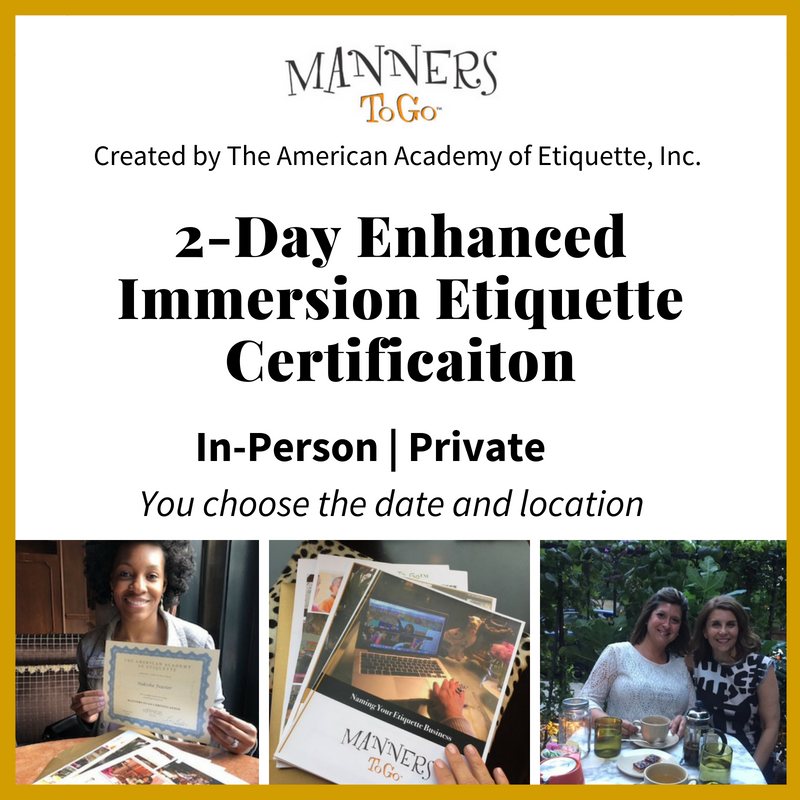 Option #2:
Two-Day In-Person
PRIVATE Training. That's right, we meet in person, the two of us and our focus is completely on your business. Click the image above or follow the button below to learn more and to see a list of cities available for your training.

Receive the curriculum and book your training dates
Upon payment, you receive the curriculum. Next, we will send an email asking you to schedule your first training date.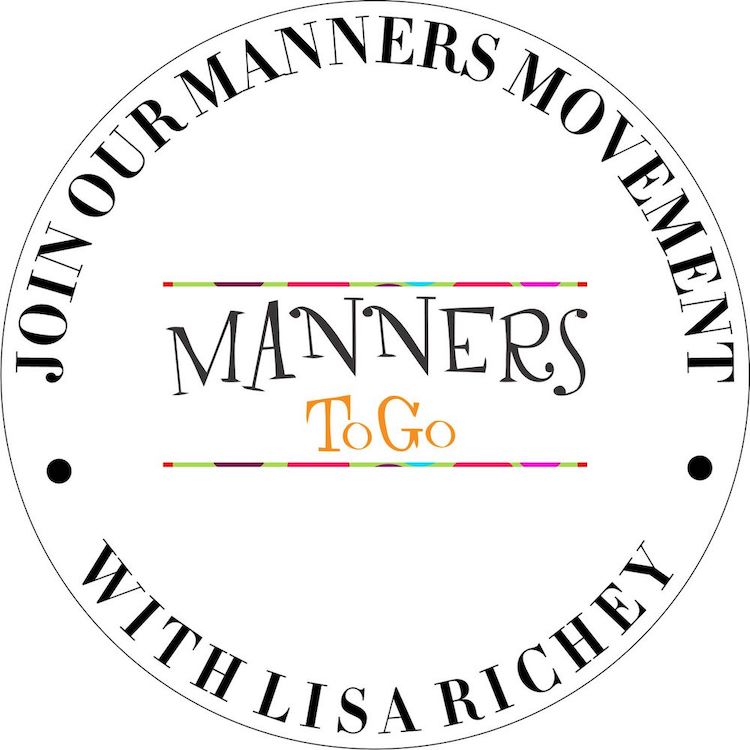 Join the
Manners To Go™ movement with Lisa Richey.