"How am I trained after I purchase the Manners To Go program" is actually one of the most frequently asked questions. It is a really good question and I am here to give you all the details. In fact, the way you are trained to start your own business teaching manners to children is one of the most acclaimed and highly sought-after reasons to become certified by Manners To Go.
Read the testimonials to see what others are saying about how they received "above and beyond" what they expected. More about that later, but you know the saying…" the proof is in the pudding"!
Let's get to it. How are you trained by Manners To Go?
How am I Trained and Certified by Manners To Go?
We offer two options for you to be trained and certified to teach manners to children.
One option is to be trained via "live" video. A second is to be trained by manners to go in person. You will discover more details about both training options in this article.
– 1 –
You are trained via private, real-time (live) video. That's right. It is as if you are sitting across the desk from me. My camera is on and you can see me. You have the option to turn on your video camera. Some do. Some don't. It is your choice. Mine is always on during our call so you can see me "live" sitting in my office. If I am having a bad hair day, you can see it! It is that clear.
During the call, you will be able to view my screen as well. This way, we can view the marketing materials together.
-2-
You schedule the training calls. In order for you to become certified, you must complete at least four-six one-hour training sessions. You choose the dates and times of the training sessions. Some choose to schedule a session once a week. Some choose twice a week. The program is customized according to your timeframe.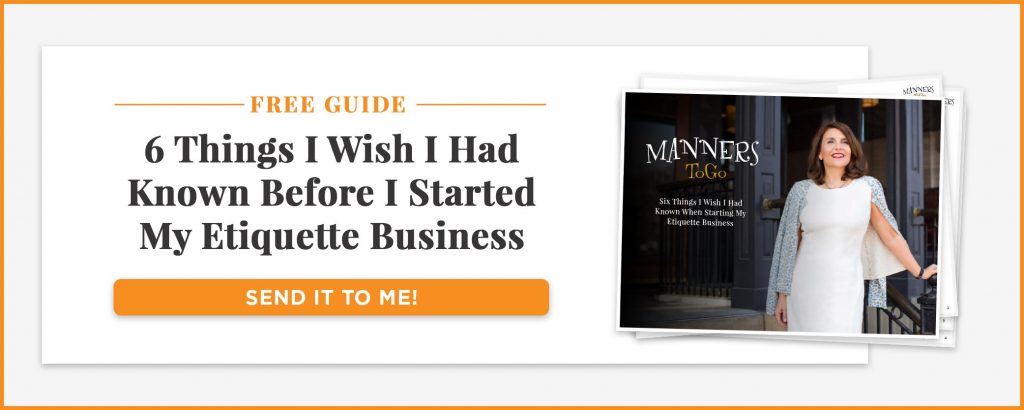 Of course, ongoing support and training are always available to you during the three-year license term. Many of our licensees choose to continue their training after the initial calls. Some take a month or so to complete the marketing efforts and then connect with me so we can review certain tasks together.
Evidence has shown that those who stay in touch with us are the most successful. We encourage you to stay in touch and keep the communication open and ongoing.
In fact, a licensee was in touch with me over the weekend as she navigated a snowstorm and a big manners event that was booked on the exact day of the blizzard! What to do and how to handle it was top of mind. We communicated by phone calls and texts.
She was able to successfully make the trip and the event was very well attended. In fact, all eighteen children were in attendance.
-3-
I must tell you, that a big selling point about the Manners To Go program is that it is customized for your needs. During our calls, the focus is on YOU and YOUR business. We discuss your website. Also, discuss the fees that you will charge. We discuss your logo. Anything that is on your mind, let's talk about it.
And yes, many times we schedule training in the evenings and weekends. Many of our licensees are still working and need to have their training "after hours".
We also have licensees all over the world and accommodate different time zones.
-4-
You receive organized marketing guides to download before each call. You have a visual workbook/guide in front of you that we discuss in detail….together. Templates, marketing materials, and videos are all provided so that you receive a world-class relevant program and curriculum to start your business teaching manners to children.
-5-
If you choose to have your training via video calls, you do not have the cost of traveling to a location to attend a program. This saves you valuable time and money.
One Saturday afternoon, I had such a lovely conversation with a potential licensee.
We spoke about all the things….etiquette, her background, why manners matter, why children need them today….etc. etc. etc.
Actually, to me, it was the perfect way to spend part of my Saturday.
She asked a really good question, "which training should I choose"?
My answer to her was this: "how do you like to learn"? When you are considering any type of training, whether it is to learn a new computer skill, creative writing techniques, or learning a new language, you must consider your personal preference.
My conversation with her is the inspiration for this post.
I could hear the first choice in her voice. She came alive when we started talking about the in-person/immersion option.
In my eyes, all of my licensees are special. THEY make the experience beautiful, charming, valuable, eclectic, and interesting.
Over the years, we have had our in-person training at beautiful locations.
The in-person training are highly customized and personal. We spend two intense days together. You learn all the aspects of operating your new business.
Your dining tutorials span across four meals together and include breakfasts, lunches, and afternoon tea (when/where available). The costs of these meals are included in your fee.
Of course, after the intense training, video follow-up calls are always available to you.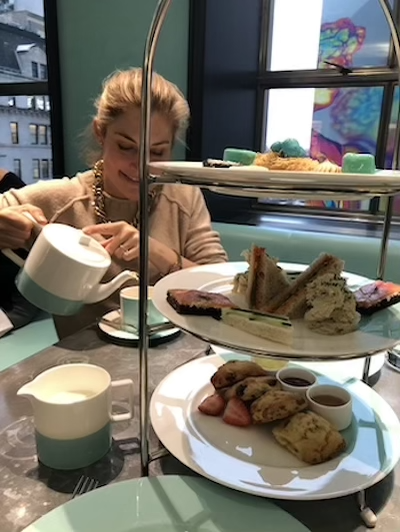 How Can Starting a Business Teaching Manners to Children Change Your Life?
Do you have a passion for teaching manners to children? Are you curious about what it is like to own your own business? Click here to get access to more details about how you can change your life and start a business using your skills and talents in teaching children and teens.
Why not join our manners movement?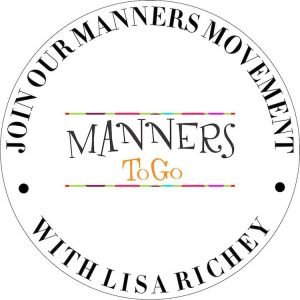 To follow Manners To Go on Facebook, click here.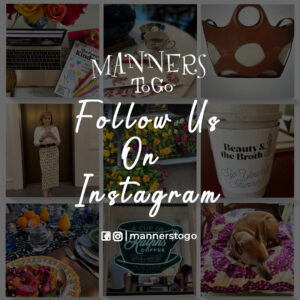 What Are Our Etiquette Consultants Saying?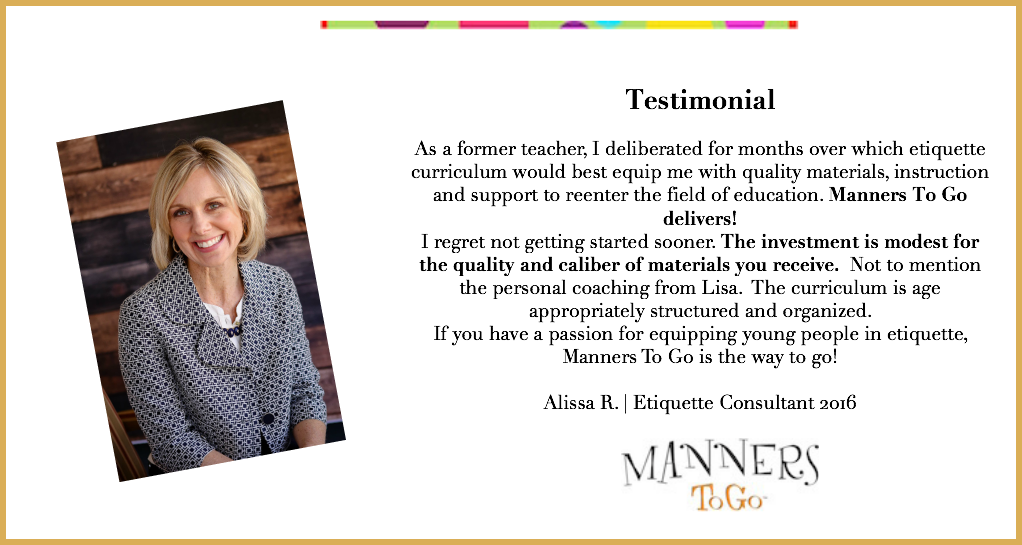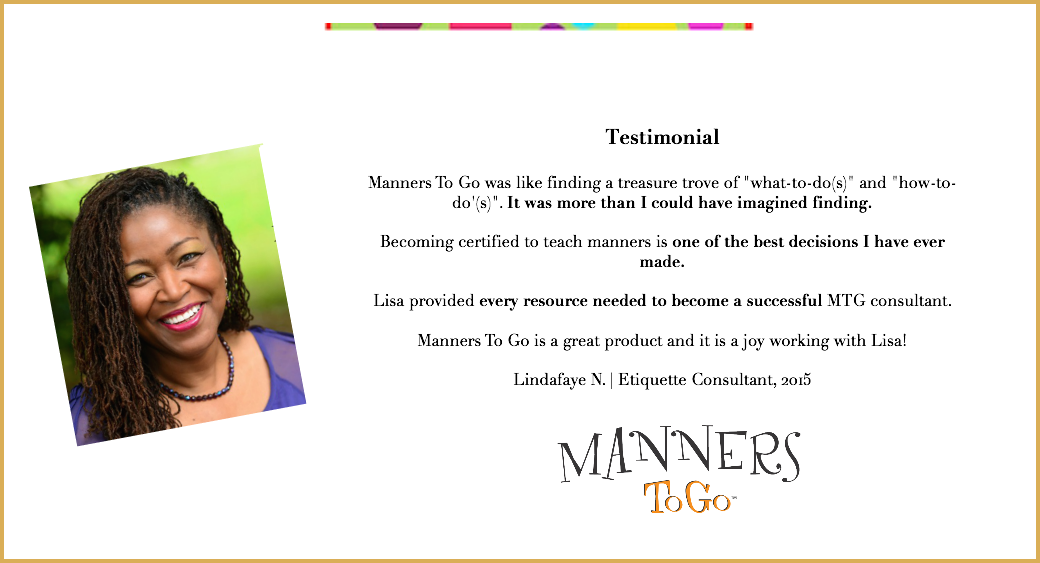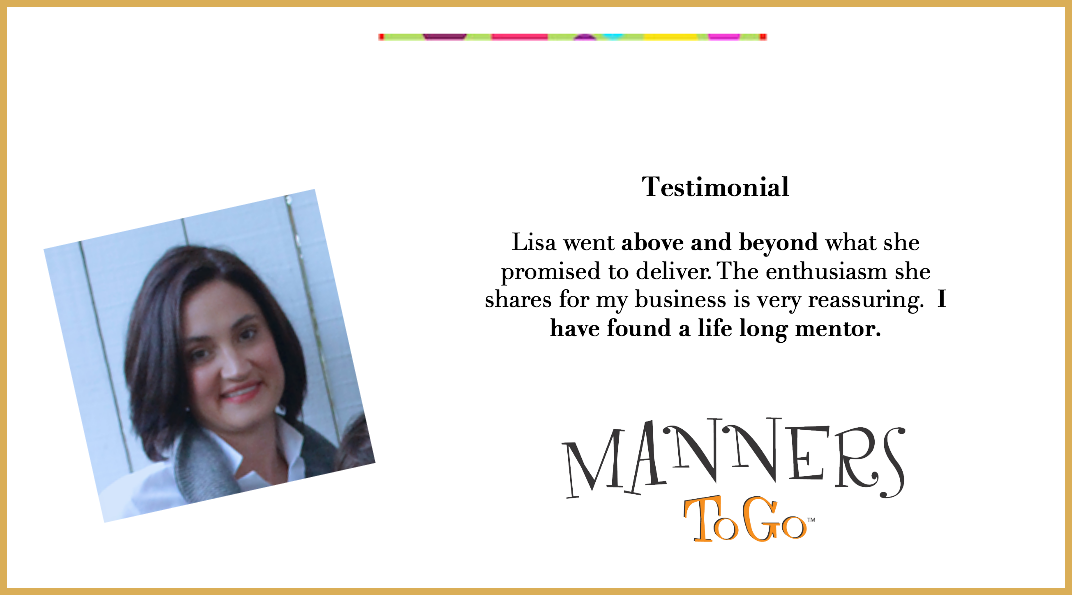 If you are interested in starting your business teaching manners to children, I invite you to have a conversation. Whether we decide to work together or not, I am confident our call will be full of insights.
Here is a link to my calendar:

Here is a FREE Guide to Help YOU Start a Business Teaching Manners to Children
CLICK THE IMAGE TO GET THE DOWNLOAD RIGHT NOW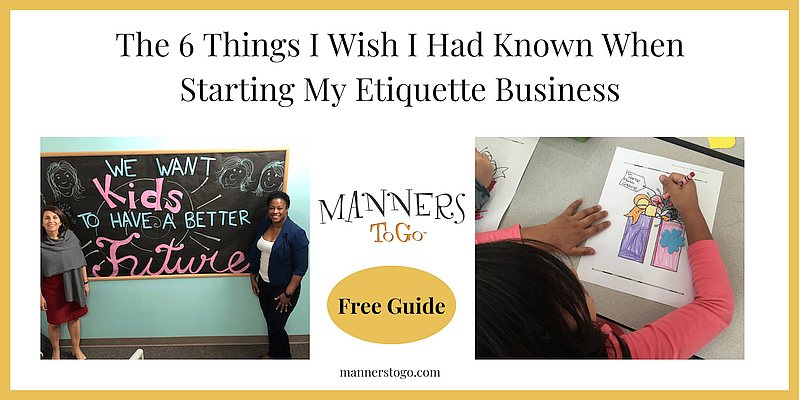 Get to Know Manners To Go™
Most likely, you will want to get to know us. Feel free to call or email us. Click on the links below. We are happy to discuss the details with you.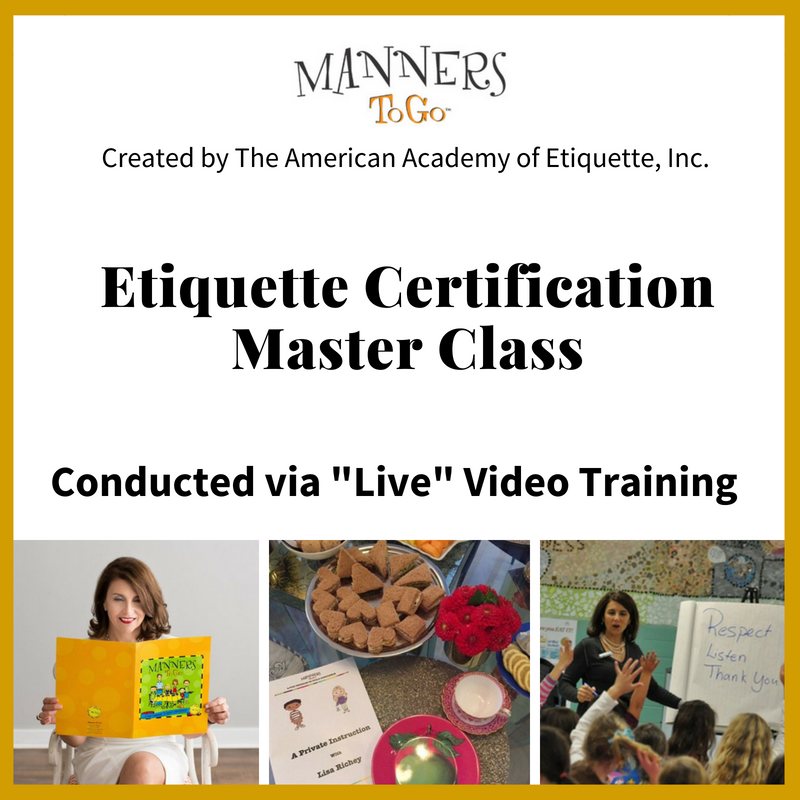 Option #1:
"Live" Video Training
If you are looking to start immediately and save money on travel and time, then this is your best option.You choose the dates of our trainings. Most choose to have their sessions once a week, others twice. This is a "live" and private training. It is NOT self-guided.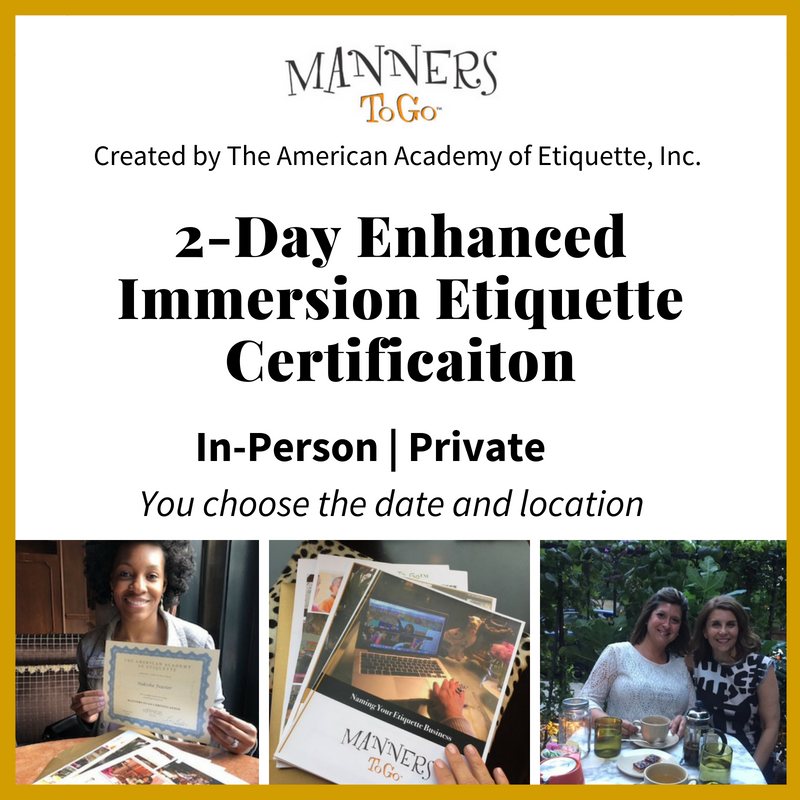 Option #2:
Two-Day In-Person
PRIVATE Training. That's right, we meet in person, the two of us and our focus is completely on your business. Click the image above or follow the button below to learn more and to see a list of cities available for your training.

Receive the curriculum and book your training dates
Upon payment, you receive the curriculum. Next, we will send an email asking you to schedule your first training date.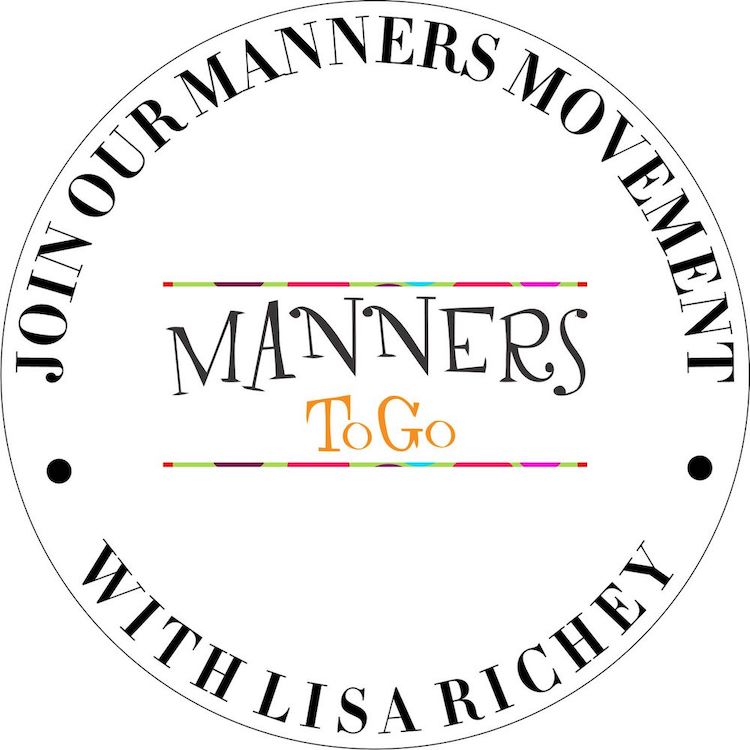 Join the
Manners To Go™ movement with Lisa Richey.