On Saturday afternoon, I had such a lovely conversation with a potential licensee.
We spoke about all the things….etiquette, her background, why manners matter, why children need them today….etc. etc. etc.
Actually, to me it was the perfect way to spend part of my Saturday.
She asked a really good question, "which training should I choose"? We offer "live" video sessions or an in-person event….one that is private and shoulder to shoulder.
And my answer to her was this: "how do you like to learn". When you are considering any type of training, whether it is to learn a new computer skill, creative writing techniques or learning a new language, you must consider your personal preference.
My conversation with her is the inspiration for this post.
I could hear her first choice in her voice. She came alive when we started talking about the in-person/immersion option.
In my eyes, all of my licensees are special. THEY make the experience beautiful, charming, valuable, eclectic and interesting.
Keep reading if you want to discover more about our trainings and why we choose certain locations.
Etiquette Certification: Location Matters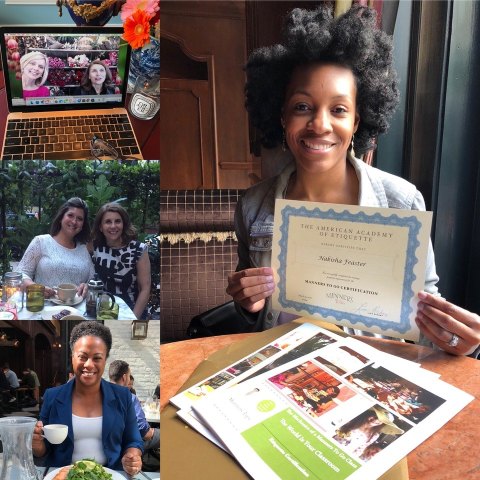 Let me explain. I love beautiful things and experiences, and I believe location matters.
That is why, when an in-person event is scheduled, I go all in. I personally am involved with the planning.
I am proud to let you know I choose the most beautiful and special places to hold our trainings.
A bed and breakfast inn in the south was such a stylish and eclectic space and walking distance from museums and a bustling city life. I read about it on Goop.
Each afternoon, the inn sat out lovely trays of petite fours and tarts. Iced and hot tea was always available. The weather was pristine and we sat outside on the covered porch for some of our training.
Etiquette Training at The Ritz Carlton
We are so lucky to have this establishment in the US. A few weeks ago, I trained a new licensee in both our children's and business etiquette programs. What a delight she was!
The Ritz is unparalleled in service. If you want to experience excellent customer service, then go to a Ritz Carlton…anywhere!
My favorite line is from The Ritz and they say it so well – "it's my pleasure".
I have used The Ritz many times when we have our trainings over afternoon tea. Their scones are the best ever and their service is like no other.
If you want to experience white glove service, then choose a city that has a The Ritz Carlton.
Etiquette Training and Certification at Tiffany's in New York City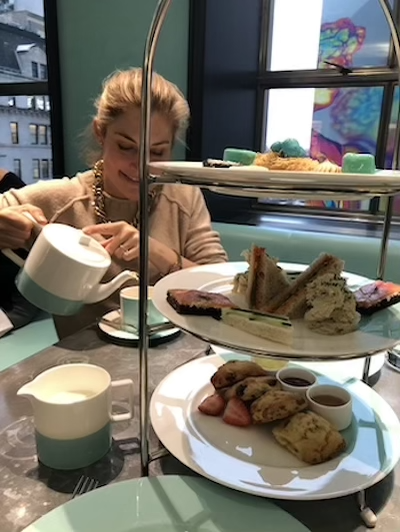 The most coveted reservation, Breakfast at Tiffany's is one to cherish.
While we did not go for breakfast, afternoon tea did not disappoint. Tiffany's is ideal for our etiquette trainings. Let your imagination go wild with this one.
The decor.
The iconic blue at Tiffany's.
And, yes, you will want the teacup…the teapot…and the special blend of Tiffany's tea!
This one is for the record books.
I also had lunch there and it is as charming as tea.
Etiquette Training Session at the Most Eclectic Book Store EVER
I have lost count on the number of people I have told about this location.

It is charming.
It is eclectic.
It is the most interesting place I have held an etiquette training.
This book exchange has it all. A library. A book store. A boutique. My most favorite salad. A tea salon. Multiple baristas to make anything your heart desires.
A Special Etiquette Training
All of the above locations are wonderful.
What really makes an etiquette training special?
You. You really make it for me.
I can't tell you all the special bonds I have made over the years.
In my eyes, all of my licensees are special. They make the experience beautiful, charming, valuable, eclectic and interesting.
Here is the good news, the relationship we create does not end after our training.
We are together for three years.  Have you read our article about our on-going training when become certified?
If you haven't you must.
Here is a FREE Guide to Help YOU Start a Business Teaching Manners to Children
CLICK THE IMAGE TO GET THE DOWNLOAD RIGHT NOW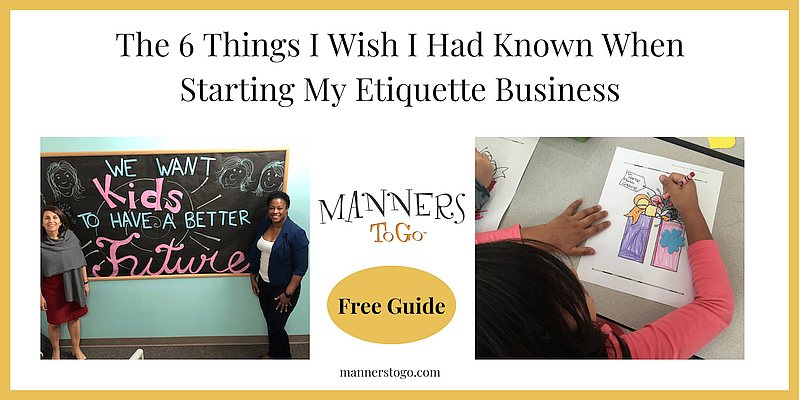 Get to Know Manners To Go™
Most likely, you will want to get to know us. Feel free to call or email us. Click on the links below. We are happy to discuss the details with you.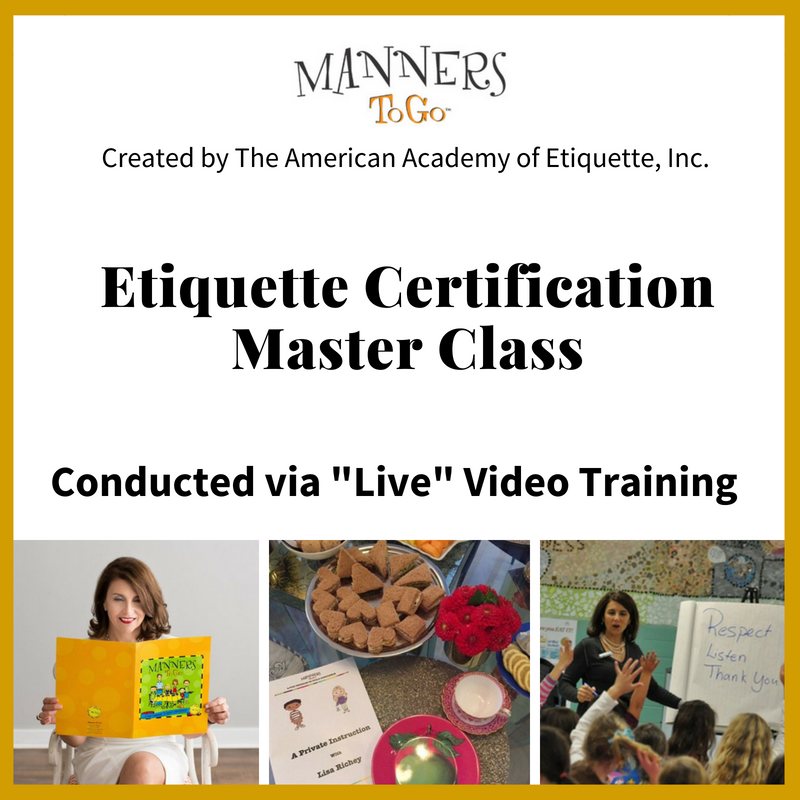 Option #1:
"Live" Video Training
If you are looking to start immediately and save money on travel and time, then this is your best option.You choose the dates of our trainings. Most choose to have their sessions once a week, others twice. This is a "live" and private training. It is NOT self-guided.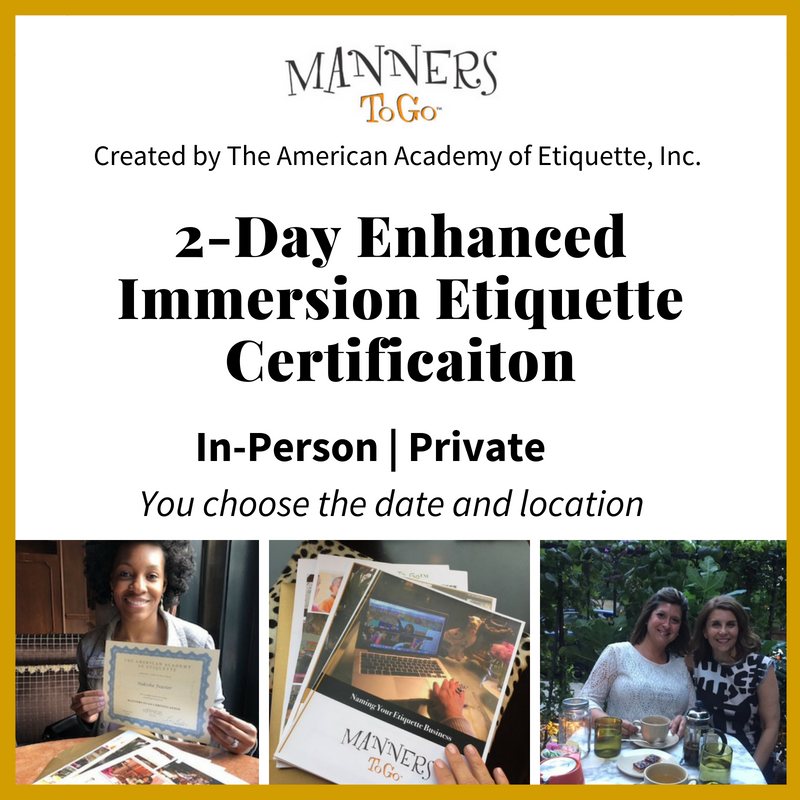 Option #2:
Two-Day In-Person
PRIVATE Training. That's right, we meet in person, the two of us and our focus is completely on your business. Click the image above or follow the button below to learn more and to see a list of cities available for your training.

Receive the curriculum and book your training dates
Upon payment, you receive the curriculum. Next, we will send an email asking you to schedule your first training date.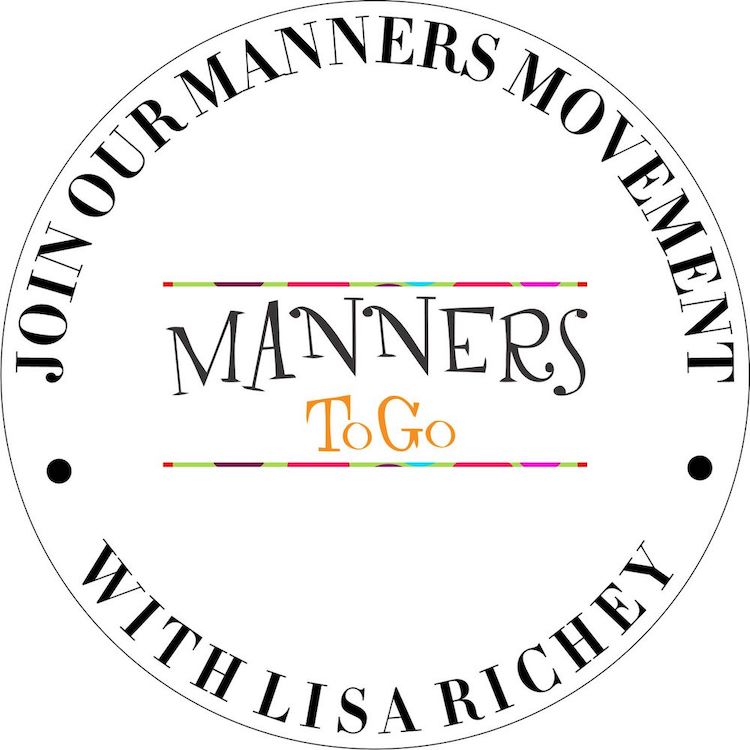 Join the
Manners To Go™ movement with Lisa Richey.