Thanksgiving Manners
Thanksgiving is a great opportunity to teach your child basic manners.  Whether you are having Thanksgiving in your home or at a friend's (or family), why not teach a few basic social skills? This article focuses on table manners but I have provided a few other tips such as handshakes and greetings.
In today's increasingly digital and connected world, it is more crucial than ever for children to understand how to behave appropriately in different social situations.  Too many children aren't learning these skills and it is negatively impacting their ability to thrive and succeed.  Good manners start at home.  Below, you will find three practical tips and all teachable moments to learn manners in everyday life.
Tips to Teach Thanksgiving Manners
Handshakes and Greetings:  Show your children how to greet someone at your front door.  Teach eye contact, a smile is always welcome and basically how to say "hello".  Handshakes might seem a bit formal but remember this a teachable moment.  Teach them to shake with a firm grip and to make web to web contact with the other person. As your guest arrive, have your child ask them if they may take their coat or wraps.  When your friends and family are leaving, teach your child how to offer to help with their coats.  Walking guest to the door is very important as it is a sign of respect and kindness.

How to Set the Table: The video above shows a basic table setting.  You may use this everyday at mealtime or for your Thanksgiving table. The table setting shown is for a casual setting and very easy for all ages. You may use this table setting anytime of the year for any type of meal.  Involve your child in decorating your holiday table. Make it fun. You can start practicing now, before the holidays so that they are familiar with the setting and navigate it easily.

Thank You Notes: If are visiting family or friends for the holiday, send a thank you note expressing your gratitude for the meal. Another teachable and family moment, thank you note writing can be fun and quick.  A thank you note should not be a novel.  Three or four sentences will do.  Your children can decorate the notes if they like and pick out a stamp they like.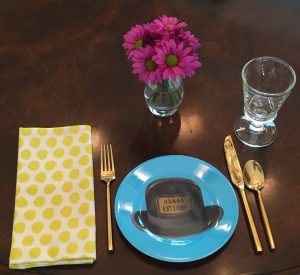 Manners To Go™ is a full-service company for those choosing to teach manners to children. You can make a difference. All children and teenagers deserve to feel what it is like to be confident, and use good manners out in the world.
Manners To Go™ is taught in public, private and charter schools around the world. The New York Times, Parents Magazine and Fox News have all featured Manners To Go and the many benefits of teaching social skills to children.
Are You Interested in Starting a Business Teaching Manners to Children?
Would you like to find out more about how you can share your passion to teach children how to succeed and be happy and confident?  Join the manners revolution!  Click here to discover more.