Teaching Manners in Your Classroom Lesson Plans Handouts
How to Teach Manners in Your Classroom Using Lesson Plans and Ideas from a Special Education Teacher
If you are an educator, you may have questions about how to teach manners in your classroom using lesson plans and handouts.  Leah Serao has many ideas and her classroom is surrounded by fun charts and activities for the students to stay inspired.
Recently, I had the opportunity to teach a manners program for her students.  Leah is a special education teacher and her focus is on children with autism.  She also has a blog, Teacher Talk, where she writes about her experiences.
I interviewed Leah about her ideas on teaching manners, life skills and character education.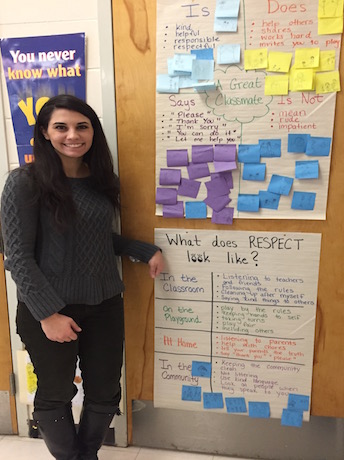 When I was visiting your classroom preparing for the manners program, I noticed several boxes containing materials. My eyes immediately went to the box on life skills. Tell us about that box!
In our life skill box, I have a lot of resources that help teach students skills they need for life such as direction following, manners, greetings, and how to hold a conversation. The box contains activities and worksheets that help students learn and practice these skills.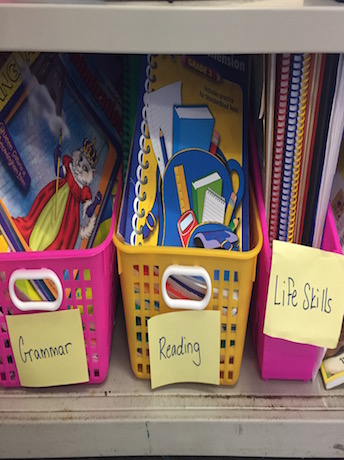 2.  What are your favorite life skills/manners activities to teach in your classroom?
My favorite life skills/manners activity to teach is how to greet a person properly. Proper greetings change depending on age, location, and familiarity of the person. I love teaching different greetings during morning meeting since first impressions matter. We also practice saying hello and goodbye when entering and exiting the classroom. In addition, we always reinforce and expect our students to say please and thank you.
      3. What are your students favorite social skills activities?
My students love to participate in group projects where collaboration is needed to complete an end product. My students wrote and produced a video about Mozambique that shared how some students could not go to school since they could not afford a $10 uniform. My students loved practicing their lines and recording the video. In addition, my students have enjoyed morning meetings where they greet their classmates and their teachers, participate in a group activity, and then ask their classmates questions about their weekend or how to solve a math problem.
     4.  Of these activities, which ones do you believe have the most impact?
I think each social skills activity has had a beneficial effect on my students. Morning meeting has been a great social activity that has helped produce a "family" feel in the classroom among peers and teachers. Producing the video helped my students think outside the classroom and use their social skills to focus on helping other people. Focusing on saying please and thank you has helped my students be a role model to other students in the lunch room and to special teachers.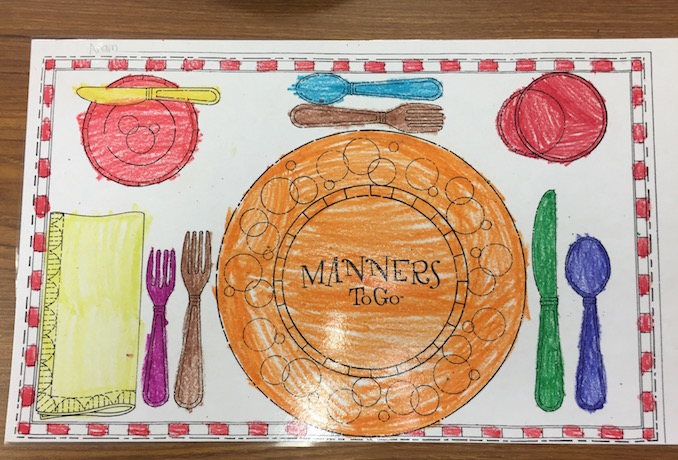 Would You Like Lesson Plans to Teach Manners in Your Classroom?
Good Manners Set the Stage for Future Success
As an educator, you know how important social skills are for a child's success. Children who are polite, well spoken, and attentive to others find it easier to get along with their peers and make a positive impression on the adults in their lives. As a result, more opportunities come their way, laying the foundation for future success in life. Yet too many children are not being taught proper manners or other valuable social skills at home. Which means it's up to us as educators to equip them with these important life tools – and help them grow up to be responsible, caring, successful global citizens.
Now you can help students improve their behavior in as little as 10 minutes a day… a week… or month.

Most likely we already share something in common. We believe that teaching children manners, character and social emotional skills are very important.
Manners To Go™ is a full-service company for those choosing to teach manners to children. You can make a difference. All children and teenagers deserve to feel what it is like to be confident, and use good manners out in the world.
Manners To Go™ is taught in public, private and charter schools around the world. The New York Times, Parents Magazine and Fox News have all featured Manners To Go and the many benefits of teaching social skills to children.
Whether you are an educator who wants to teach it in the classroom or someone who is looking to become trained and certified, we provide all the solutions.
This post was updated on August 2, 2021