Children often spend their time in different places as they learn and grow. School teachers, extracurricular leaders, sports coaches, etiquette experts, friends, and family all play an important role for young minds. But what impact do they each have on teaching manners?
Adults who work with kids have the power to shape the next generation into kind, respectful human beings. But for the best results, they have to work together… as a team!
Why Etiquette Experts, Parents, and Teachers Should Work Together When Teaching Manners
Parents and teachers usually spend the most time with children. When they partner with etiquette experts, they make a big impact on small minds by teaching good manners and life skills consistently. Getting on the same page is key!
Years ago, most people believed that teaching manners should start at home. But that way of thinking has changed quite a bit recently. Nowadays, anyone who interacts with children should model good manners, strong character, and kindness—even with the youngest children!
Picture children in childcare settings. Parents of those children rely heavily on daycare teachers to help instill good manners. Similarly, children who spend their early years at home need adults to prepare them for experiences in larger group settings as they grow.
It takes both parents and teachers (with your help as an etiquette expert) to prepare youth for all the world has to throw at them!
And parents and teachers are often amazed by how much children enjoy learning proper etiquette skills. The reality is children often don't even realize when they are learning social skills with a professional (because it's so much fun!).
Etiquette experts bridge the gap between teachers and parents, uniting them as social role models for kids in all environments. Having that essential third party of an etiquette expert can make SUCH a difference in teaching manners.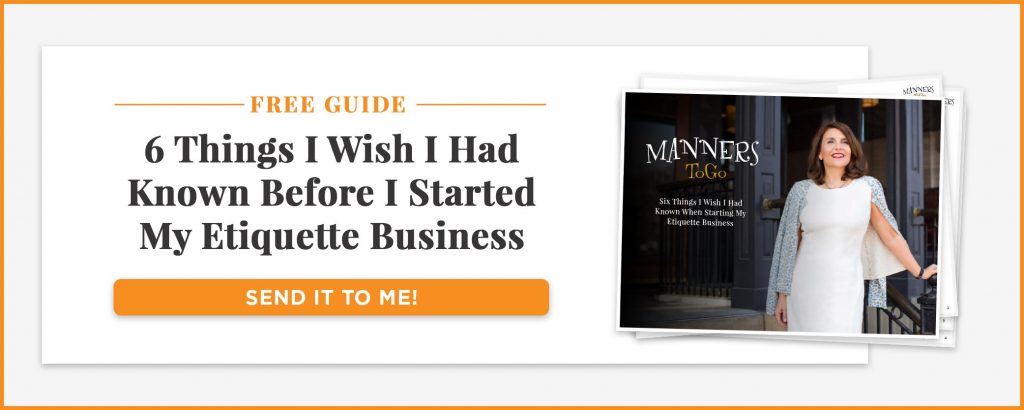 How You Can Support Parents In Teaching Manners At Home
As an etiquette expert, you may find yourself inside of students' homes teaching manners to whole families. When you enter someone's home, your target students are often of the younger generation. But parents will often be surprised by how much they benefit from your private instruction, too!
Parents often don't know what to expect when an etiquette expert comes to visit, but will usually learn even more than their children. This is because parents can put new social skills into practice and find success right away. The little details you'll share can seriously impact parents and their children.
Adults are able to use what is taught during etiquette instruction in their personal and professional lives. Whether it be at the park talking with other parents or at the grocery store checking out, utilizing proper etiquette often gives parents a confidence boost that lifts their entire family.
How You Can Support Educators In Teaching Manners At School
Similarly, etiquette experts can make an incredible impact on teaching manners in schools! Just as bringing etiquette education into children's homes influences their parents, bringing etiquette education to schools influences their teachers.
Think beyond the traditional brick school-building to discover all types of places for group instruction:
Troop meetings
Sports practices
Organized events
Daycares
The beauty of working with a large group of students is that they can benefit from an array of skills and practice together. As an etiquette professional, you may focus on any social points—from fine dining to conflict resolution—and leave a lasting impression on your students every time.
For example, you may design a program that teaches 'life skills and character' for all grades. This focus is broad enough to include every type of learner and narrow enough to tackle the problems with modern society. (Think excess screen time and prolonged isolation!)
No matter the angle that you approach etiquette in schools, you will certainly improve your students' confidence and improve their chances of success as they grow. Etiquette continues to matter as students get older, especially with things like interview skills for high schoolers.
But etiquette education in school cannot end with you!
Teachers need to be trained in etiquette and learn how to incorporate manners into their everyday instruction. When teachers are invested, they can spread awareness to parents through webinars, group meetings, or other wide-scale communication tools.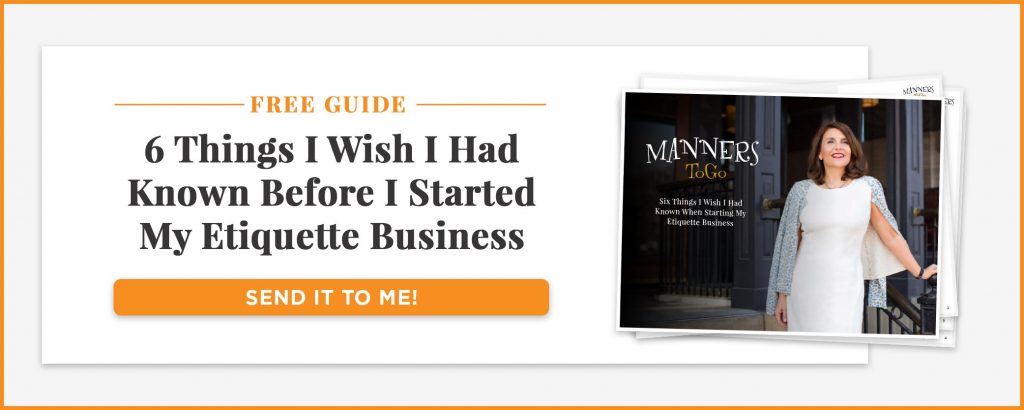 Wait—Why Is Teaching Manners So Important?
Now more than ever, children need community! They have struggled with isolation and limited socialization for years. Manners are not something that children have been able to practice recently, so they require your help to catch up.
What's more, children need to experience what it is to be human—to interact with other personalities and thrive! Social success starts by simply being in a group of people and practicing casual discussion, paying compliments, and rising above challenges.
You can offer those opportunities to your students through:
Roleplay
Exciting games
Exposure to real-life scenarios
No matter how you go about teaching manners, you are helping children feel comfortable and confident in their own shoes. And you are equipping the adults in their lives to repeat your lessons many times over.
---
Teaching manners is an extremely important job! By sharing your skills with teachers and parents, you triple the effectiveness of your lessons and improve your students' odds for success.
If teaching manners to children is something you care about, then get your certification! A certification in etiquette opens more doors to you as an educator.
Here is a FREE Guide to Help YOU Start a Business Teaching Manners to Children
CLICK THE IMAGE TO GET THE DOWNLOAD RIGHT NOW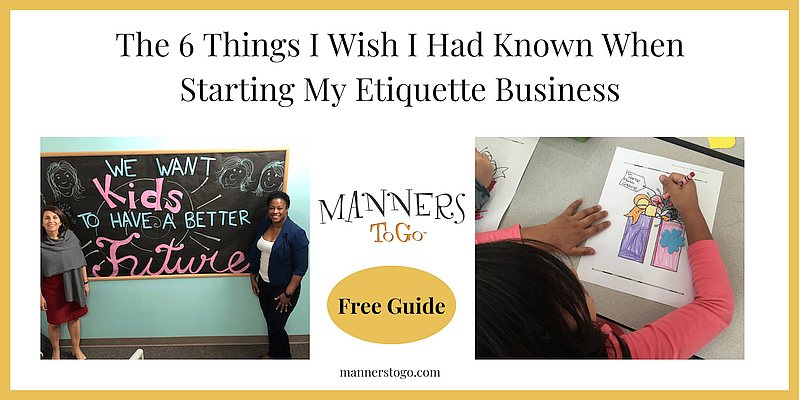 Get to Know Manners To Go™
Most likely, you will want to get to know us. Feel free to call or email us. Click on the links below. We are happy to discuss the details with you.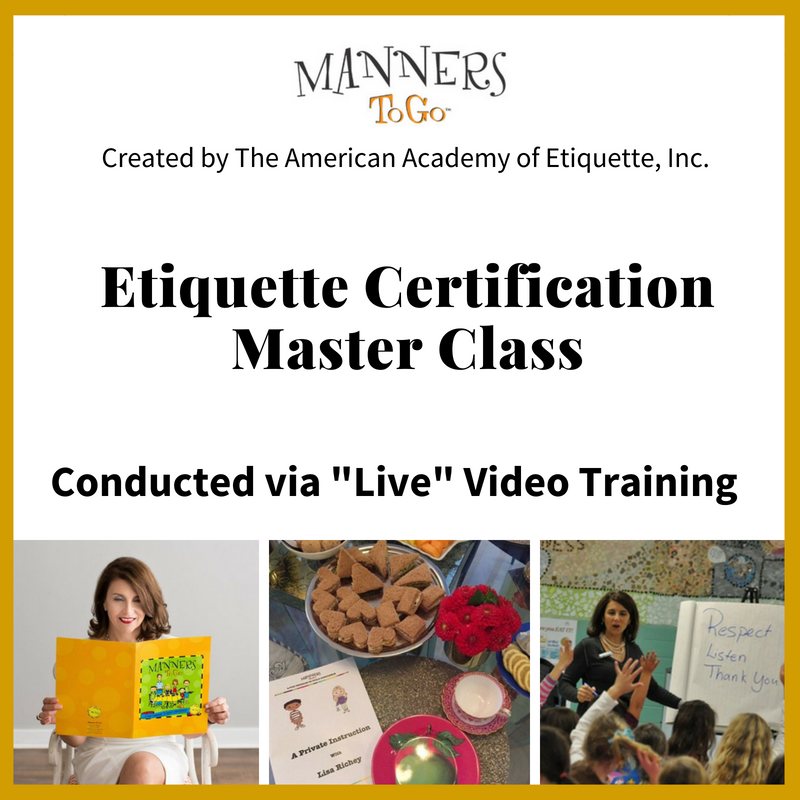 Option #1:
"Live" Video Training
If you are looking to start immediately and save money on travel and time, then this is your best option.You choose the dates of our trainings. Most choose to have their sessions once a week, others twice. This is a "live" and private training. It is NOT self-guided.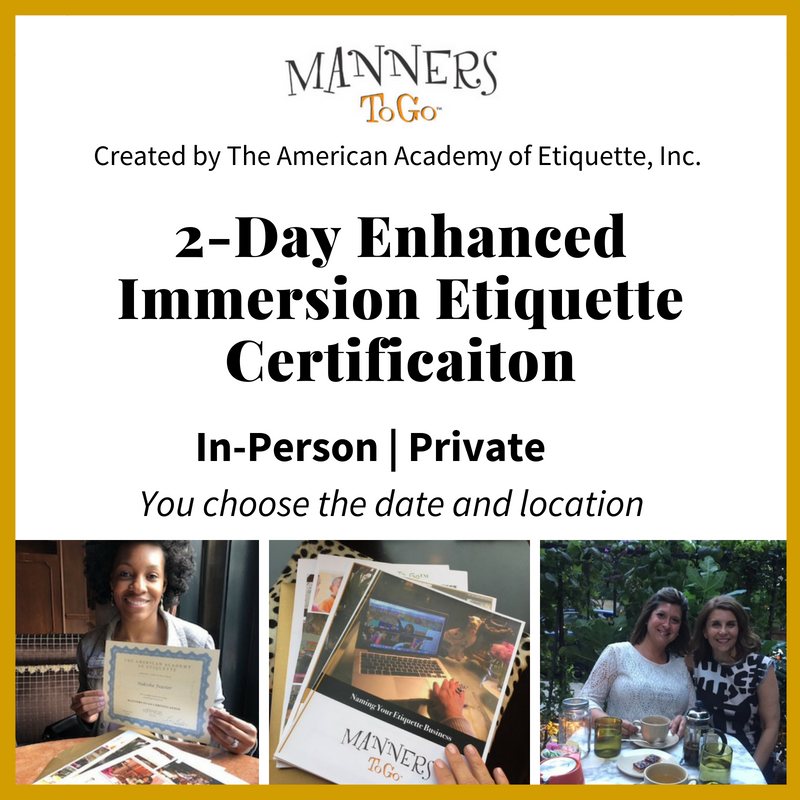 Option #2:
Two-Day In-Person
PRIVATE Training. That's right, we meet in person, the two of us and our focus is completely on your business. Click the image above or follow the button below to learn more and to see a list of cities available for your training.

Receive the curriculum and book your training dates
Upon payment, you receive the curriculum. Next, we will send an email asking you to schedule your first training date.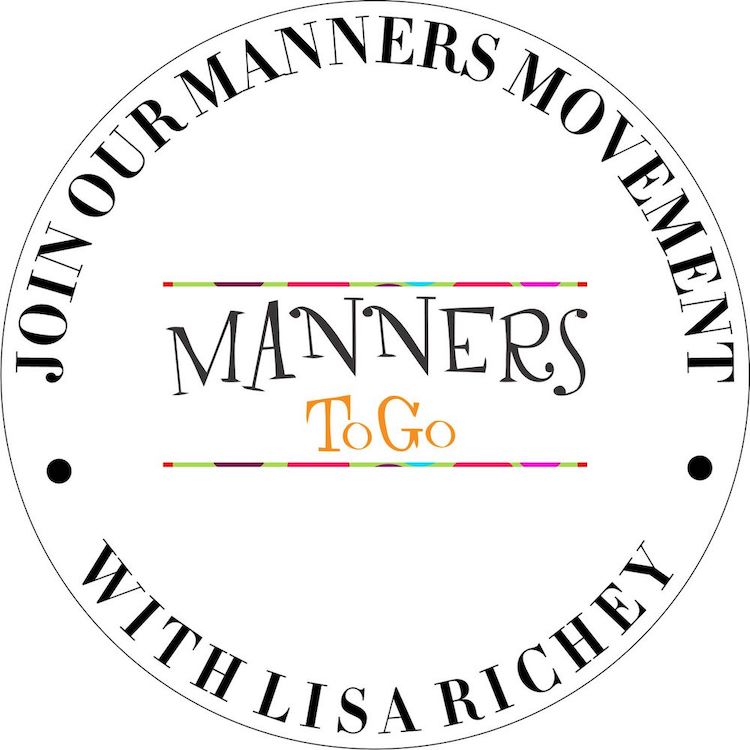 Join the
Manners To Go™ movement with Lisa Richey.