Let me introduce you to our new etiquette expert, Kristen DeSanto. She is a go-getter and we are thrilled to have her teaching Manners To Go.
She is a mother of two boys, an entrepreneur and she has already gotten a fast start. And wow, is she creative.
Her students are going to love her.
The name of her new business is, Modernly Mannered, FUNdementals for Life. Take a look at her logo here: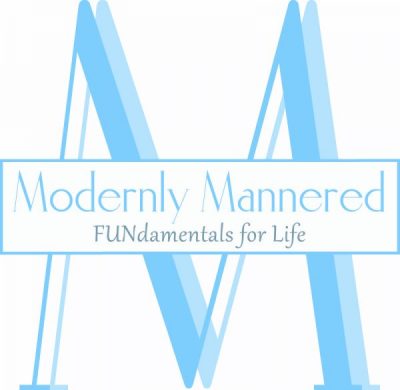 Kristen created this and engaged a graphic designer to refine it even before we had completed her etiquette training.
Before her certification was complete, a plan was in place to teach. In fact, today we are talking about her options on how to market her new programs.
Her sons play LaCrosse, so naturally this is a great place for her to start. She has a strong connection to the sports community in her city.
Becoming an entrepreneur is a rewarding journey. In fact, I think once you have an entrepreneurial spirit, it never leaves you. This spirit becomes a part of your DNA.
Owning a business certainly has its challenges but the rewards are great.
With Manners To Go , you get to work with your passion everyday. Your work never feels like work. FREEDOM is one of the highlights.