Manners Tips for "Taking Your Daughters and Sons To Work Day"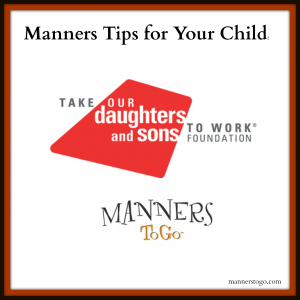 For over 22 years, the "Take Our Daughters and Sons To Work Program", has partnered with corporations to host our nations children in the workplace. The program is designed for both boys and girls and exposes them to an office environment. To find out more, check out their website www.takeourdaughtersandsonstowork.org. The date for this year's event is April 23.
I was lucky enough to experience this when I was in the corporate world. It was such an enlightening experience for us all. We went out to lunch together, shared our story with them and we got fresh new workers for the day.
Here are 10 tips on how to use good manners while your child is at the office:
Make arrangements with their teachers ahead of time. Fill out absentee paperwork if necessary.
Find out if your company has organized events for the children. If so discuss with your child ahead of time what will be happening during the day.
Brush up on the following social skills. Practice eye contact, a good handshake, and standing up for introductions.
Let your child know the importance of getting along with others.
Talk about ways to start a conversation. They will be meeting a lot of new children and your co-workers. To include others and to be included is very important. Some conversation starters: Where do you go to school? Do you play sports? How many pets do you have? What is your favorite movie?
Keep in mind your office dress code. Remember first impressions are very important. A conservative outfit is your best choice in this situation.
Remind your child to use their inside voice.
Whining is not allowed.
Often lunch is served. A few reminders for manners at the table: eat with your mouth closed, the napkin belongs in your lap and elbows off the table.
Have your child write thank you notes to the personnel that were involved in making it a special day.
To find out more about how to  become certified to teach manners, click here.
To follow Manners To Go on Facebook, click here: