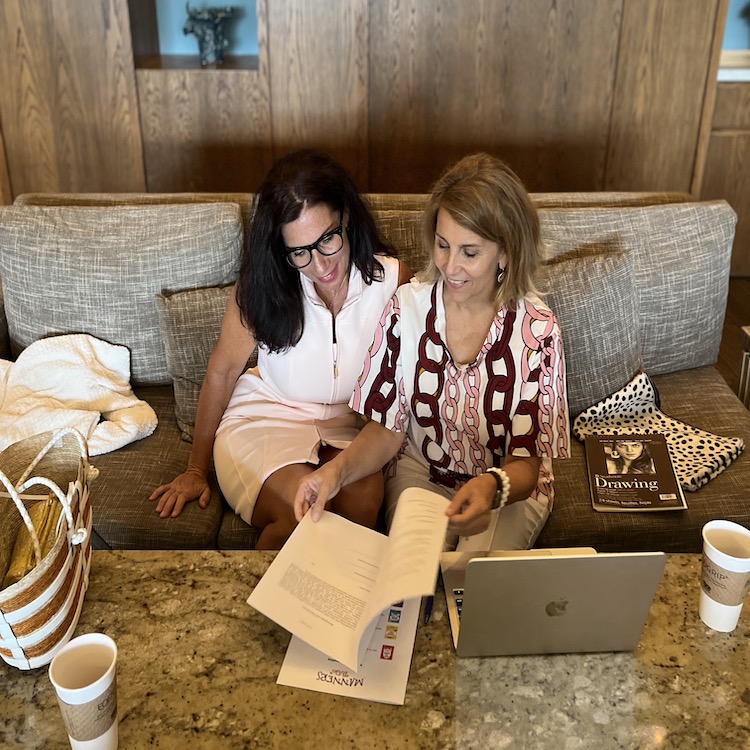 I have a licensee who is getting a really fast start to her business.
She was recently trained and certified by us in both children's manners and business etiquette.
Last week I spent time guiding her (she has on-going support during her licensing term) through the process.
We talked about:
What to charge and which proposal template to use
The lesson plans and modules to use
How to organize the activity books
How to communicate with the printer (UPS, FedEX, Staples)
Materials needed
How to include the parents
Additionally, we discussed how to market packages for the upcoming season. She wants to build her business locally by offering packages specifically for busy families who are interested in getting their children prepared for the holidays. For example:
Holiday gatherings
Church functions
Buffets
Family traditions
School interviews
Writing thank you notes
How to Prepare for and Teach a Private Manners and Etiquette Instruction
Teaching private manners and etiquette instruction can be a rewarding endeavor.
Here Are Steps to Consider When Offering Private Manners and Etiquette Instruction:
Define Your Expertise: Identify the specific areas of manners and etiquette in which you are knowledgeable. Etiquette encompasses various aspects, such as dining etiquette, social etiquette, business etiquette, and more. Determine your niche and expertise.
Use our Manners To Go Curriculum: We offer a structured manners curriculum that outlines topics and skills you will cover during the instruction. This includes topics like table manners, communication skills, dressing appropriately, and cultural awareness.
Set Clear Goals: Define the learning objectives for your instruction. What do you want your students to achieve by the end of the class? Having clear goals will help you design your lessons effectively.
Prepare Teaching Materials: Teaching materials such as handouts, worksheets, presentations, and visual aids are included in our etiquette certification and training. These materials reinforce key concepts and serve as reference guides for your students.
Customize for Each Student: Private instruction allows you to tailor the lessons to the specific needs and goals of each student.
Offer Demonstrations: Demonstrations are a powerful teaching tool. Show your students how to perform various etiquette skills, such as setting a table, introducing themselves, or giving a firm handshake. Allow them to observe and ask questions.
Role-Playing Exercises: Role-playing exercises to practice real-life situations are included in our lesson plans. For example, simulate a formal dinner party scenario where students can practice their dining etiquette.
Provide Feedback: Offer constructive feedback to your students. Let them know what they are doing well and where they can improve. Encourage them to practice and refine their skills.
Use Real-Life Scenarios: Discuss real-life etiquette scenarios and dilemmas to help students understand how to navigate social situations effectively. Encourage open discussions and problem-solving.
Practice, Practice, Practice: Manners and etiquette skills require practice to become ingrained habits. Encourage your students to practice what they learn in real-life situations.
Cultural Sensitivity: If your instruction includes international etiquette or cultural awareness, emphasize the importance of being sensitive to different cultures and customs. Teach your students about cultural nuances and differences.
Stay Updated: Manners and etiquette can evolve over time. Stay updated on current trends and changes in social norms to ensure that your instruction remains relevant.
Promote Confidence: Part of etiquette instruction is building confidence. Encourage your students to carry themselves with poise and self-assuredness.
Market Your Services: Promote your private manners and etiquette instruction services through various channels, such as your website, social media, and local advertising. Networking with schools, businesses, and event planners can also be beneficial.
Seek Feedback: After each session or course, solicit feedback from your students to understand what worked well and where improvements can be made. Use this feedback to enhance your teaching methods.
Remember that teaching manners and etiquette is not just about rules; it's about fostering respectful and considerate behavior.
Be patient and encouraging as you help your students develop these valuable life skills.
Here is a FREE Guide to Help YOU Start a Business Teaching Manners to Children
CLICK THE IMAGE TO GET THE DOWNLOAD RIGHT NOW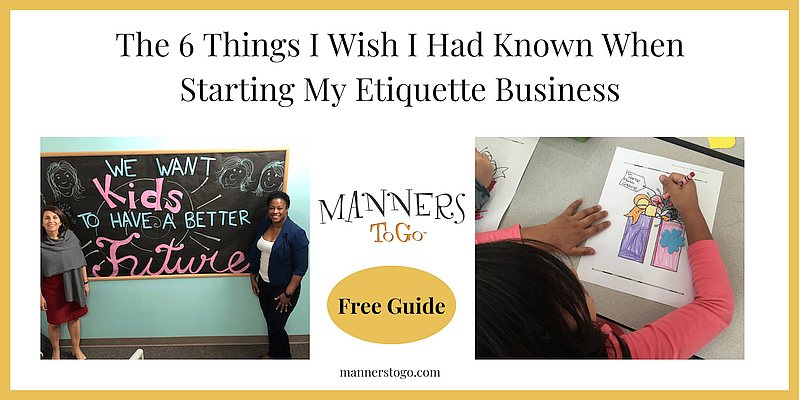 Get to Know Manners To Go™
Most likely, you will want to get to know us. Feel free to call or email us. Click on the links below. We are happy to discuss the details with you.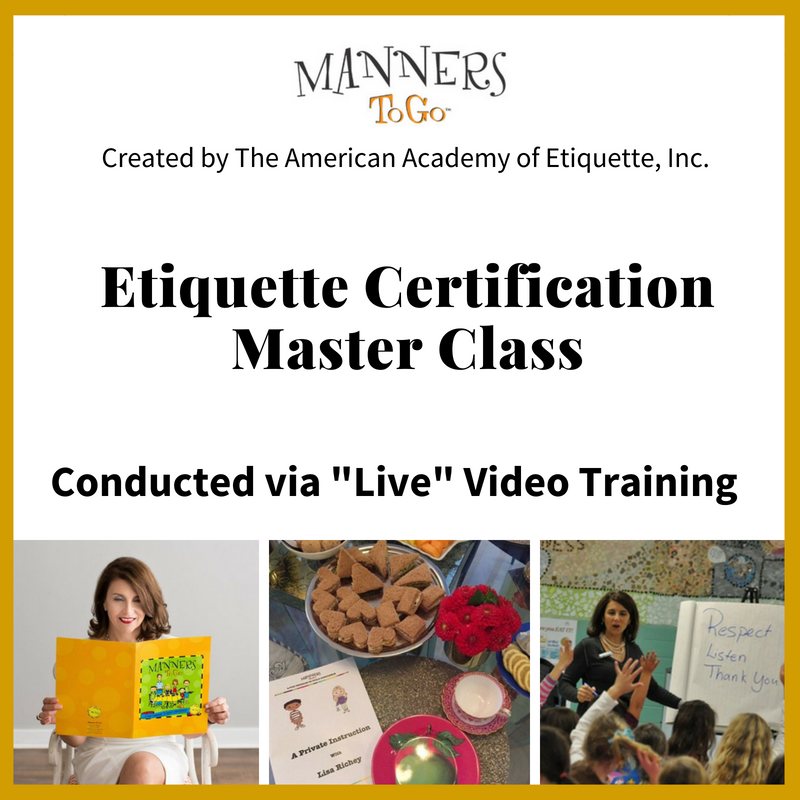 Option #1:
"Live" Video Training
If you are looking to start immediately and save money on travel and time, then this is your best option.You choose the dates of our trainings. Most choose to have their sessions once a week, others twice. This is a "live" and private training. It is NOT self-guided.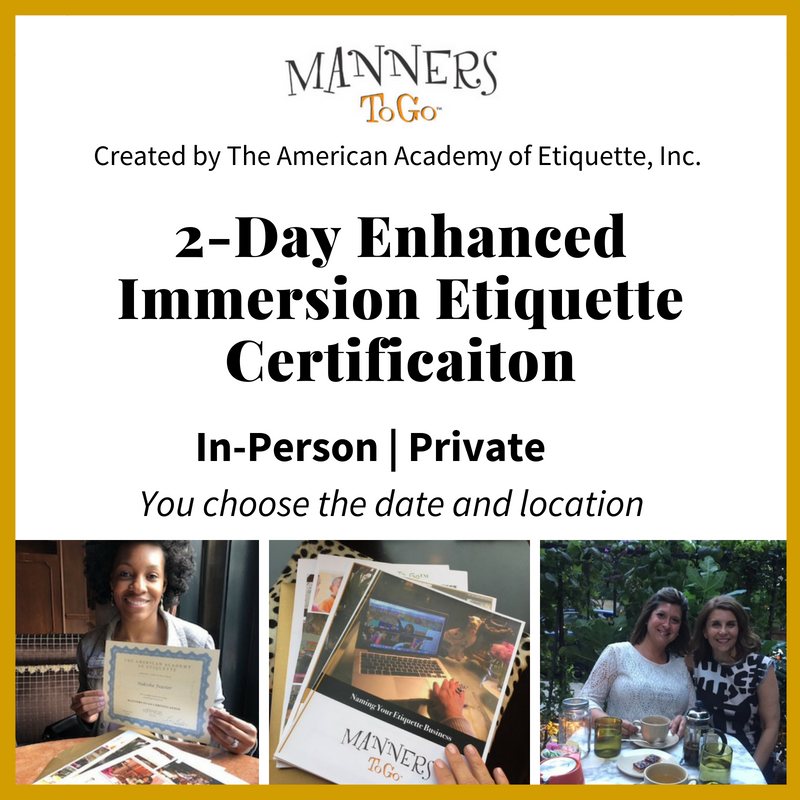 Option #2:
Two-Day In-Person
PRIVATE Training. That's right, we meet in person, the two of us and our focus is completely on your business. Click the image above or follow the button below to learn more and to see a list of cities available for your training.

Receive the curriculum and book your training dates
Upon payment, you receive the curriculum. Next, we will send an email asking you to schedule your first training date.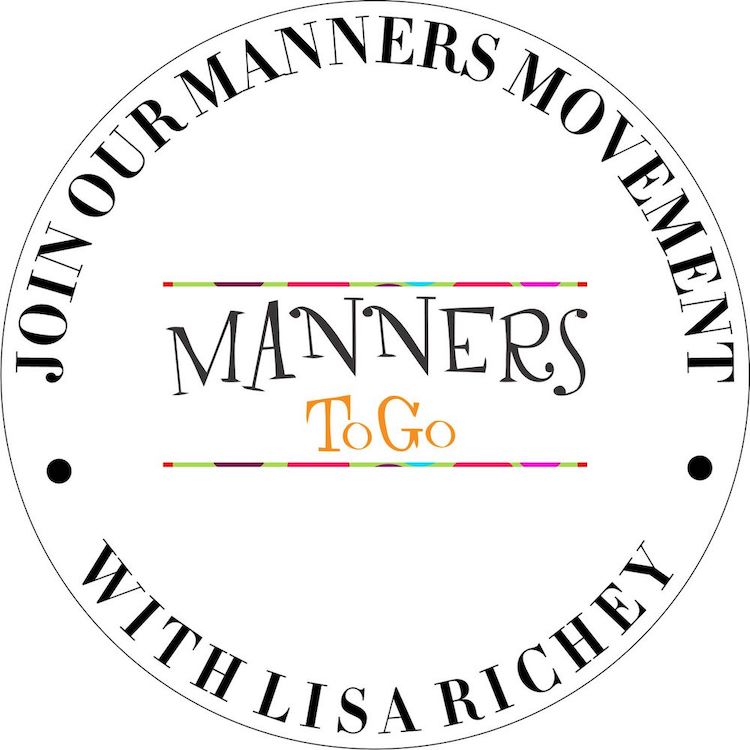 Join the
Manners To Go™ movement with Lisa Richey.