A menu card elevates a meal whether you are hosting a formal or informal gathering.
If you want to up-level your dinner (or lunch) events, then add a Menu Card.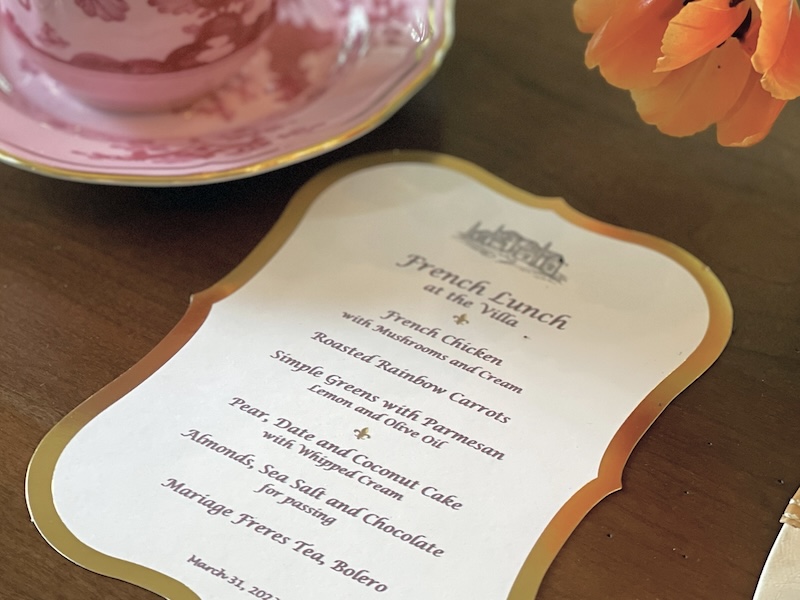 Trust me, this will delight your guests.
Not only does it add beauty and interest to your table, it lets your guest know what to expect.
Often, when I use menu cards, my guests ask if they can take them home. It serves as a nice memory.
This one simple addition sets a beautiful tone for the meal and experience for your guest.
It is easy, I promise.
Creating menu cards for a meal at home can be a fun and creative way to elevate your dining experience.
Here's a Simple Template and Some Ideas to Get You Started on Menu Cards
How to Create a Menu Card at Home
1.Put a Theme or Image On Your Menu Card
At the top, you can add an image, monogram, or crest. Maybe you have a theme. For example, in the photo below, you can see a Downton Abbey theme. A few years ago, I hosted an afternoon tea at my home before attending the Downtown Abbey movie.
I added an image of Highclere Castle.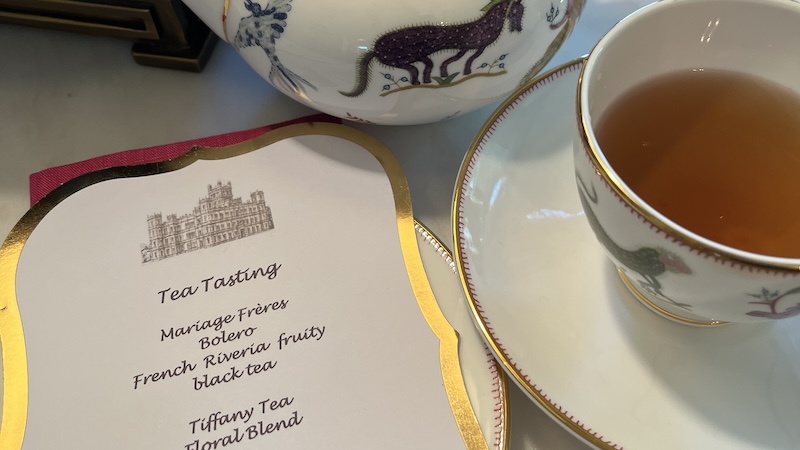 Here I used a monogram (R) for our last name.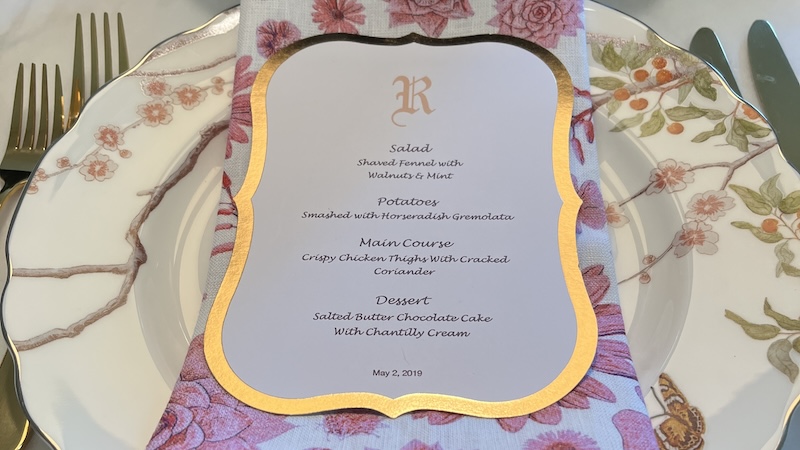 2. List Your Menu on the Card
Once you plan your menu, add that along with a brief description of the dish. Make it interesting.
Menu Card
Event: (Dinner Party, Birthday Celebration, Date Night)
You can name your event or add an image as seen above.
Appetizers
(Appetizer Name)
Description: (brief description)
Main Course
(Main Course Name)

Description: (brief description)
Ingredients: (list key ingredients)
Served with: (side dish, sauce, or accompaniments)

Dessert

(Dessert Name)
Description: (brief description)
Ingredients: (list key ingredients)
Served with: (optional, e.g., ice cream or coffee)
Beverages
(Beverage Name)
Description: (e.g., signature cocktail, non-alcoholic, etc.)
(Beverage Name)
Description: (e.g., wine pairing, specialty coffee, etc.)
You can customize this template to fit your specific meal and event.
3. Print Your Menu Cards
Printing the menu cards on quality paper or card stock can add a touch of elegance to your event. (Hint – purchase card stock the same size as printer photo paper such as 4×6)
Etiquette of Menu Cards
Where to Place Menu Cards
The placement of the menu card varies. I like to place mine in the center of the plate- of course this can depend on your table settings.
The menu card may be placed to the left of the forks, on the bread and butter plate (without the butter!) or on the lunch/dinner plate. You may also use a holder which is placed above the bread or dinner plate.
Enjoy the process of using your imagination.
We would love to see what you create. Email us at info@mannerstogo.com.
Here is a FREE Guide to Help YOU Start a Business Teaching Manners to Children
CLICK THE IMAGE TO GET THE DOWNLOAD RIGHT NOW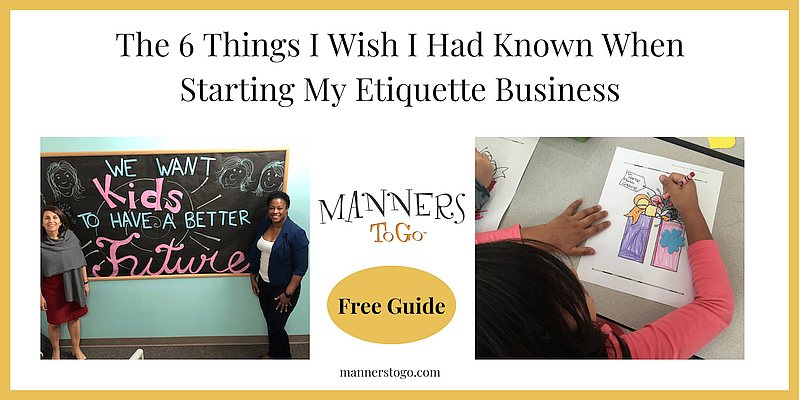 Get to Know Manners To Go™
Most likely, you will want to get to know us. Feel free to call or email us. Click on the links below. We are happy to discuss the details with you.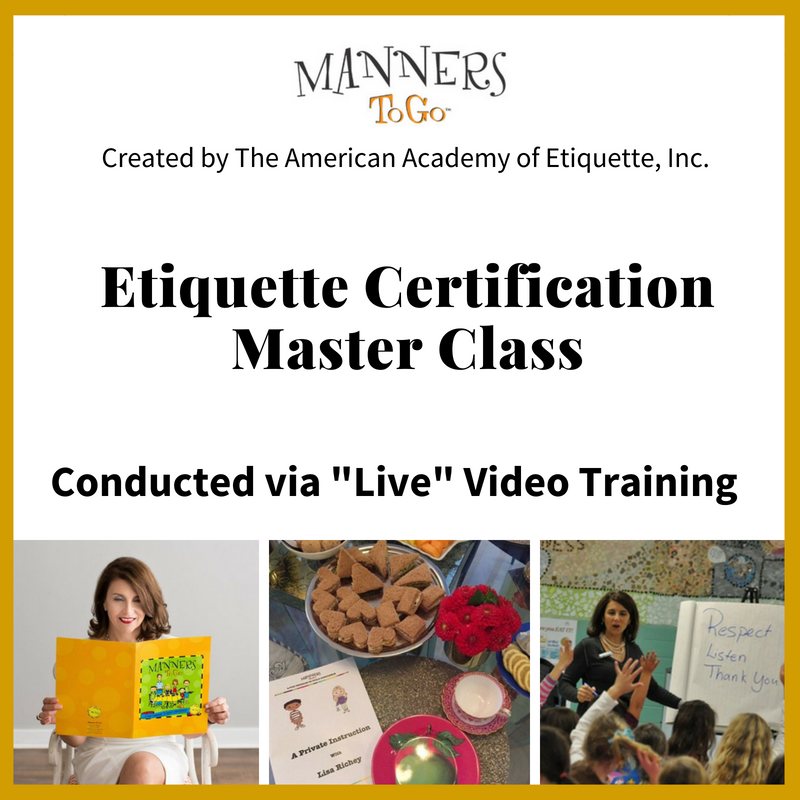 Option #1:
"Live" Video Training
If you are looking to start immediately and save money on travel and time, then this is your best option.You choose the dates of our trainings. Most choose to have their sessions once a week, others twice. This is a "live" and private training. It is NOT self-guided.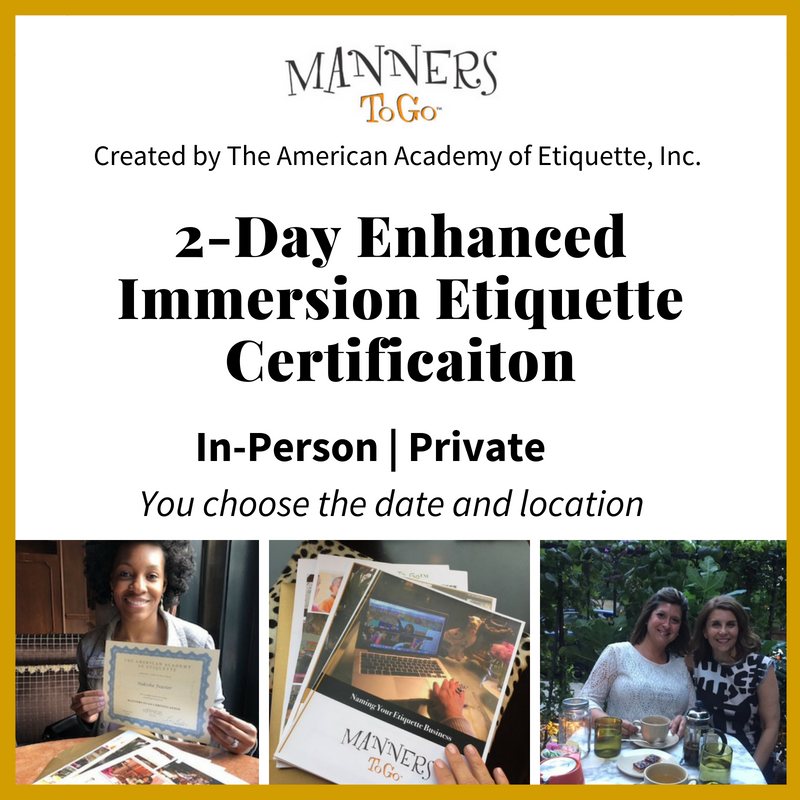 Option #2:
Two-Day In-Person
PRIVATE Training. That's right, we meet in person, the two of us and our focus is completely on your business. Click the image above or follow the button below to learn more and to see a list of cities available for your training.

Receive the curriculum and book your training dates
Upon payment, you receive the curriculum. Next, we will send an email asking you to schedule your first training date.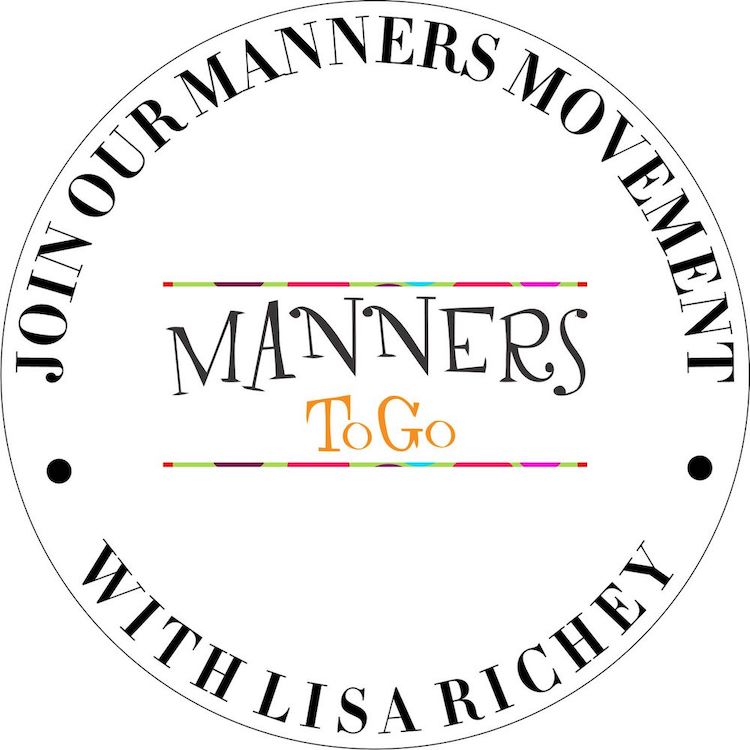 Join the
Manners To Go™ movement with Lisa Richey.