Online Course to Teach Table Manners to Children
Teach Your Children Table Manners
Good table manners are life skills that help children build confidence, lasting friendships and success in school.
Give your child a solid foundation that will last forever.
For over twenty years, Lisa Richey has been the authority in teaching manners to children and adults.
Video-based table manners course includes:
9 Lessons
2 Bonus Lessons
Once purchased, please wait for your on-screen order confirmation with detailed instructions to access your course.
This program will completely transform mealtime!

After this course, you can take your children anywhere in the world to dine.
Taught by a professional etiquette instructor, speaker, and consultant, Lisa Richey.

Lisa had an approachable, practical way of guiding my daughters through the value of etiquette and a demonstration of proper manners.  It was very effective and enjoyable for everyone.  My daughters were pleasantly surprised at how easy it was to integrate her tips and instruction into daily life. 
Our Promise to You:
We know you want the best for your children. 
This course provides you, the parent or caregiver, the necessary tools to teach table manners to your family.
The Manners To Go™ program is easy and we promise you will see immediate results that transform the family meal and your children's dining skills.
Premise:
You and your family will have the confidence needed to dine anywhere with ease.
How to Use this Course:
This course consists of 9 lessons and is easily customizable to meet the ages of your children and timeframe.
Each lesson can stand alone.  You may want to take one lesson per week and focus and practice only ONE.  This all depends on the ages of your children.
Trust your judgment.  Teaching table manners takes an intention and a desire on your part for your children to be more confident at the dining table.
Each lesson is content-rich.  You will see and hear the founder, Lisa Richey, provide detailed instructions during each lesson.
You may want to take the course yourself before giving the instruction to your children.  After which, we encourage you to watch this as a family.
About Lisa Richey, founder of Manners To Go
 Manners To Go™ is an international full-service company for those choosing to teach manners to children.
Lisa has licensees around the world teaching the Manners To Go curriculum and public, private and charter schools use her lesson plans in the classroom.
Lisa is also the founder of The American Academy of Etiquette and speaks to corporations of all sizes. From Portland, Oregon to the Middle East, participants have improved their professionalism and polished their interpersonal skills.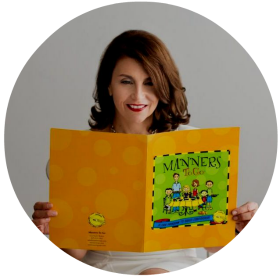 Once purchased, you will be redirected to a page with instructions on how to access the course. You will need to create a user login to access the content.
If you have any questions, please contact us.