Summer Camp
5 Day Immersion NYC
June 12-16 or June 19-23, 2017
3 Hour Sessions | Ages 7-18
What is the Summer Camp Immersion?
It is a unique and rare opportunity to hire Lisa to come into your home, school or club and provide 3 hours of manners training.
Life skills, lessons on how to have a conversation and table manners are some of the most requested topics by parents. Educators call these skills "the other side of the report card" or "the missing piece."
Manners skills do not have to be "the missing piece."
Lisa had an approachable, practical way of guiding my daughters through the value of etiquette and a demonstration of proper manners. It was very effective and enjoyable for everyone. My daughters were pleasantly surprised at how easy it was to integrate her tips and instruction into daily life.

You choose the location (most often in your home or other desired location)

Select the number of children that attend your event. Include up to seven children. This may be friends or family. Parents and caregivers are included in the fee.

Contact Manners To Go at
info@mannerstogo.com
or call 610-212-1862 to reserve the dates. Availability is limited. The sessions are three hours each day.

The fee for this Summer Camp Five Day Immersion is:
$750 per day | 3 Hour Session per day (5 consecutive days) | Up to 7 children (parents and caregivers included in the fee). Fee does not include food or venue costs
Lisa Richey with Manners To Go™ has been providing programs to the parents of New York City for over fifteen years. Columbia University, Eloise at The Plaza and private homes have hosted events.
The material is witty, contemporary and beautifully illustrated.
Benefits
Together, we will customize the sessions to meet the needs of your family.
The group size is small and the main focus will be on your child.
The sessions are taught by me and no one is sent in my place.
The sessions are upbeat and fun. We can include different venues and restaurants in your area.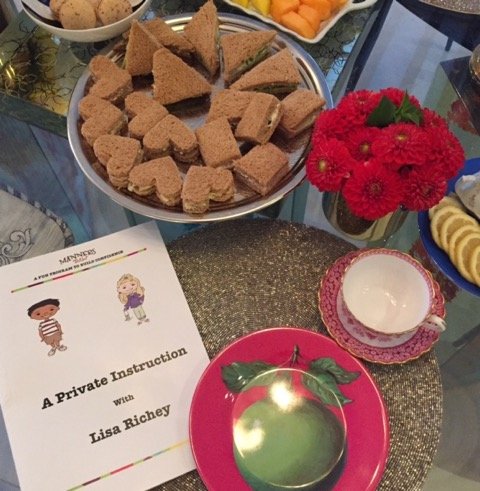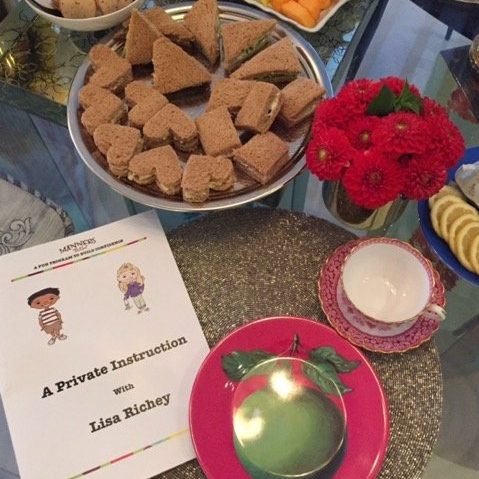 Module #1 | Social Skills
Eye contact
An impressive handshake
How to introduce yourself and others
Respecting yourself and others
The importance of please and thank you
How to politely interrupt your parents, teachers, and children
Friendships; how to be a friend
Telephone Skills
Conversation skills;how to start one and include others
Party Etiquette
Manners at the mall, movies, theater, and concerts
Online manners
 Module #2 | Table Manners
How to set the table
Where is my bread plate
How to hold a fork correctly
American and Continental Style Dining
Napkin etiquette
Conversation at the table
Posture
Difficult to eat foods
Manners when dining out
Dinner at a friends house; what to do when you don't like something
Clearing the table
About Lisa Richey
Most likely we already share something in common.
We believe that teaching children manners, character and social emotional skills are very important.
Manners To Go™ is taught in public, private and charter schools around the world. The New York Times, Parents Magazine and Fox News have all featured Manners To Go and the many benefits of teaching social skills to children.
My name is Lisa Richey, and I am the founder of Manners To Go™ . This brand has given me the honor of teaching manners to thousands of people around the world. The journey has taken me from Portland, Oregon to the Middle East. I believe that manners are not about judgment or rules. Manners are about self-interest. ~ Lisa Taylor Richey
For More Information:
Call Lisa Richey at 610-212-1862 or
Use the form below